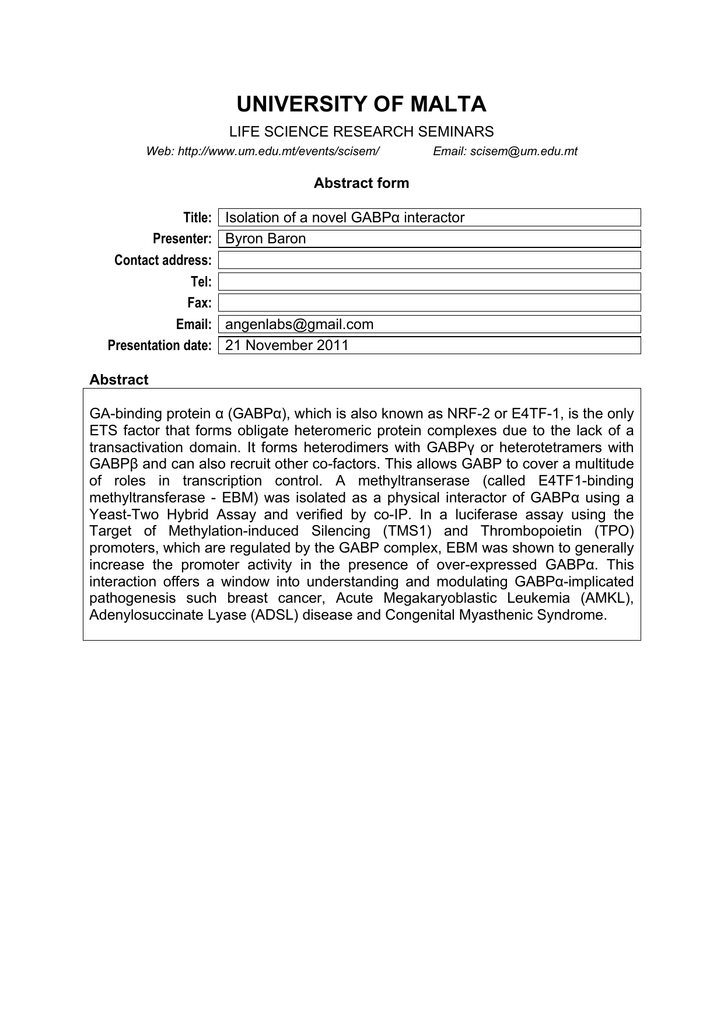 UNIVERSITY OF MALTA
LIFE SCIENCE RESEARCH SEMINARS
Web: http://www.um.edu.mt/events/scisem/
Email: [email protected]
Abstract form
Title:
Presenter:
Contact address:
Tel:
Fax:
Email:
Presentation date:
Isolation of a novel GABPα interactor
Byron Baron
[email protected]
21 November 2011
Abstract
GA-binding protein α (GABPα), which is also known as NRF-2 or E4TF-1, is the only
ETS factor that forms obligate heteromeric protein complexes due to the lack of a
transactivation domain. It forms heterodimers with GABPγ or heterotetramers with
GABPβ and can also recruit other co-factors. This allows GABP to cover a multitude
of roles in transcription control. A methyltranserase (called E4TF1-binding
methyltransferase - EBM) was isolated as a physical interactor of GABPα using a
Yeast-Two Hybrid Assay and verified by co-IP. In a luciferase assay using the
Target of Methylation-induced Silencing (TMS1) and Thrombopoietin (TPO)
promoters, which are regulated by the GABP complex, EBM was shown to generally
increase the promoter activity in the presence of over-expressed GABPα. This
interaction offers a window into understanding and modulating GABPα-implicated
pathogenesis such breast cancer, Acute Megakaryoblastic Leukemia (AMKL),
Adenylosuccinate Lyase (ADSL) disease and Congenital Myasthenic Syndrome.