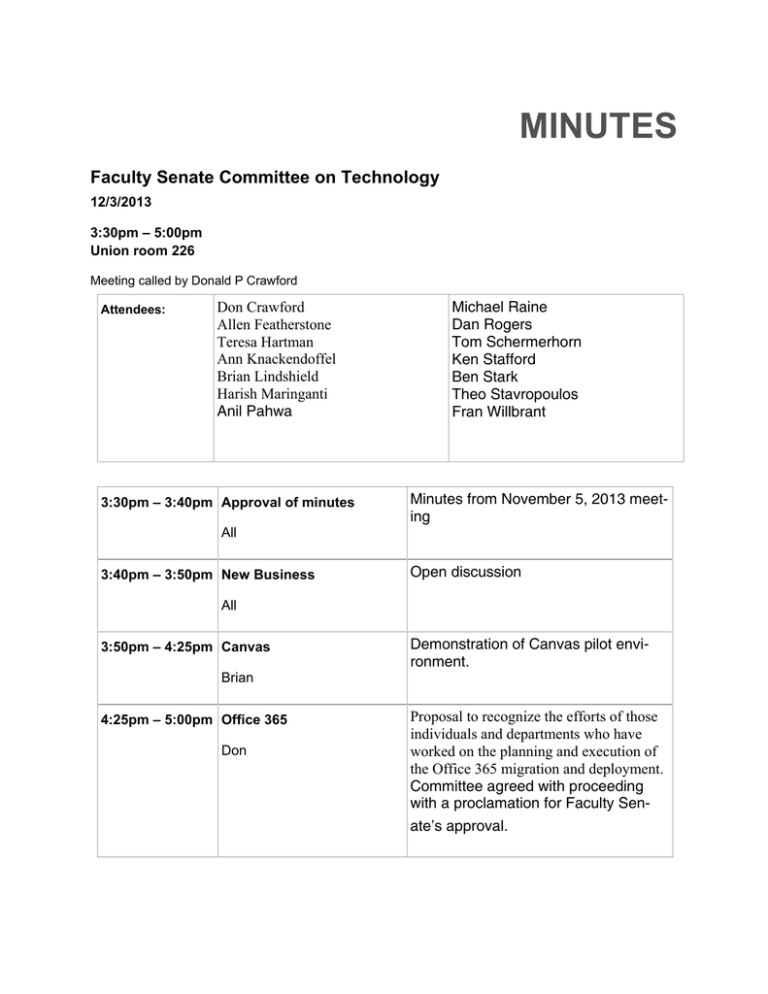 MINUTES
Faculty Senate Committee on Technology
12/3/2013
3:30pm – 5:00pm
Union room 226
Meeting called by Donald P Crawford
Attendees:
Don Crawford
Allen Featherstone
Teresa Hartman
Ann Knackendoffel
Brian Lindshield
Harish Maringanti
Anil Pahwa
3:30pm – 3:40pm Approval of minutes
Michael Raine
Dan Rogers
Tom Schermerhorn
Ken Stafford
Ben Stark
Theo Stavropoulos
Fran Willbrant
Minutes from November 5, 2013 meeting
All
3:40pm – 3:50pm New Business
Open discussion
All
3:50pm – 4:25pm Canvas
Demonstration of Canvas pilot environment.
Brian
4:25pm – 5:00pm Office 365
Don
Proposal to recognize the efforts of those
individuals and departments who have
worked on the planning and execution of
the Office 365 migration and deployment.
Committee agreed with proceeding
with a proclamation for Faculty Senate's approval.