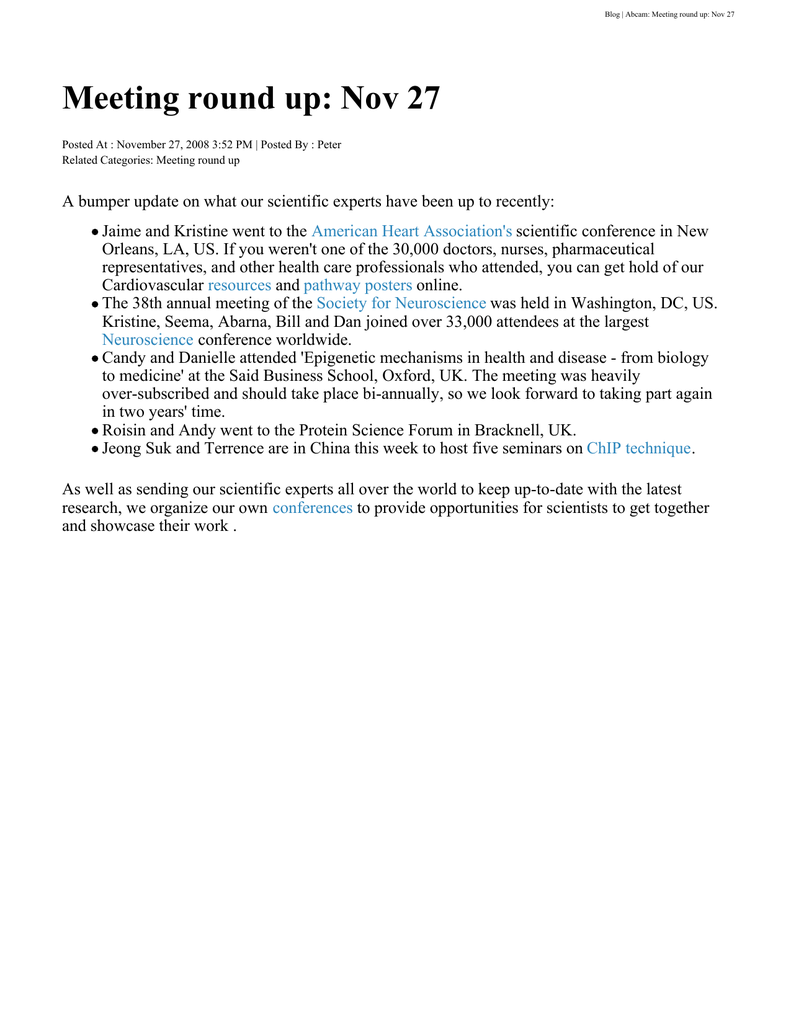 Blog | Abcam: Meeting round up: Nov 27
Meeting round up: Nov 27
Posted At : November 27, 2008 3:52 PM | Posted By : Peter
Related Categories: Meeting round up
A bumper update on what our scientific experts have been up to recently:
Jaime and Kristine went to the American Heart Association's scientific conference in New
Orleans, LA, US. If you weren't one of the 30,000 doctors, nurses, pharmaceutical
representatives, and other health care professionals who attended, you can get hold of our
Cardiovascular resources and pathway posters online.
The 38th annual meeting of the Society for Neuroscience was held in Washington, DC, US.
Kristine, Seema, Abarna, Bill and Dan joined over 33,000 attendees at the largest
Neuroscience conference worldwide.
Candy and Danielle attended 'Epigenetic mechanisms in health and disease - from biology
to medicine' at the Said Business School, Oxford, UK. The meeting was heavily
over-subscribed and should take place bi-annually, so we look forward to taking part again
in two years' time.
Roisin and Andy went to the Protein Science Forum in Bracknell, UK.
Jeong Suk and Terrence are in China this week to host five seminars on ChIP technique.
As well as sending our scientific experts all over the world to keep up-to-date with the latest
research, we organize our own conferences to provide opportunities for scientists to get together
and showcase their work .