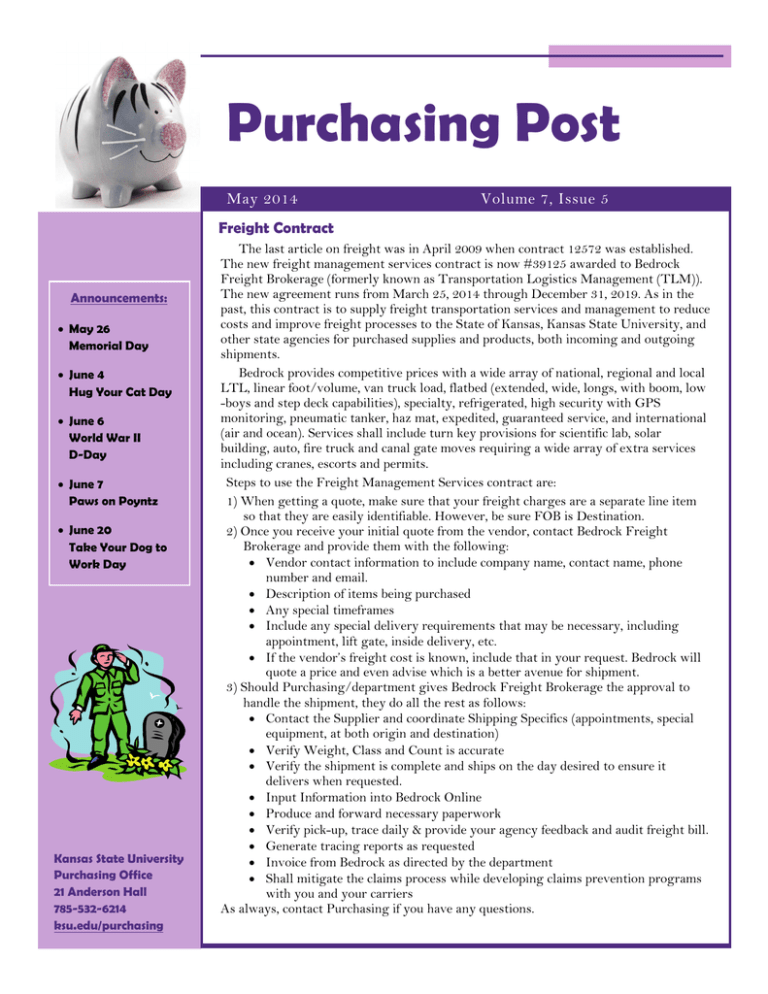 Purchasing Post
May 2014
Volume 7, Issue 5
Freight Contract
Announcements:
 May 26
Memorial Day
 June 4
Hug Your Cat Day
 June 6
World War II
D-Day
 June 7
Paws on Poyntz
 June 20
Take Your Dog to
Work Day
Kansas State University
Purchasing Office
21 Anderson Hall
785-532-6214
ksu.edu/purchasing
The last article on freight was in April 2009 when contract 12572 was established.
The new freight management services contract is now #39125 awarded to Bedrock
Freight Brokerage (formerly known as Transportation Logistics Management (TLM)).
The new agreement runs from March 25, 2014 through December 31, 2019. As in the
past, this contract is to supply freight transportation services and management to reduce
costs and improve freight processes to the State of Kansas, Kansas State University, and
other state agencies for purchased supplies and products, both incoming and outgoing
shipments.
Bedrock provides competitive prices with a wide array of national, regional and local
LTL, linear foot/volume, van truck load, flatbed (extended, wide, longs, with boom, low
-boys and step deck capabilities), specialty, refrigerated, high security with GPS
monitoring, pneumatic tanker, haz mat, expedited, guaranteed service, and international
(air and ocean). Services shall include turn key provisions for scientific lab, solar
building, auto, fire truck and canal gate moves requiring a wide array of extra services
including cranes, escorts and permits.
Steps to use the Freight Management Services contract are:
1) When getting a quote, make sure that your freight charges are a separate line item
so that they are easily identifiable. However, be sure FOB is Destination.
2) Once you receive your initial quote from the vendor, contact Bedrock Freight
Brokerage and provide them with the following:
 Vendor contact information to include company name, contact name, phone
number and email.
 Description of items being purchased
 Any special timeframes
 Include any special delivery requirements that may be necessary, including
appointment, lift gate, inside delivery, etc.
 If the vendor's freight cost is known, include that in your request. Bedrock will
quote a price and even advise which is a better avenue for shipment.
3) Should Purchasing/department gives Bedrock Freight Brokerage the approval to
handle the shipment, they do all the rest as follows:
 Contact the Supplier and coordinate Shipping Specifics (appointments, special
equipment, at both origin and destination)
 Verify Weight, Class and Count is accurate
 Verify the shipment is complete and ships on the day desired to ensure it
delivers when requested.
 Input Information into Bedrock Online
 Produce and forward necessary paperwork
 Verify pick-up, trace daily & provide your agency feedback and audit freight bill.
 Generate tracing reports as requested
 Invoice from Bedrock as directed by the department
 Shall mitigate the claims process while developing claims prevention programs
with you and your carriers
As always, contact Purchasing if you have any questions.