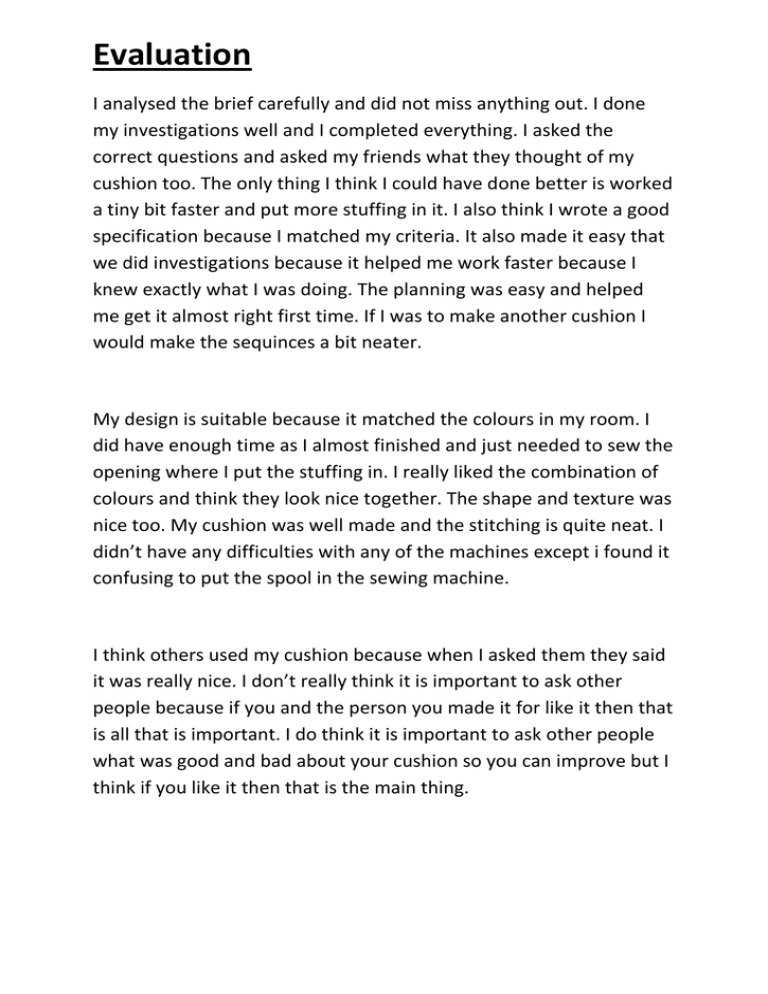 Evaluation
I analysed the brief carefully and did not miss anything out. I done
my investigations well and I completed everything. I asked the
correct questions and asked my friends what they thought of my
cushion too. The only thing I think I could have done better is worked
a tiny bit faster and put more stuffing in it. I also think I wrote a good
specification because I matched my criteria. It also made it easy that
we did investigations because it helped me work faster because I
knew exactly what I was doing. The planning was easy and helped
me get it almost right first time. If I was to make another cushion I
would make the sequinces a bit neater.
My design is suitable because it matched the colours in my room. I
did have enough time as I almost finished and just needed to sew the
opening where I put the stuffing in. I really liked the combination of
colours and think they look nice together. The shape and texture was
nice too. My cushion was well made and the stitching is quite neat. I
didn't have any difficulties with any of the machines except i found it
confusing to put the spool in the sewing machine.
I think others used my cushion because when I asked them they said
it was really nice. I don't really think it is important to ask other
people because if you and the person you made it for like it then that
is all that is important. I do think it is important to ask other people
what was good and bad about your cushion so you can improve but I
think if you like it then that is the main thing.