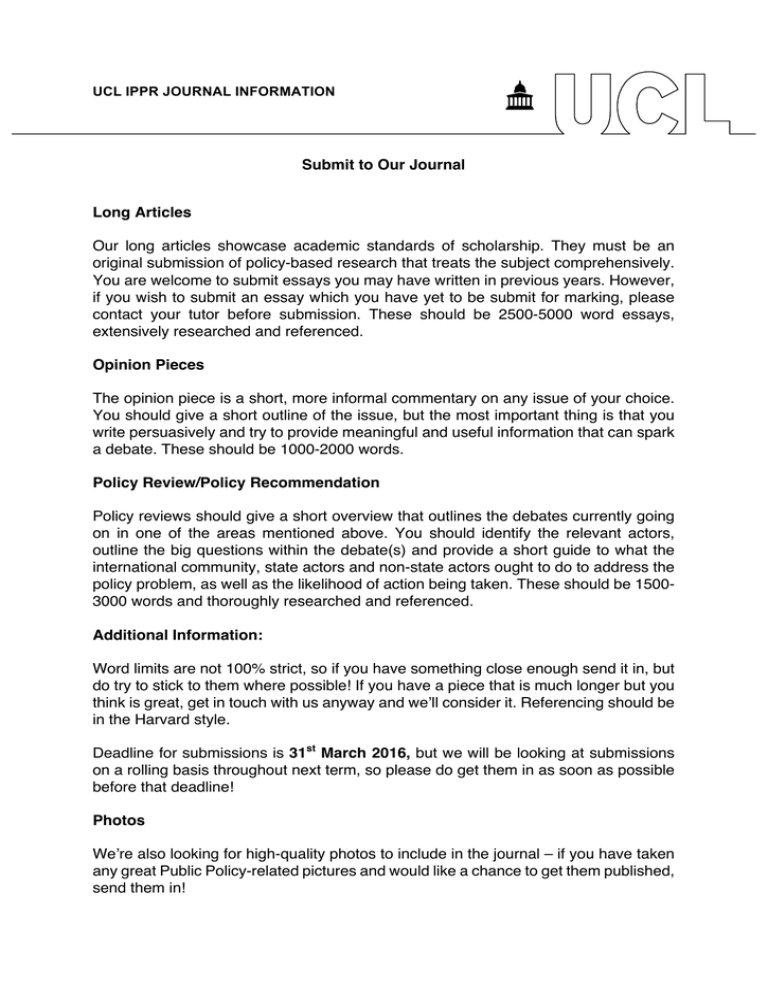 UCL IPPR JOURNAL INFORMATION
Submit to Our Journal
Long Articles
Our long articles showcase academic standards of scholarship. They must be an
original submission of policy-based research that treats the subject comprehensively.
You are welcome to submit essays you may have written in previous years. However,
if you wish to submit an essay which you have yet to be submit for marking, please
contact your tutor before submission. These should be 2500-5000 word essays,
extensively researched and referenced.
Opinion Pieces
The opinion piece is a short, more informal commentary on any issue of your choice.
You should give a short outline of the issue, but the most important thing is that you
write persuasively and try to provide meaningful and useful information that can spark
a debate. These should be 1000-2000 words.
Policy Review/Policy Recommendation
Policy reviews should give a short overview that outlines the debates currently going
on in one of the areas mentioned above. You should identify the relevant actors,
outline the big questions within the debate(s) and provide a short guide to what the
international community, state actors and non-state actors ought to do to address the
policy problem, as well as the likelihood of action being taken. These should be 15003000 words and thoroughly researched and referenced.
Additional Information:
Word limits are not 100% strict, so if you have something close enough send it in, but
do try to stick to them where possible! If you have a piece that is much longer but you
think is great, get in touch with us anyway and we'll consider it. Referencing should be
in the Harvard style.
Deadline for submissions is 31st March 2016, but we will be looking at submissions
on a rolling basis throughout next term, so please do get them in as soon as possible
before that deadline!
Photos
We're also looking for high-quality photos to include in the journal – if you have taken
any great Public Policy-related pictures and would like a chance to get them published,
send them in!
Submission
If you wish to submit a piece of work, please email it to either Josh Warland
(joshua.warland.11@ucl.ac.uk) or Ellen Judson (ellen.judson.15@ucl.ac.uk) with the subject
line 'IPPR JOURNAL SUBMISSION – [category e.g. Policy Review]'. In the email please
include your name, course, word count of your piece, one word to describe the topic, and a
short abstract of up to 300 words (this will not be published, it is just to make the process
easier!). If you are submitting an assessed piece of work please include the mark it received
and the module it was submitted as part of.
Selection Criteria
•
•
•
•
•
Topics can cover themes including, but not limited to: foreign policy, economics,
politics, governance, environment, security and human rights
The submission has to have relevance to current international policy issues
Submissions showing originality and innovation in research will be particularly
valued.
Submissions should be original and unpublished.
Papers should be submitted as Microsoft Word files.