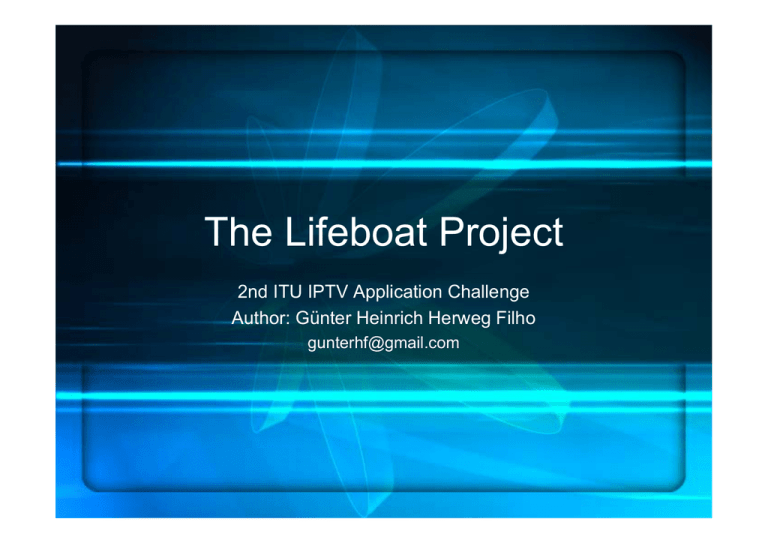 The Lifeboat Project
2nd ITU IPTV Application Challenge
Author: Günter Heinrich Herweg Filho
gunterhf@gmail.com
Context
• This interactive application for IPTV aims to provide
support to people in emergencies in natural disasters.
• Natural disasters occur very often especially in third
world countries with high population growth rate. People
more and more live in hazardous locations on the
outskirts of cities, being prone to natural disasters.
System overview
Mobile
IPTV Terminal
Data Center
IPTV Server
On demand data
App
Features
• Provide real time information.
• Easy access for quick response.
• Personalized alarm system, integrated
with mobile platforms.
• On demand critical information.
Registration:
•
You have to register your Zip Code and your mobile number. This
information forms the basis for other services
Information Bar
Registration Form
Weather Function
Maps consult Function
Registration Function
News Bar
Water's level consult
Function
Maps:
•
After registration, this service displays maps of the region containing
points of interest such as shelters, streets with access issues or
events that disrupt urban mobility.
Maps consult Function
Personalized Map
Alarms:
The alarm is activated when the rivers level reaches the quota for the
place. To do this register, the function of registration is available on the
Portal
Alarm Function
Thank you!