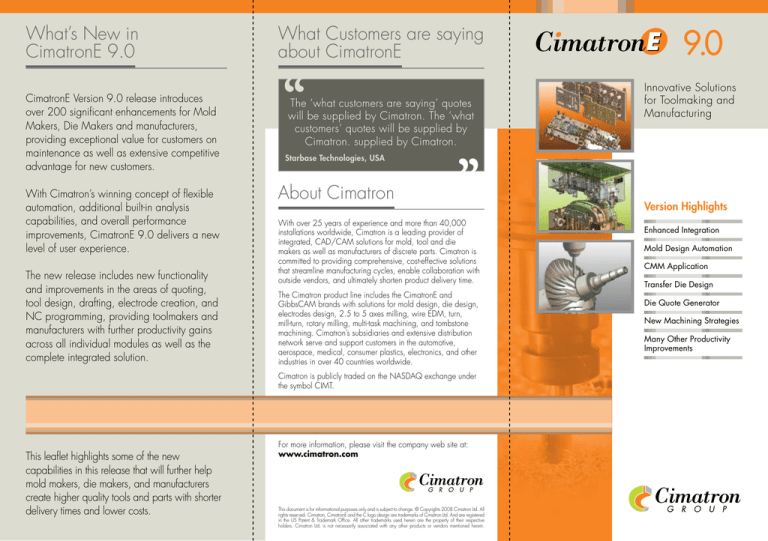 What's New in
CimatronE 9.0
CimatronE Version 9.0 release introduces
over 200 significant enhancements for Mold
Makers, Die Makers and manufacturers,
providing exceptional value for customers on
maintenance as well as extensive competitive
advantage for new customers.
With Cimatron's winning concept of flexible
automation, additional built-in analysis
capabilities, and overall performance
improvements, CimatronE 9.0 delivers a new
level of user experience.
The new release includes new functionality
and improvements in the areas of quoting,
tool design, drafting, electrode creation, and
NC programming, providing toolmakers and
manufacturers with further productivity gains
across all individual modules as well as the
complete integrated solution.
What Customers are saying
about CimatronE
The 'what customers are saying' quotes
will be supplied by Cimatron. The 'what
customers' quotes will be supplied by
Cimatron. supplied by Cimatron.
Innovative Solutions
for Toolmaking and
Manufacturing
Starbase Technologies, USA
About Cimatron
With over 25 years of experience and more than 40,000
installations worldwide, Cimatron is a leading provider of
integrated, CAD/CAM solutions for mold, tool and die
makers as well as manufacturers of discrete parts. Cimatron is
committed to providing comprehensive, cost-effective solutions
that streamline manufacturing cycles, enable collaboration with
outside vendors, and ultimately shorten product delivery time.
The Cimatron product line includes the CimatronE and
GibbsCAM brands with solutions for mold design, die design,
electrodes design, 2.5 to 5 axes milling, wire EDM, turn,
mill-turn, rotary milling, multi-task machining, and tombstone
machining. Cimatron's subsidiaries and extensive distribution
network serve and support customers in the automotive,
aerospace, medical, consumer plastics, electronics, and other
industries in over 40 countries worldwide.
Cimatron is publicly traded on the NASDAQ exchange under
the symbol CIMT.
This leaflet highlights some of the new
capabilities in this release that will further help
mold makers, die makers, and manufacturers
create higher quality tools and parts with shorter
delivery times and lower costs.
9.0
For more information, please visit the company web site at: www.cimatron.com
This document is for informational purposes only and is subject to change. © Copyrights 2008 Cimatron Ltd. All
rights reserved. Cimatron, CimatronE and the C logo design are trademarks of Cimatron Ltd. And are registered
in the US Patent & Trademark Office. All other trademarks used herein are the property of their respective
holders. Cimatron Ltd. is not necessarily associated with any other products or vendors mentioned herein.
Version Highlights
Enhanced Integration
Mold Design Automation
CMM Application
Transfer Die Design
Die Quote Generator
New Machining Strategies
Many Other Productivity
Improvements
Enhanced Integration
Die Design
Product Manufacturing Information (PMI) can be used throughout
the entire CimatronE suite, shortening delivery time and improving
product quality by smoothing communication and information
flow throughout the design and manufacturing process.
PMI is used in the NC
application to define the
machining origin and the
part dimensions, while
the Surface Roughness
was previously defined by
the designer in the CAD
application.
Mold Design
Project Definition tool streamlines the setup of new projects.
New function allows for quick determination of the correct
split direction for sculptured parts.
Smart catalog parts reduce cutting errors by providing built-in
analysis of the cutting objects when placing screws, pins and
other components.
The new Cut Manager
Filter is used to alert the
user about potential
collision between a new
placed Screw and an
existing Cooling Baffle
(marked in Red).
Electrode Design and Manufacturing
A new application for defining and simulating measuring
points and probe path streamlines the use of Coordinate
Measuring Machine (CMM) for checking electrode
accuracy.
On-the-Fly templates enable instant reuse of the entire design
process from any electrode, greatly accelerating the creation
of additional electrodes.
2.5 – 5 Axis NC for Tooling
Transfer Die Design – a new application introducing an
intuitive and flexible workflow for the intuitive design of
transfer dies.
Die Quote Generator – a new database-driven application for
quick generation of professionally looking die job quotations.
Automated piercing and punch units creation supports the
needs of the consumer electronics industry.
Improved die tool design capabilities.
Hundreds of new die design catalog parts.
New machining strategies such as Cleanup All Along, Keep
Sharp Edges, and Contours as Touch Point provide greater
levels of built-in support for 5-axis and High Speed Milling.
Milling operations such as Spiral Cut and Flow Line
for machining of complex geometrical details are now
available as part of the basic NC application.
Enhanced stock recognition improves rough ad re-rough
efficiency and 5-axis automated drill capabilities.
Transformations – toolpath motions can be copied without
duplication, including smart sorting capabilities and
support of machine subroutines in the post processor.
A Transfer Die layout is
designed by the new Die
Set & Stations function.
A prototype of a Juice
Extractor is machined using
5-axis Cleanup-All-Along.
The new Transformations
mechanism is used to
duplicate & mirror the
Cleanup operations.
The Piercing & Punch
stations were designed by
the new Intelligent Pricing
Design tool.
5-Axis Milling
A Quoting Form of a
Progressive Die project
is created by the new
DieQuote Generator, based
on CimatronE file and the
company's production cost
database.
New 5X continuous Material Removal Simulation, Collision
and Gouge Detection and improved Machine Simulation.
New capabilities provide enhanced user control to fine tune
the cutter location and orientation during gouge checking,
air connections, and approach & retract motions.
Additional CAD for Tooling Capabilities
Parametric catalog/sub Assembly adjustment automatically
adapts the catalog part or sub assembly to match the
dimensions of the main assembly and the project setup
parameters.
Powerful multi radiuses Corner Fillet functionality can be
preformed within few clicks.
Automatic Pocket selection saves valuable time by reducing
repetitive manual work.
The 5X Positioning
Rough operation uses
the new automated multiaxis Stock. A Material
Removal Post based
simulation is done in the
new unified Machining
Simulation environment.
Additional Enhancements in Version 9.0
Ability to read PMI from Catia and Pro Engineer.
Improved Drafting performance and creation of Views in
batch mode.
Hundreds of additional new and improved features based
on user input.