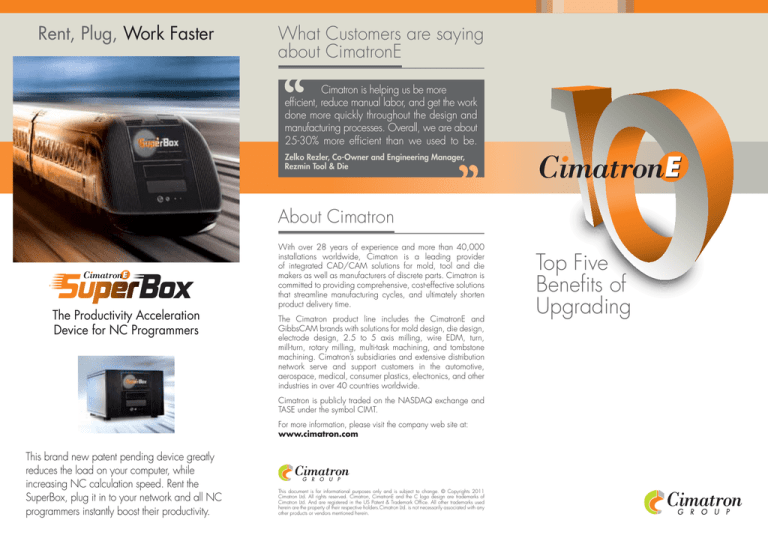 Rent, Plug, Work Faster
What Customers are saying
about CimatronE
Cimatron is helping us be more
efficient, reduce manual labor, and get the work
done more quickly throughout the design and
manufacturing processes. Overall, we are about
25-30% more efficient than we used to be.
Zelko Rezler, Co-Owner and Engineering Manager,
Rezmin Tool & Die
About Cimatron
The Productivity Acceleration
Device for NC Programmers
With over 28 years of experience and more than 40,000
installations worldwide, Cimatron is a leading provider
of integrated CAD/CAM solutions for mold, tool and die
makers as well as manufacturers of discrete parts. Cimatron is
committed to providing comprehensive, cost-effective solutions
that streamline manufacturing cycles, and ultimately shorten
product delivery time.
The Cimatron product line includes the CimatronE and
GibbsCAM brands with solutions for mold design, die design,
electrode design, 2.5 to 5 axis milling, wire EDM, turn,
mill-turn, rotary milling, multi-task machining, and tombstone
machining. Cimatron's subsidiaries and extensive distribution
network serve and support customers in the automotive,
aerospace, medical, consumer plastics, electronics, and other
industries in over 40 countries worldwide.
Cimatron is publicly traded on the NASDAQ exchange and
TASE under the symbol CIMT.
For more information, please visit the company web site at: www.cimatron.com
This brand new patent pending device greatly
reduces the load on your computer, while
increasing NC calculation speed. Rent the
SuperBox, plug it in to your network and all NC
programmers instantly boost their productivity.
This document is for informational purposes only and is subject to change. © Copyrights 2011
Cimatron Ltd. All rights reserved. Cimatron, CimatronE and the C logo design are trademarks of
Cimatron Ltd. And are registered in the US Patent & Trademark Office. All other trademarks used
herein are the property of their respective holders.Cimatron Ltd. is not necessarily associated with any
other products or vendors mentioned herein.
Top Five
Benefits of
Upgrading
Top Five Benefits of
Upgrading to CimatronE 10.0
CimatronE version 10.0 introduces over a
hundred powerful enhancements for mold
makers, die makers, and manufacturers,
providing exceptional value in a single
integrated solution.
2 Better Mold Design Work Flow
4 Increased NC Programming Productivity
QuickSplit on Closed and Open Solid - Leverages solid
geometry to dramatically speed up the overall mold design
process.
New Lifter and Insert Applicative Tools – Create simple and
complex lifters and inserts automatically in a few simple
clicks.
ECO – Offers a smoother, simpler process for handling
multiple engineering change orders and includes a new
ECO history documentation tool.
Background Calculation – Boosts productivity by allowing
users to continue working on an NC file, while the system
is calculating procedures in the background.
New Cutter and Holder Library – Offers a better
organized, more comfortable work environment, as well as
the ability to create strong, centralized libraries.
The SuperBox Productivity Acceleration Platform –
See inside flap.
1 More Powerful CAD
Motion Simulation and Analysis – Displays the dynamic
movement of mold and die components to simulate and
verify the functionality of an entire project.
Drawing – Creates views and updates drawings at much
faster speeds, and increases productivity with more powerful
drafting Templates and an enhanced Table of Holes.
Display Effects – Features brand new display effects like
Shadow and Zebra Stripes, and includes more control over
lighting.
Threads – New, more realistic representation of threads;
threads also export to other CAD formats, and adapt to
chamfer operations and other geometry changes.
The lifter application
generates all types of
lifters automatically.
3 Faster, More Flexible Die Strip
and Tool Design
Improved Strip Design Process – Offers a more intuitive
strip design environment, with the flexibility to go through
the process your way, while the system ensures complete
associativity for easy editing.
Trimming Punch – Instantly creates and places several
punches at the same time, and provides a greater selection
of fastener shapes.
Motion Simulation
and Analysis verifies
the Kinematics of tool
assemblies.
The Trimming Punch
feature now allows
several punches to be
created in one operation.
The Cutter Library is
now more organized
and user friendly.
5 NC Strategies with Faster
Machining and Superior Results
Rough – Generates procedures with shorter machining
times and fewer jumps.
Finish: Helical Milling strategy – Achieves a superior surface
quality and shorter machining time when milling steep cores
and deep cavities in one continuous spiral pass.
5-Axis Tilting – Generates smoother toolpath, achieving a
higher surface quality.
Finish Helical is a new
machining strategy
which produces a
continuous spiral pass.