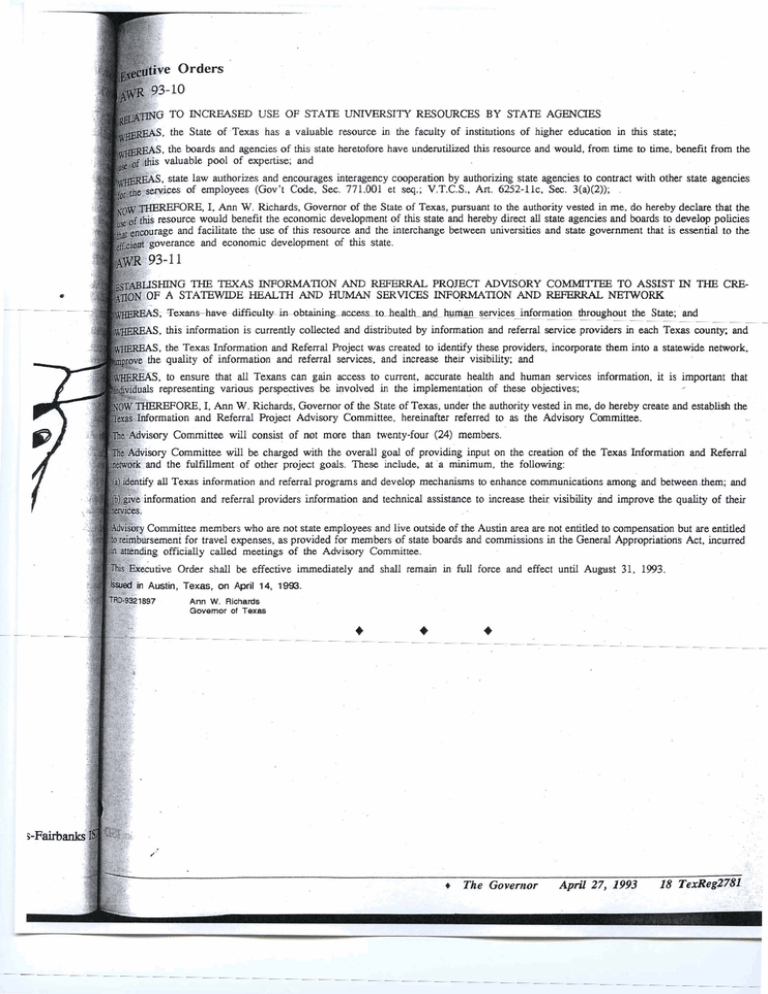 TO INCREASED USE OF STATE UNIVBRSITY RESOURCES BY STATE AGENCIES
State of Texas has a valuable resource in the faculty of institutions of higher education in this state;
, the boards and agencies of this state heretofore have underutilized this resource and would, from time to time, benefit from the
valuable pool of expertise; and
state law authorizes and encowages interagency cooperation by authorizing state agencies to contract with other state agencies
ees of employees (Gov't Code, Sec. 771.001 et seq.; V.T.C.S., Art. 6252-llc,Sec. 3(a)(2));
, I. Ann W. Richards. Governor of the State of Texas,pursuant to the authority vested in me, do hereby declare that the
would benefit the economic development of this state and hereby direct all state agencies and boards to develop policies
and facilitate the use of this resource and the interchange between universities and state government that is essential to the
ance and economic development of this state.
, the
G THE TEEAS INFORMATION AND RBFERRAL PROJECT ADVISORY COMMITTEE TO ASSST IN THE CRB
STATEWIDE HEALTH AND HbfAN SERVICES INFQRMATION AND RWERRAL NETWORK
..
Ttxefts&*wto health-&human
services information throughout the State; and
, this information is currently collected and distributed by information and referral service providers in each Texas county; and
,
tive Order shall be effective immediately .and shall remain in full force and effect until Aupst 31, 1993.
Austin, Texas, on April 14, 19Q3.
Ann W. Richards
Qwemor of Texas
..