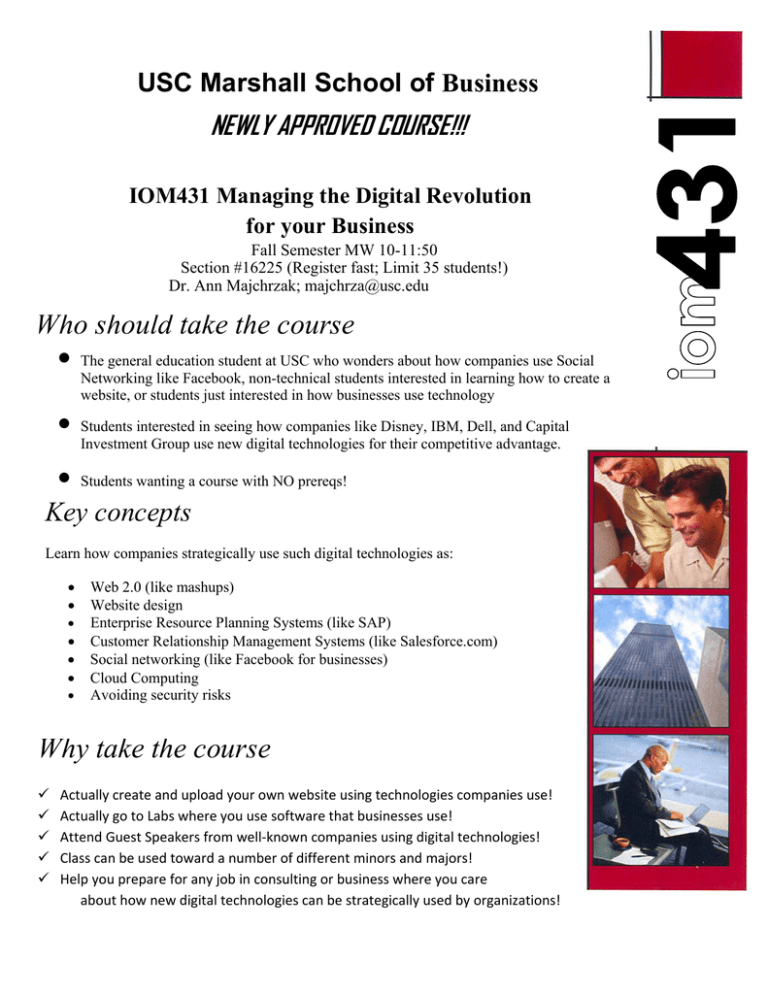 USC Marshall School of Business
NEWLY APPROVED COURSE!!!
IOM431 Managing the Digital Revolution
for your Business
Fall Semester MW 10-11:50
Section #16225 (Register fast; Limit 35 students!)
Dr. Ann Majchrzak; majchrza@usc.edu
Who should take the course
• The general education student at USC who wonders about how companies use Social
•
Networking like Facebook, non-technical students interested in learning how to create a
website, or students just interested in how businesses use technology
Students interested in seeing how companies like Disney, IBM, Dell, and Capital
Investment Group use new digital technologies for their competitive advantage.
• Students wanting a course with NO prereqs!
Key concepts Learn how companies strategically use such digital technologies as: •
•
•
•
•
•
•
Web 2.0 (like mashups)
Website design Enterprise Resource Planning Systems (like SAP) Customer Relationship Management Systems (like Salesforce.com) Social networking (like Facebook for businesses) Cloud Computing Avoiding security risks Why take the course
9
9
9
9
9
Actually create and upload your own website using technologies companies use! Actually go to Labs where you use software that businesses use! Attend Guest Speakers from well‐known companies using digital technologies! Class can be used toward a number of different minors and majors! Help you prepare for any job in consulting or business where you care about how new digital technologies can be strategically used by organizations!