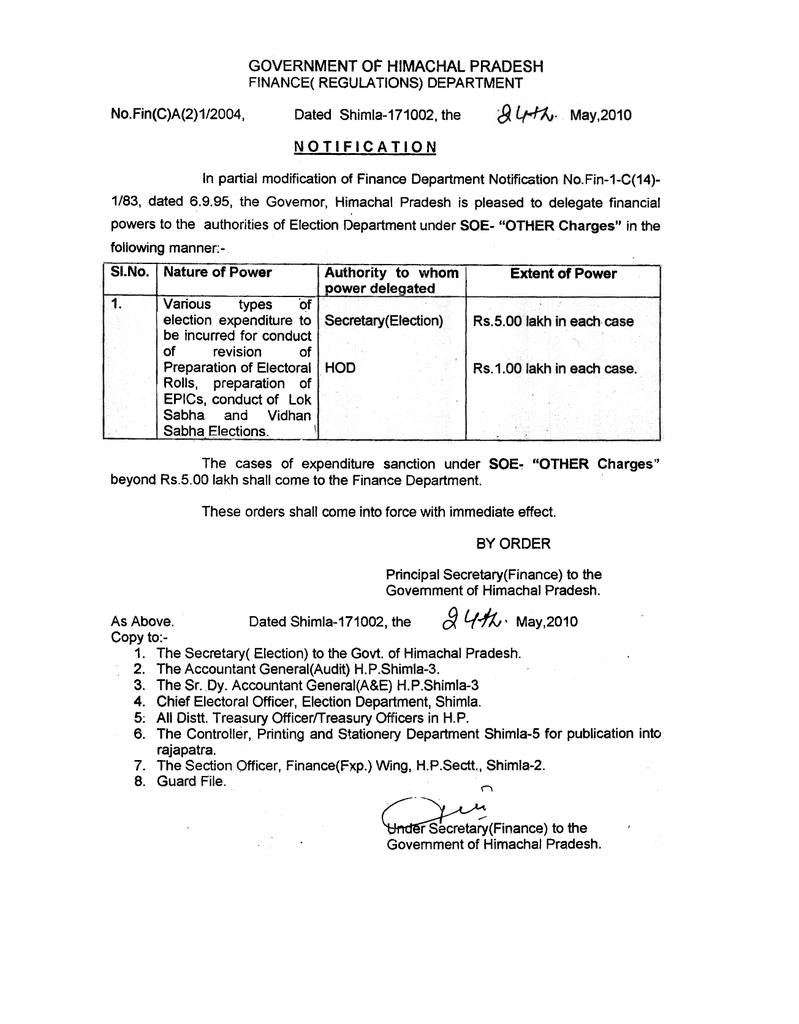 GOVERNMENT OF HIMACHAL PRADESH
FINANCE( REGULATtONS) DEPARTMENT
No. Fin(C)A(2)1/2004,
Dated Shimla-171002, the
NOTIFICATION
In partial modification of Finance Department Notification No.Fin-1-C(14)1/83, dated 6.9.95, the Governor,
Himachal Pradesh is pleased to delegate financial
powers to the authorities of Election Department under SOE- "OTHER Charges"
in the
following manner:SI.No.
Nature of Power
Various
I election
Authority
to whom
Dower delegated
types
expenditure
Extent of Power
of
toI
be incurred for conduct
of
revision
of
Preparation
of Electoral
I Rolls,
preparation
ofI
EPICs. conduct of Lok
Sabha
and
Vidhan
Sabha Elections.
The cases of expenditure sanction under SOE,; "OTHER
beyond Rs.5.00 lakh shall come to the Finance Department.
Charges"
These orders shall come into force with immediate effect.
BY ORDER
Principal Secretary(Finance) to the
Government of Himachal Pradesh.
As Above.
Dated Shimla-171002, the
/} Lf1A" May,2010
Copy to:1. The Secretary( Election) to the Govt. of Himachal Pradesh.
2. The Accountant General(Audit) H.P.Shimla-3.
3. The Sr. Dy. Accountant General(A&E) H.P.Shimla-3
4. Chief Electoral Officer, Election Department, Shimla.
5: All Distt. Treasury Officer/Treasury Officers in H.P.
6. The Controller, Printing and Stationery Department Shimla-5 for publication into
rajapatra.
7. The Section Officer, Finance(Fxp.) Wing, H.P.Sectt., Shimla-2.
8. Guard File.
n
(~;::~;.;t~;~;~i~(FinanCe) to the
Government of Himachal Pradesh.