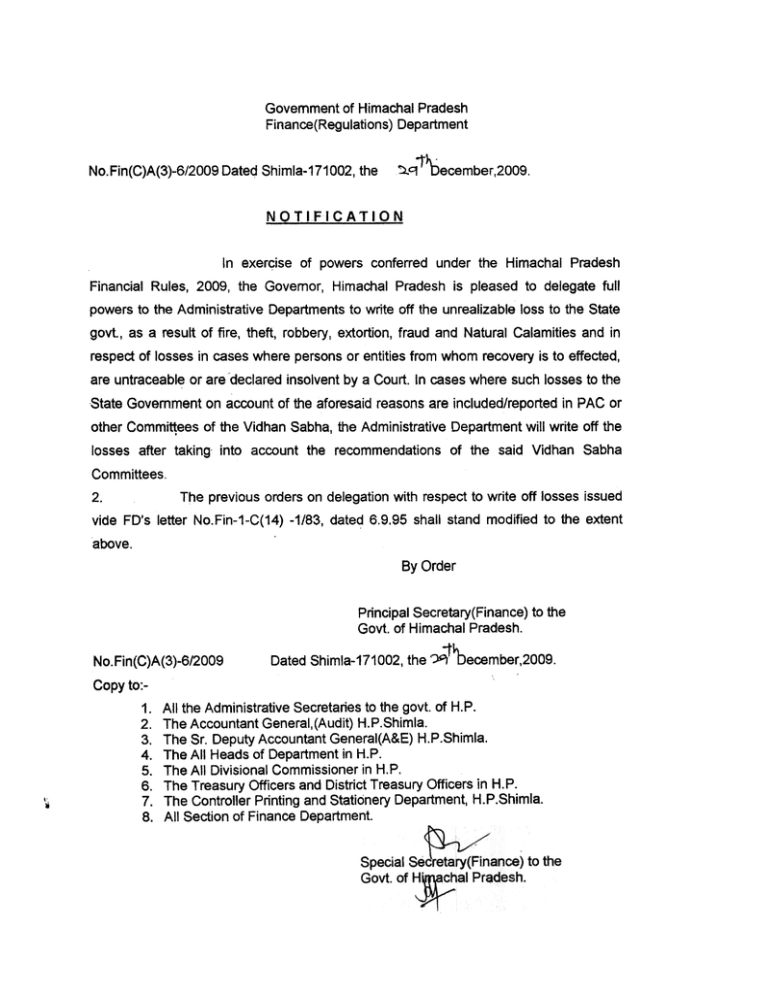 Government of Himachal Pradesh
Finance(Regulations) Department
No.Fin(C)A(3)-6/2009
Dated Shimla-171002, the
th~
~C! December,2009.
NOTIFICATION
In exercise
of powers conferred
Financial Rules, 2009, the Govemor,
powers to the Administrative
under the Himachal
Pradesh
Himachal Pradesh is pleased to delegate full
Departments to write off the unrealizable loss to the State
govt., as a result of fire, theft, robbery, extortion, fraud and Natural Calamities and in
respect of losses in cases where persons or entities from whom recovery is to effected,
are untraceable or are declared insolvent by a Court. In cases where such losses to the
State Government on account of the aforesaid reasons are included/reported
in PAC or
other Committ,ees of the Vidhan Sabha, the Administrative
Department will write off the
losses after taking' into account the recommendations
of the said Vidhan Sabha
Committees,
2.
The previous orders on delegation with respect to write off losses issued
vide FO's letter No.Fin-1-C(14)
-1/83, dated 6.9.95 shall stand modified to the extent
above.
By Order
Principal Secretary(Finance) to the
Govt. of Himachal Pradesh.
No. Fin(C)A(3)-6/2009
Dated Shimla-171002, the ~~ecember,2009.
Copyto:-
.
I
1.
2.
3.
4.
5.
6.
7.
8.
All the Administrative Secretaries to the govt. of H.P.
The Accountant General, (Audit) H.P.Shimla.
The Sr. Deputy Accountant General(A&E) H.P.Shimla.
The All Heads of Department in H.P.
The All Divisional Commissioner in H.P.
The Treasury Officers and District Treasury Officers in H. P.
The Controller Printing and Stationery Department, H.P.Shimla.
All Section of Finance Department.