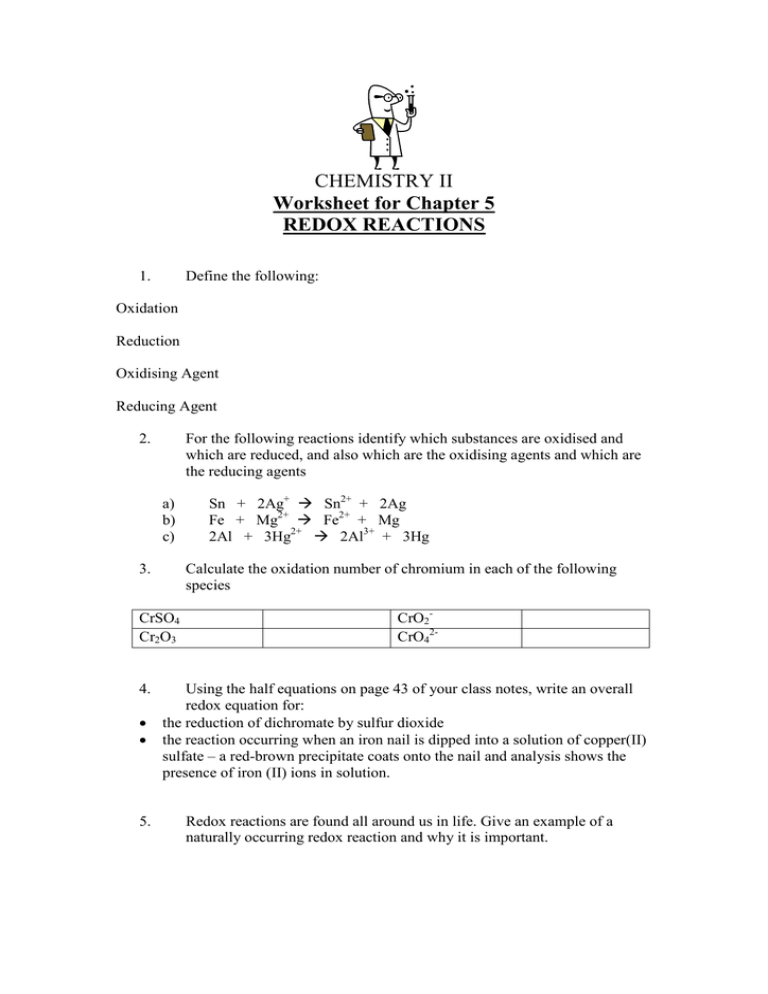 CHEMISTRY II
Worksheet for Chapter 5
REDOX REACTIONS
1.
Define the following:
Oxidation
Reduction
Oxidising Agent
Reducing Agent
2.
For the following reactions identify which substances are oxidised and
which are reduced, and also which are the oxidising agents and which are
the reducing agents
a)
b)
c)
3.
Calculate the oxidation number of chromium in each of the following
species
CrSO4
Cr2O3
4.
•
•
5.
Sn + 2Ag+ Sn2+ + 2Ag
Fe + Mg2+ Fe2+ + Mg
2Al + 3Hg2+ 2Al3+ + 3Hg
CrO2CrO42-
Using the half equations on page 43 of your class notes, write an overall
redox equation for:
the reduction of dichromate by sulfur dioxide
the reaction occurring when an iron nail is dipped into a solution of copper(II)
sulfate – a red-brown precipitate coats onto the nail and analysis shows the
presence of iron (II) ions in solution.
Redox reactions are found all around us in life. Give an example of a
naturally occurring redox reaction and why it is important.