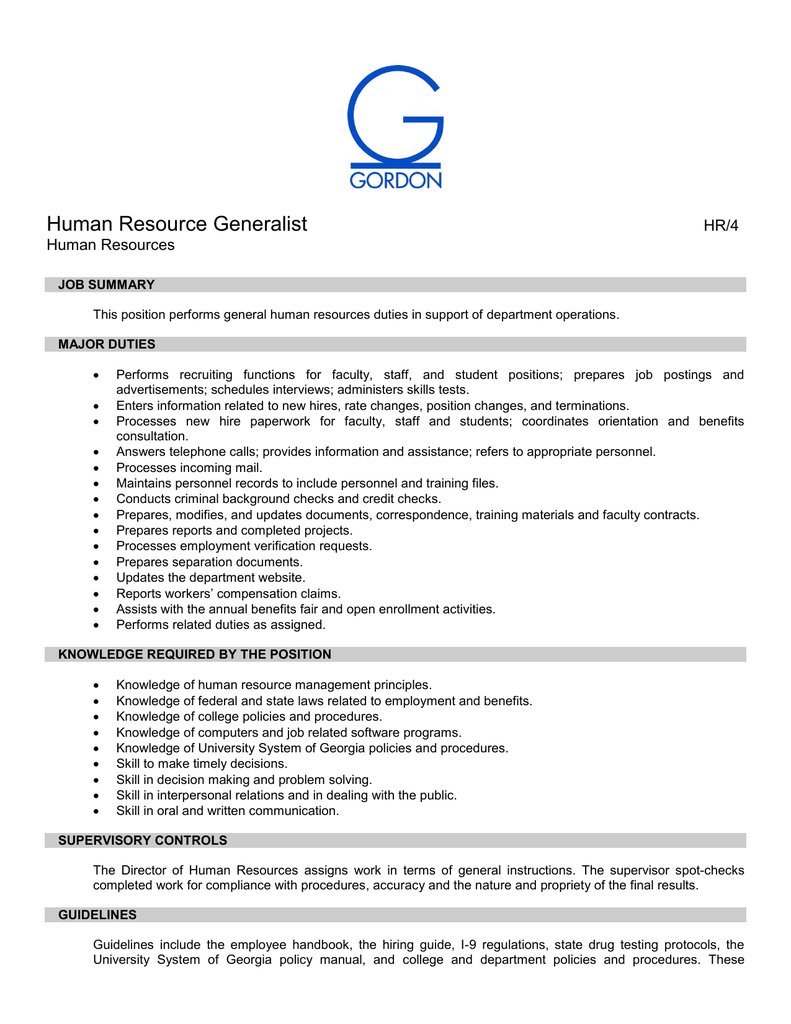 Human Resource Generalist
HR/4
Human Resources
JOB SUMMARY
This position performs general human resources duties in support of department operations.
MAJOR DUTIES















Performs recruiting functions for faculty, staff, and student positions; prepares job postings and
advertisements; schedules interviews; administers skills tests.
Enters information related to new hires, rate changes, position changes, and terminations.
Processes new hire paperwork for faculty, staff and students; coordinates orientation and benefits
consultation.
Answers telephone calls; provides information and assistance; refers to appropriate personnel.
Processes incoming mail.
Maintains personnel records to include personnel and training files.
Conducts criminal background checks and credit checks.
Prepares, modifies, and updates documents, correspondence, training materials and faculty contracts.
Prepares reports and completed projects.
Processes employment verification requests.
Prepares separation documents.
Updates the department website.
Reports workers' compensation claims.
Assists with the annual benefits fair and open enrollment activities.
Performs related duties as assigned.
KNOWLEDGE REQUIRED BY THE POSITION









Knowledge of human resource management principles.
Knowledge of federal and state laws related to employment and benefits.
Knowledge of college policies and procedures.
Knowledge of computers and job related software programs.
Knowledge of University System of Georgia policies and procedures.
Skill to make timely decisions.
Skill in decision making and problem solving.
Skill in interpersonal relations and in dealing with the public.
Skill in oral and written communication.
SUPERVISORY CONTROLS
The Director of Human Resources assigns work in terms of general instructions. The supervisor spot-checks
completed work for compliance with procedures, accuracy and the nature and propriety of the final results.
GUIDELINES
Guidelines include the employee handbook, the hiring guide, I-9 regulations, state drug testing protocols, the
University System of Georgia policy manual, and college and department policies and procedures. These
Human Resources Assistant, Human Resources
Page 2
guidelines are generally clear and specific, but may require some interpretation in application.
COMPLEXITY/SCOPE OF WORK


The work consists of related human resources duties. Frequent interruptions contribute to the complexity of
the position.
The purpose of this position is to provide services to college and external customers in matters related to
human resources operations. Success in this position contributes to the efficiency and effectiveness of
department operations.
CONTACTS


Contacts are typically with co-workers, faculty, staff, retirees, job applicants, other University System human
resources staff, benefits providers, students, and members of the general public.
Contacts are typically to give or exchange information, to resolve problems and to provide services.
PHYSICAL DEMANDS/ WORK ENVIRONMENT


The work is typically performed while sitting at a desk or table.
The work is typically performed in an office.
SUPERVISORY AND MANAGEMENT RESPONSIBILITY
None.
MINIMUM QUALIFICATIONS


Knowledge and level of competency commonly associated with completion of an associate's degree.
Sufficient experience to understand the basic principles relevant to the major duties of the position, usually
associated with the completion of an apprenticeship/internship or having had a similar position for one year.