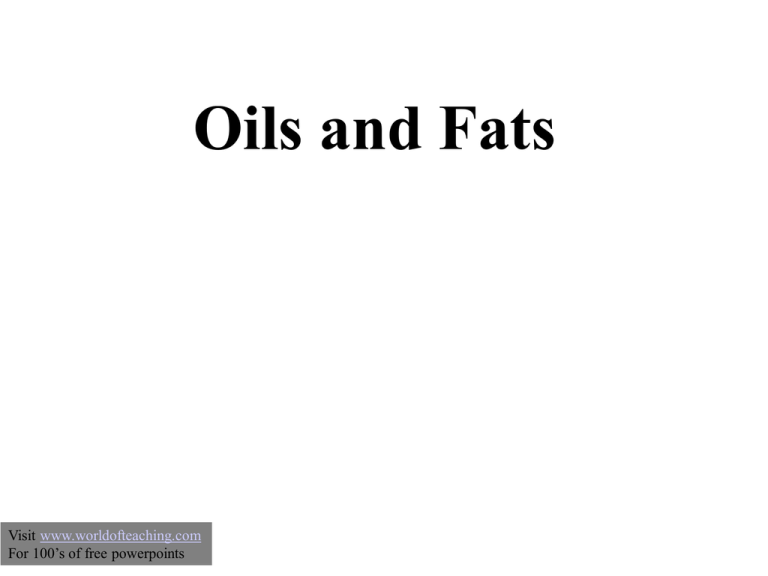 Oils and Fats
Visit www.worldofteaching.com
For 100's of free powerpoints
Chemical structure.
• Oils and fats – important for storing
chemical energy in living things.
• Oils are liquids – fats are solids.
• Made from esters of propane-1,2,3,triol
(glycerol) + long chain carboxylic
acids RCOOH.
H
H-C-O-H
H-C-O-H
H-C-O-H
H
Propane-1,2,3-triol
O
H-O-C-(CH2)14CH3
palmitic acid
STRUKTUR ASAM LEMAK
Table 11 Common fatty acids
Types of triesters
H
H-C-O-R
H-C-O-R'
H-C-O-R''
H
• Triesters
(triglycerides) –
3 carboxylic
acids react with
triol.
• Mixed triesters –
three acid
groups, not all
alike often found
in natural oils
and fats.
Fats and fatty acids.
• Unbranched hydrocarbon chains.
• Called fatty acids – occur in fats!!!
• Fully unsaturated / 3 or 4 double
bonds.
• Still known by old names – systematic
names too long.
• Thought to cause blockage of blood
vessels and heart disease, especially
the saturated ones.
Fat facts!
• Natural oils and fats are mixtures of
triesters.
• Can be split up by hydrolysis, heat with
conc. NaOH.
• Triester + NaOH  glycerol + sodium salt of acid
• Basis of soap manufacture eg. "Palmolive"
• Convert sodium salts to free acids by
adding dil. HCl or other mineral acid.
Solid or...?
• Fatty acids present in mixture affect the
properties.
• Saturated triglycerides pack closely together.
• Attractive forces - higher melting point.
…or Liquid?
• Unsaturated triglyceride molecules cannot pack closely
together because of cis double bonds - causes kinks!
• Intermolecular forces are weaker.
• Less energy needed to separate molecules - lower melting
point.
Converting oil to fat.
Fat free
milk
Hydroge
n
Oil mixture
Refiner
Hydrogenation
Catalyst
Blender
Emulsifier
Margarine
Flavouring
s etc.
Processes involved
Chemicals involved
•
•
•
•
•
Most natural oils need processing to make them fit for use.
Hydrogenation of unsaturated oils - make margarine.
Controlled hydrogenation makes oils more solid.
Pass H2 through heated oil - nickel catalyst.
Add flavourings, salt, vitamins etc.
OH
H2C
OH
HC
+
H2C OH
gliserol
H2C
O
HC
O
O
C R1
O
C R2
O
C R3
H2C O
trigliserida
O
HO O C R1
O
HO O C R2
O
HO O C R3
asam lemak
+ 3 NaOH
H2C
O
HC
O
O
C R1
O
C R2
O
C R3
+
H2C O
trigliserida
O
NaO O C R1
O
NaO O C R2
O
NaO O C R3
sabun
+
H2C
OH
HC
OH
H2C OH
gliserol
3 H 2O
Trigliserida
(atau lebih tepatnya triasilgliserol atau triasilgliserida) adalah
sebuah gliserida, yaitu ester dari gliserol dan tiga asam lemak.[1]
Trigliserida merupakan penyusun utama minyak nabati dan lemak
hewani.
Rumus kimia trigliserida adalah CH2COOR-CHCOOR'-CH2COOR", dimana R, R' dan R" masing-masing adalah sebuah
rantai alkil yang panjang. Ketiga asam lemak RCOOH, R'COOH
and R"COOH bisa jadi semuanya sama, semuanya berbeda
ataupun hanya dua diantaranya yang sama.
Struktur umum trigliserida
Phosfolipid
Is ester glycerol, only with 2 fatty acid that bond
in the atom C1 and C2 of glycerol
And C3 was ester by phosphate acid, that have
a binding with other alcohol group: cholina,
ethanolamina, serin, dan inosytol.
• phosfatidilkolin (alcohol have a binding with
kolin),
•phosfatidil etanolamin (a binding with
etanolamin),
•phosfatidil serin.