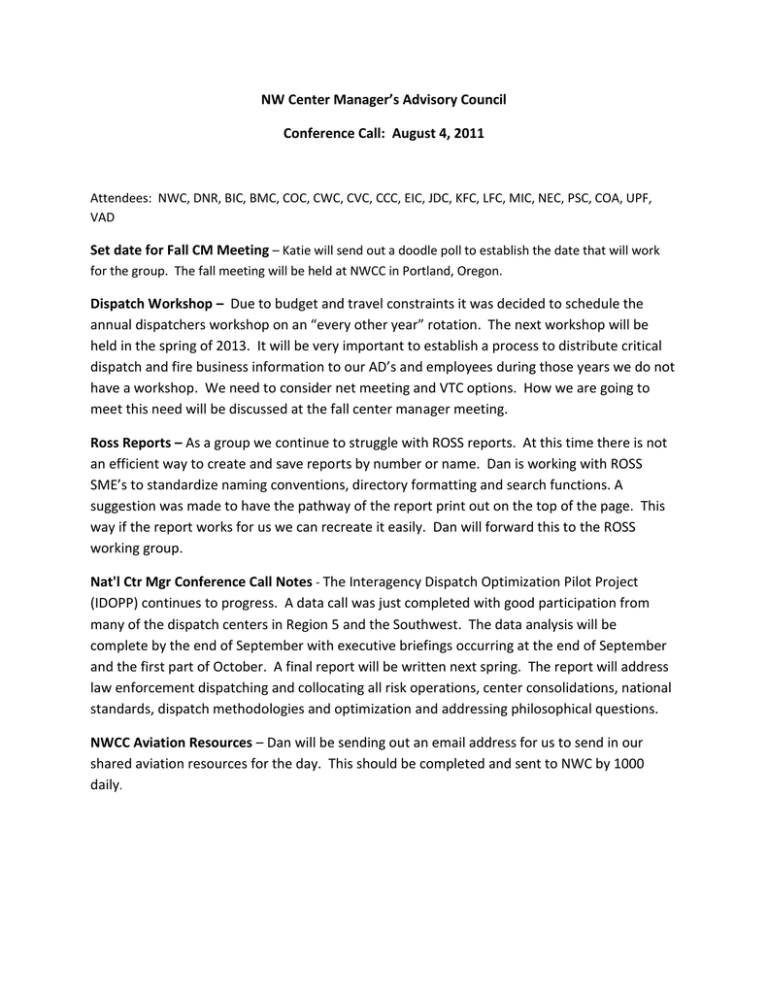 NW Center Manager's Advisory Council
Conference Call: August 4, 2011
Attendees: NWC, DNR, BIC, BMC, COC, CWC, CVC, CCC, EIC, JDC, KFC, LFC, MIC, NEC, PSC, COA, UPF,
VAD
Set date for Fall CM Meeting – Katie will send out a doodle poll to establish the date that will work
for the group. The fall meeting will be held at NWCC in Portland, Oregon.
Dispatch Workshop – Due to budget and travel constraints it was decided to schedule the
annual dispatchers workshop on an "every other year" rotation. The next workshop will be
held in the spring of 2013. It will be very important to establish a process to distribute critical
dispatch and fire business information to our AD's and employees during those years we do not
have a workshop. We need to consider net meeting and VTC options. How we are going to
meet this need will be discussed at the fall center manager meeting.
Ross Reports – As a group we continue to struggle with ROSS reports. At this time there is not
an efficient way to create and save reports by number or name. Dan is working with ROSS
SME's to standardize naming conventions, directory formatting and search functions. A
suggestion was made to have the pathway of the report print out on the top of the page. This
way if the report works for us we can recreate it easily. Dan will forward this to the ROSS
working group.
Nat'l Ctr Mgr Conference Call Notes - The Interagency Dispatch Optimization Pilot Project
(IDOPP) continues to progress. A data call was just completed with good participation from
many of the dispatch centers in Region 5 and the Southwest. The data analysis will be
complete by the end of September with executive briefings occurring at the end of September
and the first part of October. A final report will be written next spring. The report will address
law enforcement dispatching and collocating all risk operations, center consolidations, national
standards, dispatch methodologies and optimization and addressing philosophical questions.
NWCC Aviation Resources – Dan will be sending out an email address for us to send in our
shared aviation resources for the day. This should be completed and sent to NWC by 1000
daily.
Aviation Web page (RE: adopting something similar to South Ops web page) South ops has a
very thorough aviation web page. The NWC web page needs to be reviewed and updated. A
task group of Katie, Steve A., Lynn K., Dooly D., Gary M., will review both pages and provide a
recommendation to the group for the NWC page. If you have any suggestions for the page
please get them to Katie.
Engine strike team/task force status – This concept has been received very well by the
operations group. CCC had a very successful deployment of an interagency task force. They did
not use a formal MOU for this first deployment but one is being worked on. Katie can provide a
copy of the MOU they use if you need one as a guide. MIC also has a task force. At this time
the task force has to be statused in Ross as a strike team. Dan will give a change request to
NWCG requesting a resource item of "task force" is added to Ross.
News and Notes – Great Basin has a news and notes page that provides current GACC fire and
event information. This information is maintained by the GACC. This is a very valuable tool but
there are many issues with networks, security concerns, software etc. Who would maintain the
page? How much information is too much information? Technology allows us to put
information out almost instantaneously. How are we going to manage it? IIOG is looking into
interagency computer concerns and how we get information across agency systems.
Bin Items – Just a reminder that we will be doing our daily NWC call on M-W-F @1000. Please
follow the new template that Dan provided for the call.