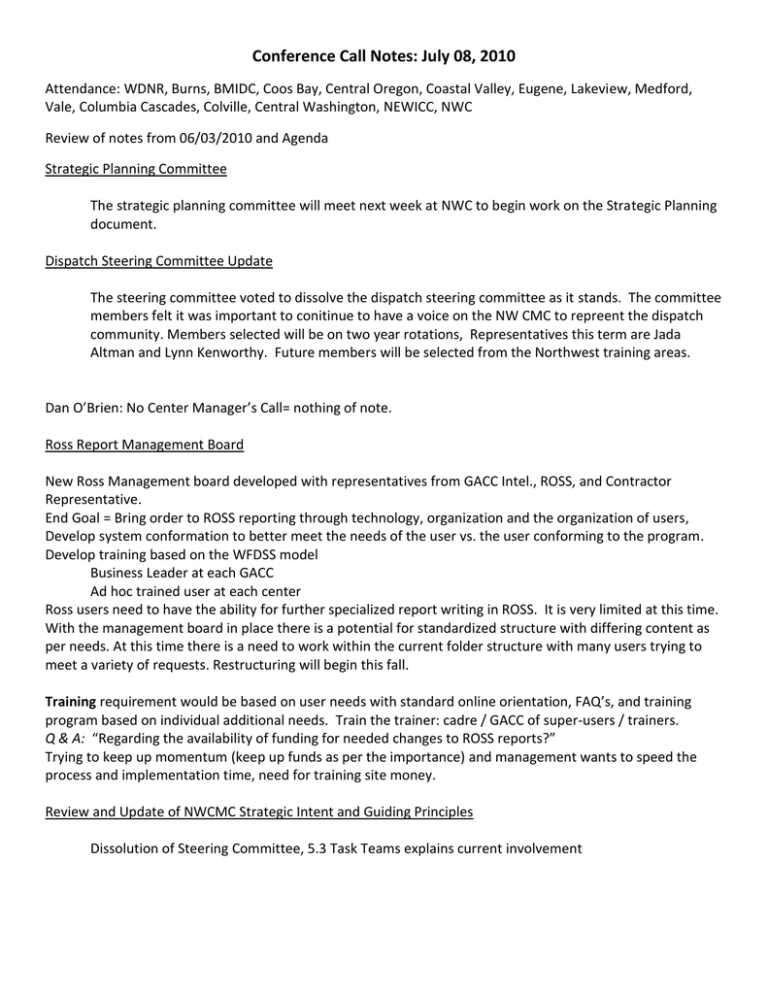 Conference Call Notes: July 08, 2010
Attendance: WDNR, Burns, BMIDC, Coos Bay, Central Oregon, Coastal Valley, Eugene, Lakeview, Medford,
Vale, Columbia Cascades, Colville, Central Washington, NEWICC, NWC
Review of notes from 06/03/2010 and Agenda
Strategic Planning Committee
The strategic planning committee will meet next week at NWC to begin work on the Strategic Planning
document.
Dispatch Steering Committee Update
The steering committee voted to dissolve the dispatch steering committee as it stands. The committee
members felt it was important to conitinue to have a voice on the NW CMC to repreent the dispatch
community. Members selected will be on two year rotations, Representatives this term are Jada
Altman and Lynn Kenworthy. Future members will be selected from the Northwest training areas.
Dan O'Brien: No Center Manager's Call= nothing of note.
Ross Report Management Board
New Ross Management board developed with representatives from GACC Intel., ROSS, and Contractor
Representative.
End Goal = Bring order to ROSS reporting through technology, organization and the organization of users,
Develop system conformation to better meet the needs of the user vs. the user conforming to the program.
Develop training based on the WFDSS model
Business Leader at each GACC
Ad hoc trained user at each center
Ross users need to have the ability for further specialized report writing in ROSS. It is very limited at this time.
With the management board in place there is a potential for standardized structure with differing content as
per needs. At this time there is a need to work within the current folder structure with many users trying to
meet a variety of requests. Restructuring will begin this fall.
Training requirement would be based on user needs with standard online orientation, FAQ's, and training
program based on individual additional needs. Train the trainer: cadre / GACC of super-users / trainers.
Q & A: "Regarding the availability of funding for needed changes to ROSS reports?"
Trying to keep up momentum (keep up funds as per the importance) and management wants to speed the
process and implementation time, need for training site money.
Review and Update of NWCMC Strategic Intent and Guiding Principles
Dissolution of Steering Committee, 5.3 Task Teams explains current involvement
Q & A and Concerns
NWC Center manager ensures the needs of the geographical area are met. Not meant to create filter,
only wanting to deal with one issue at a time.
Is a there a requirement for a center manager to participate on each task group? Currently there is a
varying degree of participation by center managers, the goal is to encourage participation, not to force
participation.
6.1 Regarding the two reps. selected from pool of willing candidates? Dispatchers should also be able,
not limited to center manager. Wording will be re-worked for greater inclusion.
6.1 Membership responsibilities to PNWCG? Center Manager Council Chair (Katie) will speak at
meeting.
6.12 Clarification of GATR reps. differing from steering committee? Two representatives will be
selected from the GAGG's training areas.
6.2 – 6.4 Voting & Decision Making
Forum need for minimum # for voting, i.e. a quorum (in this case 13 centers with representation)?
Potential roadblock when not enough show up on call. One recommendation is for broadened scope such as
optional e-mail participation, again with a need for greater participation. Option with proposal or decision
item notation to participants prior to call, if individual or designator cannot make call must make contact prior
to call. Voiced for quorum on major decisions and send out of topic prior to meeting and if becomes a
problem, then need to re-address issue. NOTE: "This document will be sent out for approval of revisions via email."
7. Products and Services: National Mobilization will be revised to include local, regional, and national.
Coordination of relevant training? Will not take over, but will be very involved.
Back to 4. Delegation of Authority, FENC and Create units & task groups? Wording from other
document, does not apply.
Review of ROSS Status Task Proposal
Responses to White Paper.
Case by case basis of availability, qualifications showing will overlap individual availability. No
manageable ROSS reports currently, especially when busy. Unit report faxed to GACC vs. GACC reporting
availability via daily print-out report. Possibility of spreadsheet generation with individual names and
qualifications.
Assign Task Group: determine the ability to status in ROSS & run reports that would be more selective
to specific qualifications.
Task Group: 1 DNR individual (to be determined), Jada Altman, Dan O'Brien, and Coral Tilley.
Current Practices will not change until hear back from task force.
DPL Mistakes- Tabled
NWCC calls- will catch roll as go through individual unit reports.
Time Out, Next Call August 5, 2010 @ 1300.