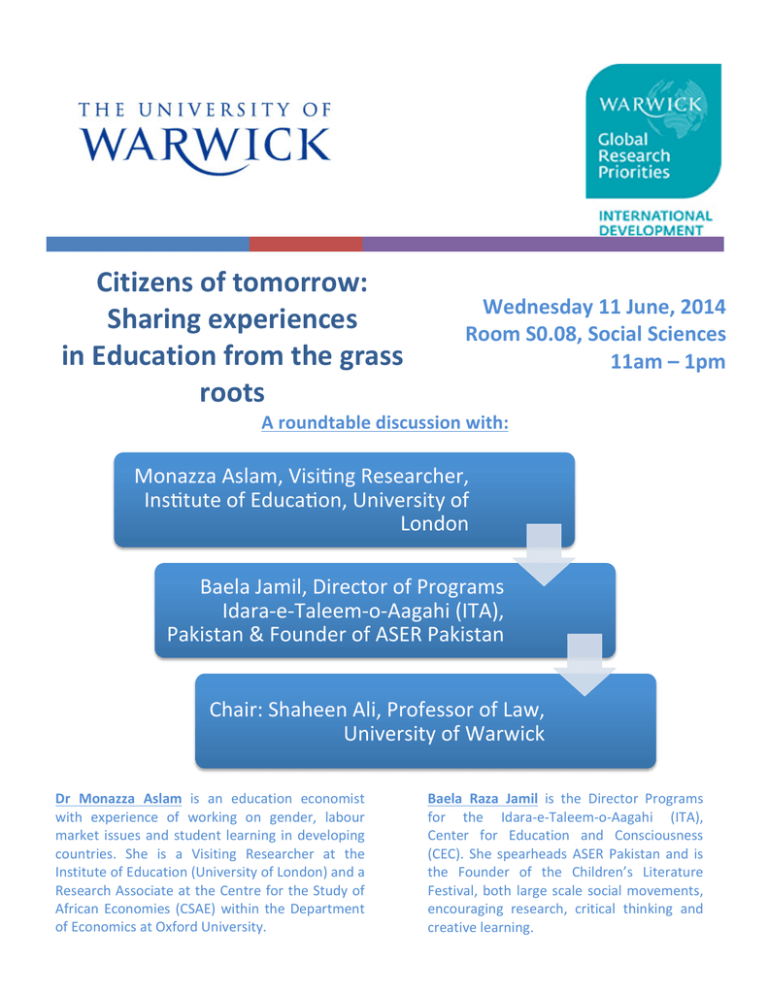 Citizens of tomorrow: Sharing experiences in Education from the grass roots
Wednesday 11 June, 2014 Room S0.08, Social Sciences 11am – 1pm A roundtable discussion with:
Monazza Aslam, Visi.ng Researcher, Ins.tute of Educa.on, University of London Baela Jamil, Director of Programs Idara-­‐e-­‐Taleem-­‐o-­‐Aagahi (ITA), Pakistan & Founder of ASER Pakistan Chair: Shaheen Ali, Professor of Law, University of Warwick Dr Monazza Aslam is an education economist with experience of working on gender, labour market issues and student learning in developing countries. She is a Visiting Researcher at the Institute of Education (University of London) and a Research Associate at the Centre for the Study of African Economies (CSAE) within the Department of Economics at Oxford University. Baela Raza Jamil is the Director Programs for the Idara-­‐e-­‐Taleem-­‐o-­‐Aagahi (ITA), Center for Education and Consciousness (CEC). She spearheads ASER Pakistan and is the Founder of the Children's Literature Festival, both large scale social movements, encouraging research, critical thinking and creative learning.