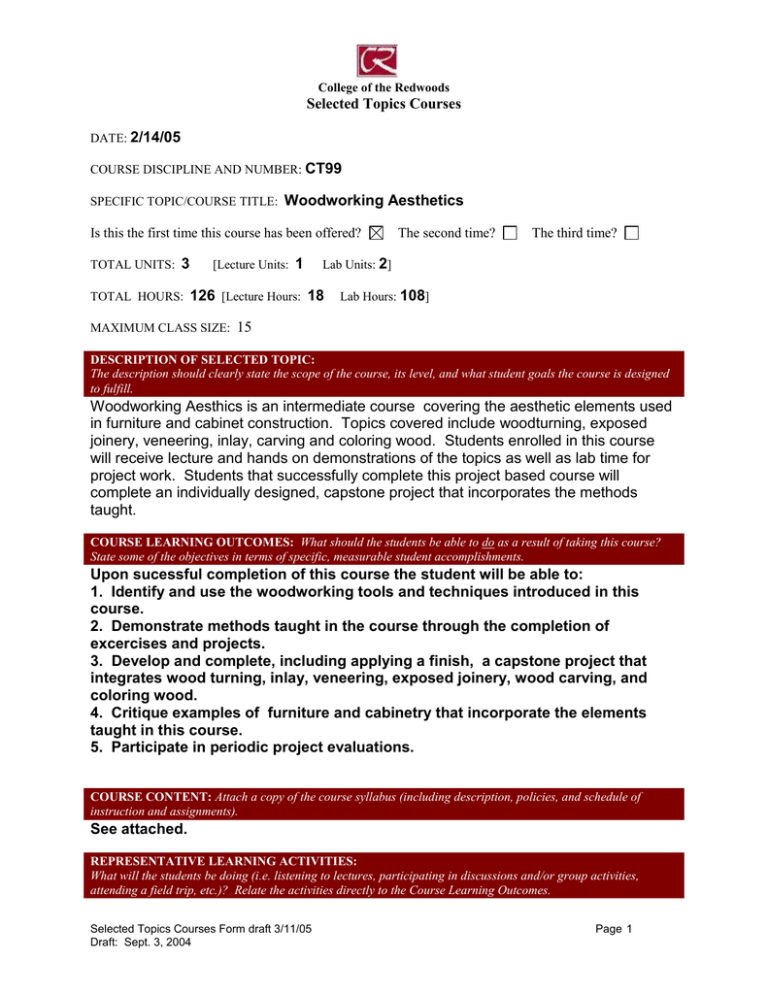 College of the Redwoods
Selected Topics Courses
DATE: 2/14/05
COURSE DISCIPLINE AND NUMBER: CT99
SPECIFIC TOPIC/COURSE TITLE:
Woodworking Aesthetics
Is this the first time this course has been offered?
TOTAL UNITS:
3
TOTAL HOURS:
[Lecture Units:
1
The third time?
Lab Units: 2]
126 [Lecture Hours: 18
MAXIMUM CLASS SIZE:
The second time?
Lab Hours: 108]
15
DESCRIPTION OF SELECTED TOPIC:
The description should clearly state the scope of the course, its level, and what student goals the course is designed
to fulfill.
Woodworking Aesthics is an intermediate course covering the aesthetic elements used
in furniture and cabinet construction. Topics covered include woodturning, exposed
joinery, veneering, inlay, carving and coloring wood. Students enrolled in this course
will receive lecture and hands on demonstrations of the topics as well as lab time for
project work. Students that successfully complete this project based course will
complete an individually designed, capstone project that incorporates the methods
taught.
COURSE LEARNING OUTCOMES: What should the students be able to do as a result of taking this course?
State some of the objectives in terms of specific, measurable student accomplishments.
Upon sucessful completion of this course the student will be able to:
1. Identify and use the woodworking tools and techniques introduced in this
course.
2. Demonstrate methods taught in the course through the completion of
excercises and projects.
3. Develop and complete, including applying a finish, a capstone project that
integrates wood turning, inlay, veneering, exposed joinery, wood carving, and
coloring wood.
4. Critique examples of furniture and cabinetry that incorporate the elements
taught in this course.
5. Participate in periodic project evaluations.
COURSE CONTENT: Attach a copy of the course syllabus (including description, policies, and schedule of
instruction and assignments).
See attached.
REPRESENTATIVE LEARNING ACTIVITIES:
What will the students be doing (i.e. listening to lectures, participating in discussions and/or group activities,
attending a field trip, etc.)? Relate the activities directly to the Course Learning Outcomes.
Selected Topics Courses Form draft 3/11/05
Draft: Sept. 3, 2004
Page 1
Learning activities in this course will include but not limited to: lectures, demonstrations,
guided practice, library and internet research, instructor and peer review and self
critique.
ASSESSMENT TASKS:
How will the students show evidence of achieving the Course Learning Outcomes?
Following directed reading and lecture/demonstrations, students will engage in a series of six
manipulative exercises in which they will practice the skills demonstraited. Upon completion of
each assignment, the students will receive feedback and evaluation from the instructor on the
quality and completeness of each exercise. Once the exercises are complete, the student is
required to combine at least one element from each assigned area into a capstone project.
PREREQUISITES:
No
Yes
Course: CT 21A
Rationale for Prerequisite?
Describe representative skills without which the student would be highly unlikely to succeed.
Students in Woodworking Aesthetics will require the woodworking hand tool and machinery
skills introduced in CT21A. Skills required upon starting this course include stock squaring and
preparation, hand tool sharpening, rotary cutting machinery safety, and previous practice with
conceled joinery.
COREQUISITE:
No
Yes
Rationale for Corequisite?
Course:
RECOMMENDED PREPARATION:
No
Yes
Course: CT
Rationale for Recommended Preparation?
21B or equivalent, English 150
Woodworking Aesthetics builds upon the hand and machine tool safety and skills
aquired in beginning and intermediate woodworking courses.
This course requires college-level reading and comprehension.
EXAMPLES OF APPROPRIATE TEXTS OR OTHER READINGS: Title, Author, and Date are required.
Author
David Pye,
Title
Author Richard
Date
Raffan,
February, 2005
Author Wayne
Barton,
The Nature and Aesthetics of Design;
Title
Title
Date
1995
Complete Illustrated Guide to Turning (Taunton Press);
Chip Carving: Design & Pattern Sourcebook;
Date
March
2002
Robert W. Lang Title Shop Drawings for Craftsman Inlays & Hardware:
Original Designs by Gustav Stickley and Harvey Ellis; Date Oct. 2004
Author
Other Appropriate Readings:
Fine Woodworking on Marquetry and Veneer (Taunton Press);The Editors of Taunton
Press, 1974
Modern Practical Joinery: A Treatise on the Practice of Joiner's Work by Hand and
Machine, for the Use of Workmen, Architects, Builders, and Machinists; George Ellis,
1987
Course Data Form 3/11/05
Final DRAFT July 2003
2
May 29, 2016
Submitted by: Paul Kinsey
Tel. Ext. 4349 Date: 2/24/05
Submitting Division/Center Review:
Date:
Curriculum Committee Approval Date: March 11, 2005
Course Data Form 3/11/05
Final DRAFT July 2003
3
May 29, 2016
FOR VPAA USE ONLY
PROGRAM AND COURSE NUMBER
TECHNICAL INFORMATION
1. Department: Choose One:
16. CoRequisite Course:
2. Subject:
17. CoRequisite Noncourse:
Course No:
3. Credit Type: Choose One:
4. Min/Maximum Units:
18. Maximum Class Size:
to
variable units
19. Repeat/Retake: Choose One:
5. Course Level: Choose One:
20. Count Retakes for Credit:
yes
no
6. Academic Level: UG Undergraduate
21. Only Pass/No Pass:
yes
no
7. Grade Scheme: UG Undergraduate
22. Allow Pass/No Pass:
yes
no
8. Short Title:
23. VATEA Funded Course:
yes
no
9. Long Title:
24. Accounting Method: Choose One:
10. National ID (CIP):
25. Disability Status: Choose One:
11. Local ID (TOPS):
26. Billing Method: T-Term
12. Course Types:
 Level One Basic Skills: Choose One:
27. Billing Period: R-Reporting Term
28. Billing Credits:

Level Two Work Experience: Choose One:

Level Three:
29. Purpose: Choose One:
Placeholder for GE OR
30. Articulation No. (CAN):
Choose One:
31. Articulation Seq. (CAN):

Level Four: If GE : Choose One:
13. Instructional Method: Choose One:
14. Inst Ld (TLUs):
32. Transfer Status: Choose One:
33. Equates to another course?
Contact Hours:
15. Prerequisite:
Particular Comments for Printed Schedule.
.
Course Data Form 3/11/05
Final DRAFT July 2003
4
May 29, 2016
course number.