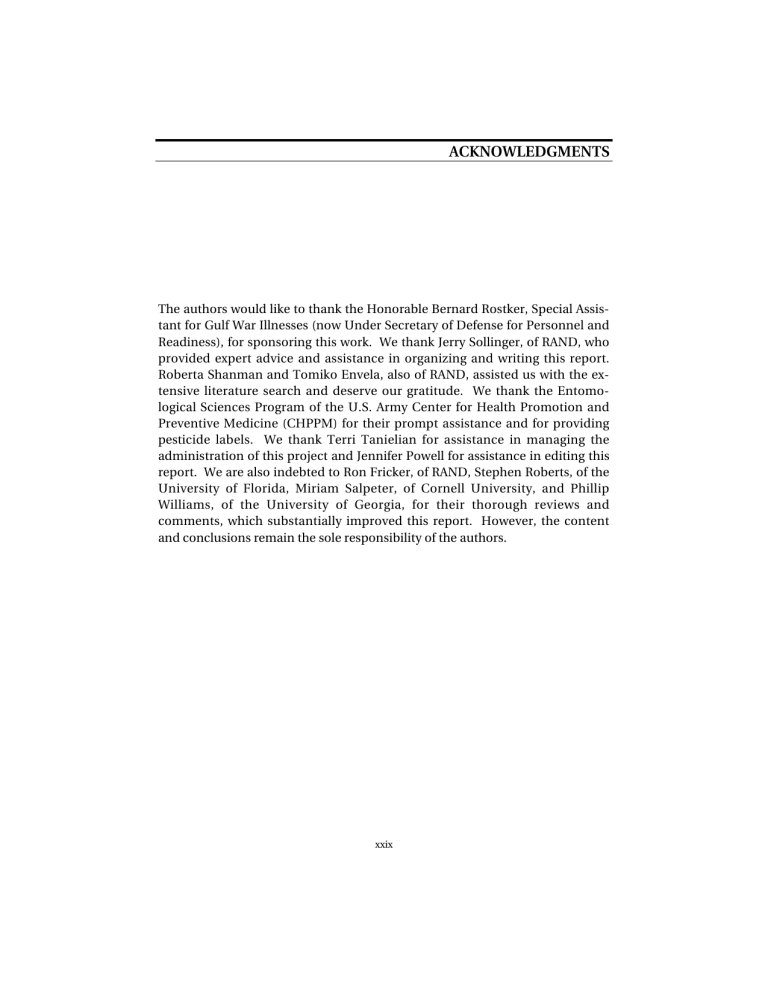 ACKNOWLEDGMENTS
The authors would like to thank the Honorable Bernard Rostker, Special Assistant for Gulf War Illnesses (now Under Secretary of Defense for Personnel and
Readiness), for sponsoring this work. We thank Jerry Sollinger, of RAND, who provided expert advice and assistance in organizing and writing this report.
Roberta Shanman and Tomiko Envela, also of RAND, assisted us with the extensive literature search and deserve our gratitude. We thank the Entomological Sciences Program of the U.S. Army Center for Health Promotion and
Preventive Medicine (CHPPM) for their prompt assistance and for providing pesticide labels. We thank Terri Tanielian for assistance in managing the administration of this project and Jennifer Powell for assistance in editing this report. We are also indebted to Ron Fricker, of RAND, Stephen Roberts, of the
University of Florida, Miriam Salpeter, of Cornell University, and Phillip
Williams, of the University of Georgia, for their thorough reviews and comments, which substantially improved this report. However, the content and conclusions remain the sole responsibility of the authors.
xxix