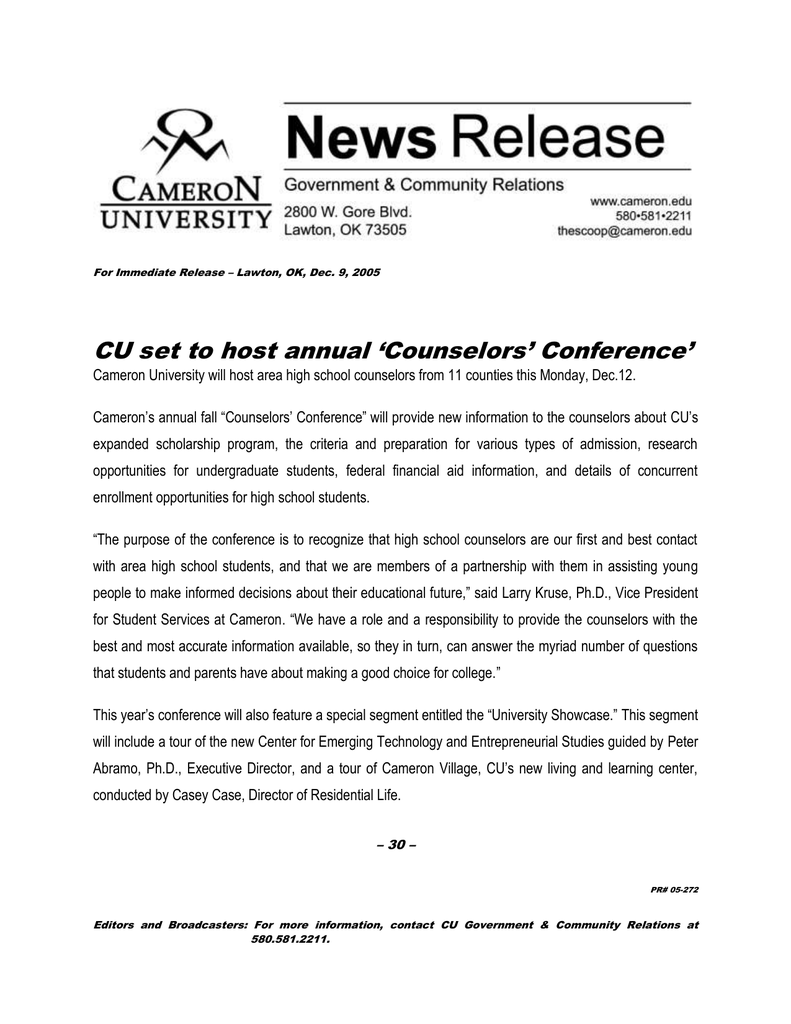 For Immediate Release – Lawton, OK, Dec. 9, 2005
CU set to host annual 'Counselors' Conference'
Cameron University will host area high school counselors from 11 counties this Monday, Dec.12.
Cameron's annual fall "Counselors' Conference" will provide new information to the counselors about CU's
expanded scholarship program, the criteria and preparation for various types of admission, research
opportunities for undergraduate students, federal financial aid information, and details of concurrent
enrollment opportunities for high school students.
"The purpose of the conference is to recognize that high school counselors are our first and best contact
with area high school students, and that we are members of a partnership with them in assisting young
people to make informed decisions about their educational future," said Larry Kruse, Ph.D., Vice President
for Student Services at Cameron. "We have a role and a responsibility to provide the counselors with the
best and most accurate information available, so they in turn, can answer the myriad number of questions
that students and parents have about making a good choice for college."
This year's conference will also feature a special segment entitled the "University Showcase." This segment
will include a tour of the new Center for Emerging Technology and Entrepreneurial Studies guided by Peter
Abramo, Ph.D., Executive Director, and a tour of Cameron Village, CU's new living and learning center,
conducted by Casey Case, Director of Residential Life.
– 30 –
PR# 05-272
Editors and Broadcasters: For more information, contact CU Government & Community Relations at
580.581.2211.