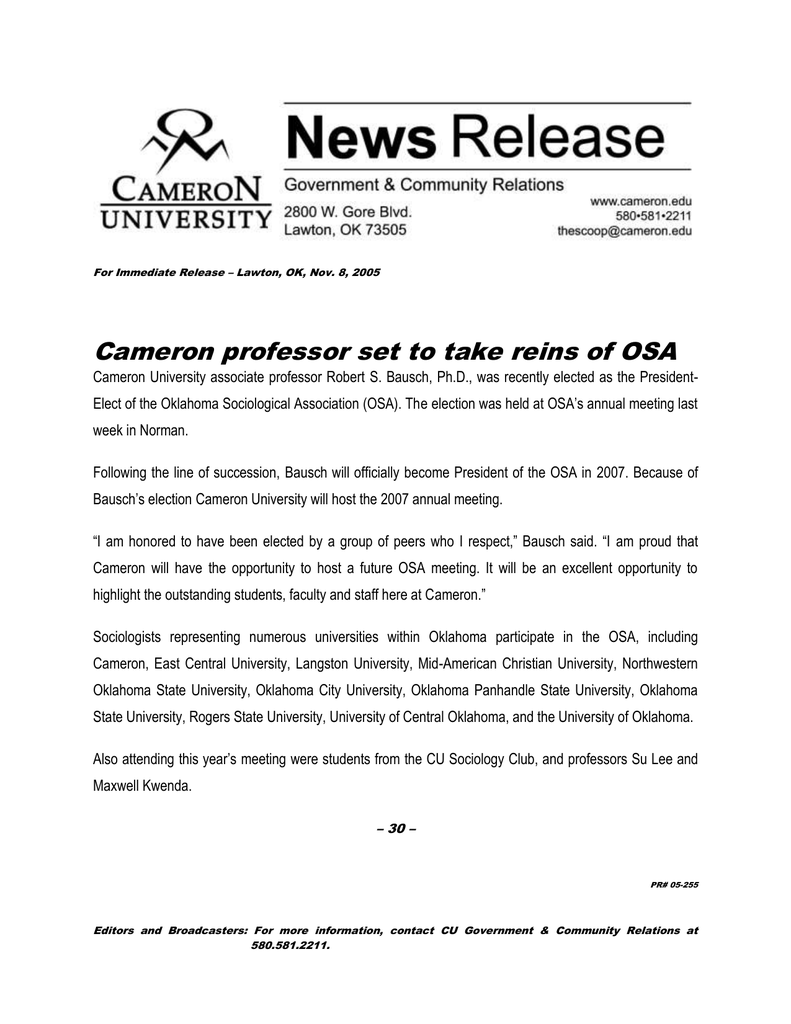 For Immediate Release – Lawton, OK, Nov. 8, 2005
Cameron professor set to take reins of OSA
Cameron University associate professor Robert S. Bausch, Ph.D., was recently elected as the PresidentElect of the Oklahoma Sociological Association (OSA). The election was held at OSA's annual meeting last
week in Norman.
Following the line of succession, Bausch will officially become President of the OSA in 2007. Because of
Bausch's election Cameron University will host the 2007 annual meeting.
"I am honored to have been elected by a group of peers who I respect," Bausch said. "I am proud that
Cameron will have the opportunity to host a future OSA meeting. It will be an excellent opportunity to
highlight the outstanding students, faculty and staff here at Cameron."
Sociologists representing numerous universities within Oklahoma participate in the OSA, including
Cameron, East Central University, Langston University, Mid-American Christian University, Northwestern
Oklahoma State University, Oklahoma City University, Oklahoma Panhandle State University, Oklahoma
State University, Rogers State University, University of Central Oklahoma, and the University of Oklahoma.
Also attending this year's meeting were students from the CU Sociology Club, and professors Su Lee and
Maxwell Kwenda.
– 30 –
PR# 05-255
Editors and Broadcasters: For more information, contact CU Government & Community Relations at
580.581.2211.