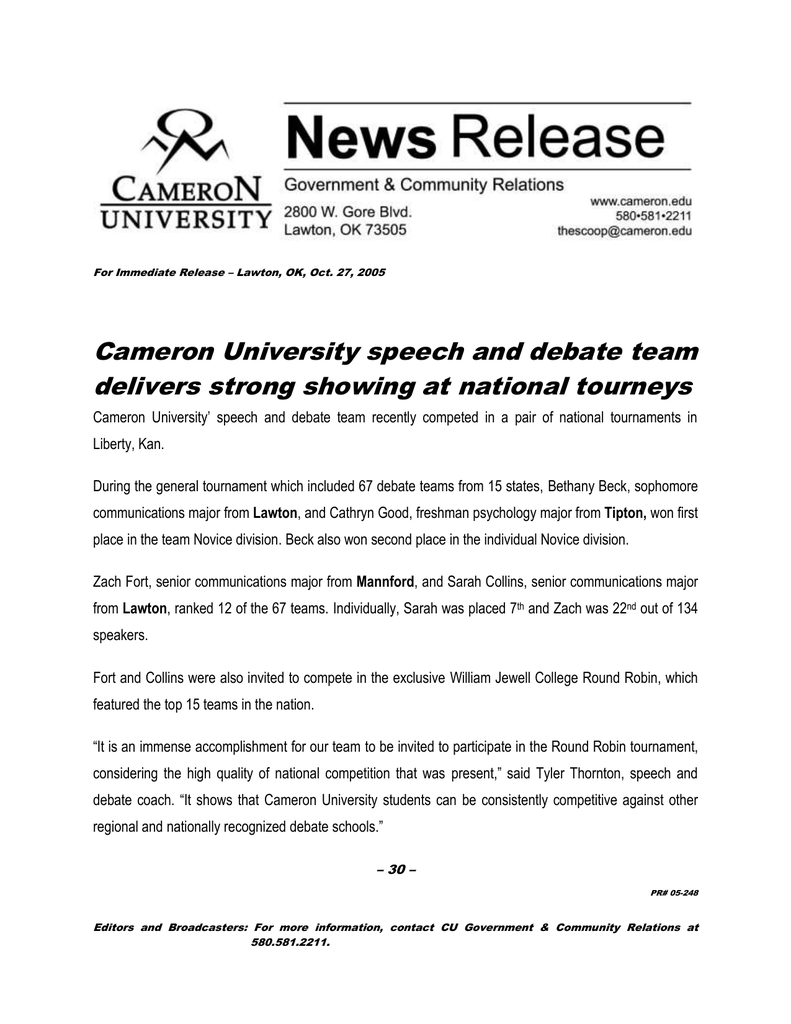 For Immediate Release – Lawton, OK, Oct. 27, 2005
Cameron University speech and debate team
delivers strong showing at national tourneys
Cameron University' speech and debate team recently competed in a pair of national tournaments in
Liberty, Kan.
During the general tournament which included 67 debate teams from 15 states, Bethany Beck, sophomore
communications major from Lawton, and Cathryn Good, freshman psychology major from Tipton, won first
place in the team Novice division. Beck also won second place in the individual Novice division.
Zach Fort, senior communications major from Mannford, and Sarah Collins, senior communications major
from Lawton, ranked 12 of the 67 teams. Individually, Sarah was placed 7th and Zach was 22nd out of 134
speakers.
Fort and Collins were also invited to compete in the exclusive William Jewell College Round Robin, which
featured the top 15 teams in the nation.
"It is an immense accomplishment for our team to be invited to participate in the Round Robin tournament,
considering the high quality of national competition that was present," said Tyler Thornton, speech and
debate coach. "It shows that Cameron University students can be consistently competitive against other
regional and nationally recognized debate schools."
– 30 –
PR# 05-248
Editors and Broadcasters: For more information, contact CU Government & Community Relations at
580.581.2211.