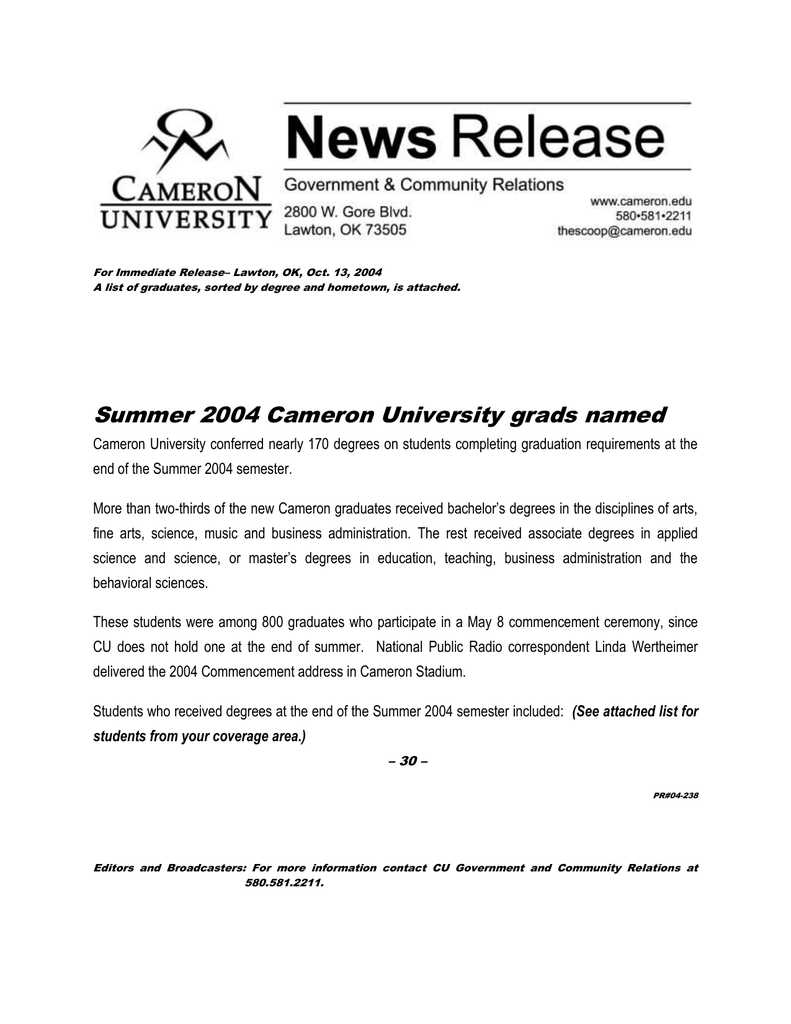 For Immediate Release– Lawton, OK, Oct. 13, 2004
A list of graduates, sorted by degree and hometown, is attached.
Summer 2004 Cameron University grads named
Cameron University conferred nearly 170 degrees on students completing graduation requirements at the
end of the Summer 2004 semester.
More than two-thirds of the new Cameron graduates received bachelor's degrees in the disciplines of arts,
fine arts, science, music and business administration. The rest received associate degrees in applied
science and science, or master's degrees in education, teaching, business administration and the
behavioral sciences.
These students were among 800 graduates who participate in a May 8 commencement ceremony, since
CU does not hold one at the end of summer. National Public Radio correspondent Linda Wertheimer
delivered the 2004 Commencement address in Cameron Stadium.
Students who received degrees at the end of the Summer 2004 semester included: (See attached list for
students from your coverage area.)
– 30 –
PR#04-238
Editors and Broadcasters: For more information contact CU Government and Community Relations at
580.581.2211.
graduates, ADD ONE
Associate in Applied Science
Oklahoma
Cache: Alicia Dawn Smith.
Elk City: Michael O. Vermillion.
Lawton: Joseph Bajza, Juanita Bostick-Defreese, Donald J. Boucher, Johnie L. Cantrell Jr., Roshelle D. Kidd, Kimeeka S.
Knight, Maurice A. McCullough, Johnny Patricio Santamaria.
Ryan: Richard Allen Duncan.
Associate in Science
Oklahoma
Cache: Denise Poemoceah.
Duncan: Tina Michelle Zinno.
Enid: Joyce Hawkins-Fields.
Frederick: Steven M. Ellis.
Lawton: Elizabeth Dianne Anderson, Kristin Bridges, Bruno C. Politano, Brad Ray Weaver.
Out-of-State
Enterprise, Kan.: Terry E. Barnett.
Newbury Park, Calif.: Dominique Loren Bucknor.
Spring Valley, Calif.: Gilbert Michael Castro.
Bachelor of Arts
Oklahoma
Elgin: Jessica Lee Foley, Jamie Kathleen Jenkins.
Geronimo: Suzanne Kaye Pittenger.
Lawton: Andrea Johnson, Michael Paul Johnson, Emily Stein, Sarah Torres.
Marietta: Morgan B. Stewart.
Oklahoma City: Helen Rebekah Hoepfner.
Out-of-State
Kankayee, Ill.: Merchelle Cunningham.
Killeen, Texas: Yamilet C. Rolon.
Lake City, Minn.: Christina D. Quy.
Ridgecrest, Calif.: Joni Bender.
Roseau, Commonwealth of Dominica: Tricia Louisa Severin.
Salreador, Brazil: Josue R. Araujo.
Bachelor of Business Administration
Oklahoma
Lawton: Jason Doll, Brian A. Floyd, C. Denise Floyd.
Out-of-State
Castries, Saint Lucia: Augusta C. Joseph.
Clearfield, Pa.: Mark Joseph Guelich.
Houston, Texas: Elizabeth Munoz.
St. George, Grenada: Sandina G. Date.
Ti Rocher, Castries, Saint Lucia: Merici K. Fevrier.
Bachelor of Fine Arts
Out-of-State
Saint Lucia: Danny Moonie.
(more)
graduates, ADD TWO
Bachelor of Music
Oklahoma
Ringling: Wendy Roberts Berry.
Out-of-State
Chisinau, Moldova: Ana-Maria Fusu.
Jacksboro Texas: Tai Livingston.
Bachelor of Science
Oklahoma
Altus: Joleen Leach, Tracy J. Lorah.
Burns Flat: Kelly S. Esteves.
Cache: Alicia Dawn Smith.
Comanche: Tom L. Percival.
Duncan: Cynthia E. Whaley.
Fort Cobb: Anita Louise Sodhi.
Frederick: Bryan David Bagwell.
Hastings: Johnny R. Cortez.
Lawton: Stephanie D. Abel, Walter T. Berry, Andrea Yvonne Brinkman, Bryan James Butler, Bethanie Marie Kuzma, Maurice A.
McCullough, Danyell Yvonne Reed, Robert Jerome Rollerson, Madonna Mae Stark, Mande Sue Whittington, Margaret
Elizabeth Wood.
Marlow: Danita J. Duncan, Serena J. Hodges.
Oklahoma City: David C. Gulikers.
Ryan: Cary M. Breeze.
Tulsa: Brian Vernon Toussaint.
Walters: Cory Alden Anderson, Lori Perkins Ogletree, Chris L. Williams.
Out-of-State
Buffalo, N.Y.: Angela D. Carbajal.
Canefield, Commonwealth of Dominica: Serana Nicholle Lawrence.
Dallas, Texas: Mark Randall Corn.
Delavan, Ill.: Michael J. Rush.
Dover, Del.: Ronald T. Hill.
Fort Knox, Ky.: Shauna Patrice Eskridge.
Grand Junction, Colo.: Daniel G. Campbell Sr..
Memphis, Tenn.: Brenda K. Kelley.
Philadelphia, Pa.: Rasheed Hassan.
Round Rock, Texas: Jessica Lynn Alverson.
Utica. N.Y.: Louis Thomas Caruso.
Waco, Texas: Darrin William Hall.
Master of Arts
Oklahoma
Duncan: Dona E. Sherrill.
Elgin: Lacie Ellis Ratcliff Jr., Paula Stillman.
Faxon: Amanda Mourine Grimes.
Lawton: Toni Marie Jeffers Jones, Rachael Celeste Marco, Dennis Brandon Totte.
Lindsay: Sandra Bernice Hutcheson.
Walters: Theresa D. Flanagan.
Out-of-State
Boise, Idaho: Jessica Anne Yocum.
Clarksville, Tenn.: Tracee Nichole Fisher.
Colquitt, Ga.: Martin J. Childs.
Dallas, Texas: Melinda Garza.
Indianapolis, Ind.: Michelle R. Irwin.
(more)
graduates, ADD THREE
Manistique, Mich.: Matthew Paul Seid.
Pheonix, Ariz.: Geneva C. Howard.
Wichita Falls, Texas: Jana E Brown.
Master of Business Administration
Oklahoma
Blackwell: Leslie Ann Johns.
Ponca City: Jessica Lynn Webb Bailey.
Out-of-State
Omaha, Neb.: Jennifer Lynn Helms.
Hope Mills, N.C.: Felicia Evelyn Kasza.
In the Army: Matthew G. Hollobaugh, Calina Milan Saucedo.
Master of Education
Oklahoma
Lawton: Rose Ann Meadors, Leisa G. Stamper, B. Judi Wetmore.
Sulphur: Kay Lynn Nimmo.
Out-of-State
Houston, Texas: Byron Keith Amerson.
Huntsville, Ala.: Cynthia Denise Thomas.
Master of Science
Oklahoma
Davis: Corina A. Prince.
Duncan: Barbra Ellen Greene-Davis.
Lawton: Jennifer Dawn Keller, Jan Marie Shields, Jennifer L. Whitehead.
Out-of-State
Berlin, Germany: Manuela Wikinger-Henry.
Houston, Texas: Larry Joseph Conner.
Roseau, Commonwealth of Dominica: Ernie Francis.