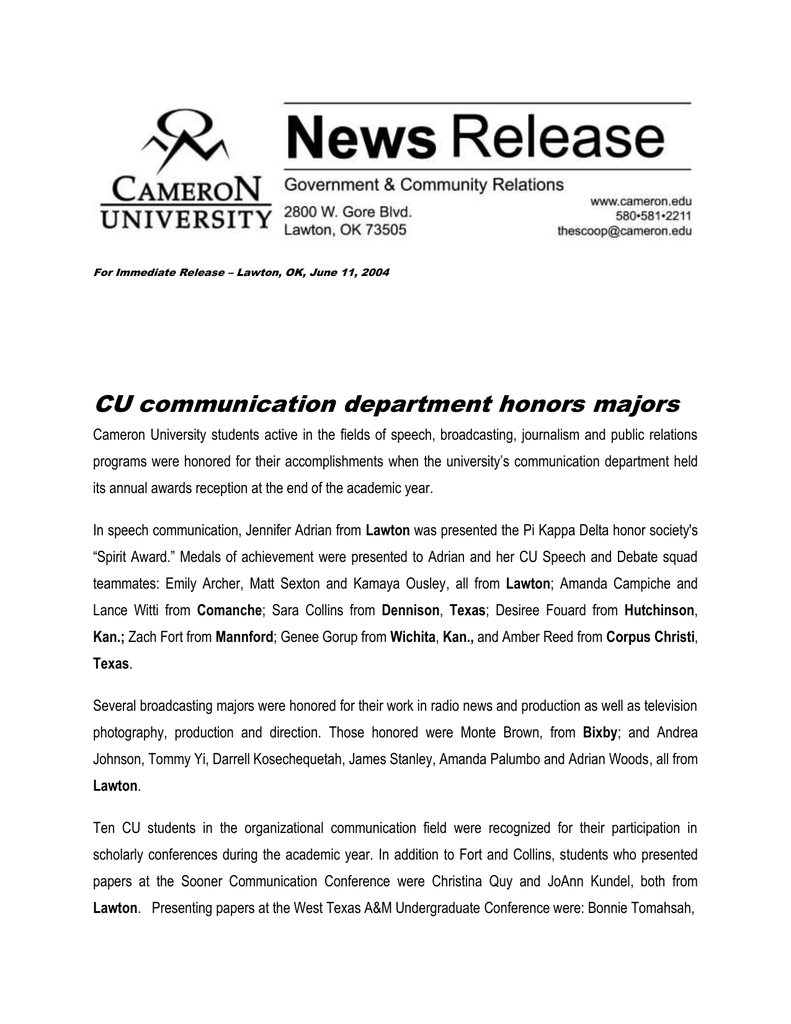 For Immediate Release – Lawton, OK, June 11, 2004
CU communication department honors majors
Cameron University students active in the fields of speech, broadcasting, journalism and public relations
programs were honored for their accomplishments when the university's communication department held
its annual awards reception at the end of the academic year.
In speech communication, Jennifer Adrian from Lawton was presented the Pi Kappa Delta honor society's
"Spirit Award." Medals of achievement were presented to Adrian and her CU Speech and Debate squad
teammates: Emily Archer, Matt Sexton and Kamaya Ousley, all from Lawton; Amanda Campiche and
Lance Witti from Comanche; Sara Collins from Dennison, Texas; Desiree Fouard from Hutchinson,
Kan.; Zach Fort from Mannford; Genee Gorup from Wichita, Kan., and Amber Reed from Corpus Christi,
Texas.
Several broadcasting majors were honored for their work in radio news and production as well as television
photography, production and direction. Those honored were Monte Brown, from Bixby; and Andrea
Johnson, Tommy Yi, Darrell Kosechequetah, James Stanley, Amanda Palumbo and Adrian Woods, all from
Lawton.
Ten CU students in the organizational communication field were recognized for their participation in
scholarly conferences during the academic year. In addition to Fort and Collins, students who presented
papers at the Sooner Communication Conference were Christina Quy and JoAnn Kundel, both from
Lawton. Presenting papers at the West Texas A&M Undergraduate Conference were: Bonnie Tomahsah,
Jan Woomavoyah, Rick Hutchings, Germaine Mitchell and Adrienne Wilson, all from Lawton. Gorup and
Collins also presented papers at the National Oratory Conference.
Journalism students Chelsey King from Cache and Alvin Ingram from Lawton were recognized for their
work with the Cameron Collegian newspaper.
Other Collegian staff members were recognized for their success at the recent Oklahoma Collegiate Press
Association Conference. Emily Hein, Rick Hutchings and Thomas Pruitt, all from Lawton, were honored
with second place news writing, third place reviews and honorable mention for cartoons respectively. Jamie
Willis of Blair received third place for feature writing, while Elgin native Carl Ross garnered a third place
nod for column writing.
Ingram, Kundel, Quy and Woomavoyah were among a group of CU students accepted into Lambda Pi Eta,
the communication honor society. Joining them were Lindsay Baugh, Laura Brady, Charlene Bruer, Brittny
Flint, Aaron Gilbee, Jennie Hanna, Dawn Hold, Nathan McCulloch, Rosana Navas, Angela Sanders and
Carl Schwander, all from Lawton.
– 30 –
PR#04-139
Editors and Broadcasters: For more information, contact CU Government & Community Relations at
580.581.2211.