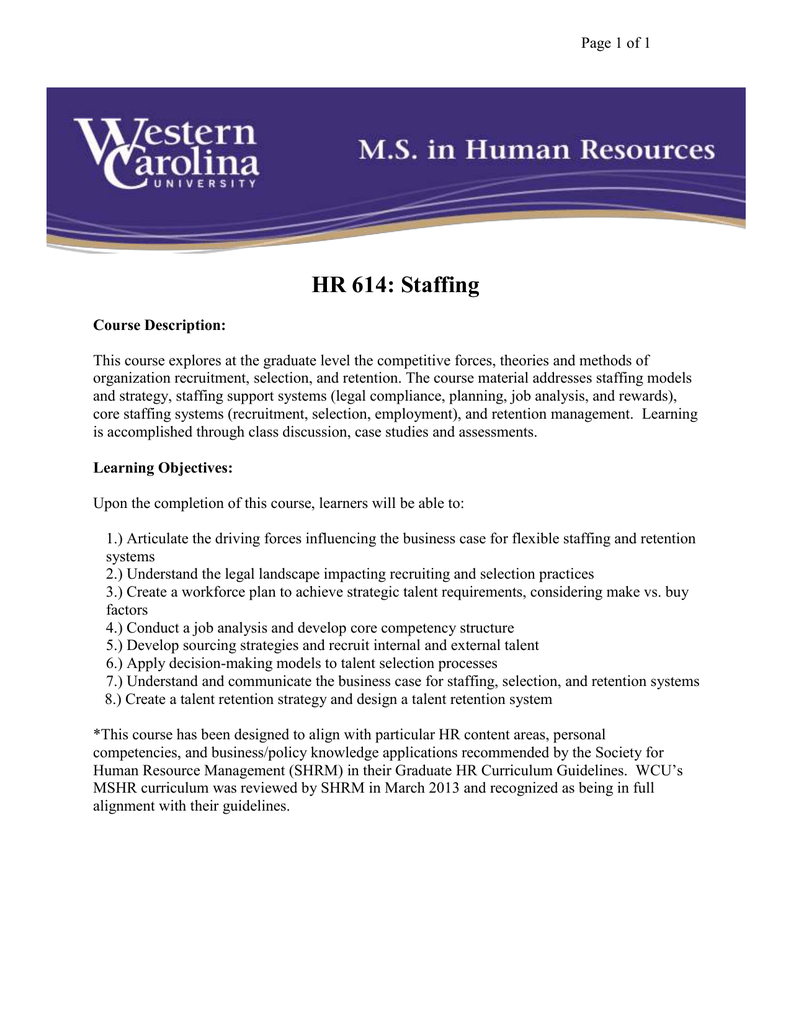 Page 1 of 1
HR 614: Staffing
Course Description:
This course explores at the graduate level the competitive forces, theories and methods of
organization recruitment, selection, and retention. The course material addresses staffing models
and strategy, staffing support systems (legal compliance, planning, job analysis, and rewards),
core staffing systems (recruitment, selection, employment), and retention management. Learning
is accomplished through class discussion, case studies and assessments.
Learning Objectives:
Upon the completion of this course, learners will be able to:
1.) Articulate the driving forces influencing the business case for flexible staffing and retention
systems
2.) Understand the legal landscape impacting recruiting and selection practices
3.) Create a workforce plan to achieve strategic talent requirements, considering make vs. buy
factors
4.) Conduct a job analysis and develop core competency structure
5.) Develop sourcing strategies and recruit internal and external talent
6.) Apply decision-making models to talent selection processes
7.) Understand and communicate the business case for staffing, selection, and retention systems
8.) Create a talent retention strategy and design a talent retention system
*This course has been designed to align with particular HR content areas, personal
competencies, and business/policy knowledge applications recommended by the Society for
Human Resource Management (SHRM) in their Graduate HR Curriculum Guidelines. WCU's
MSHR curriculum was reviewed by SHRM in March 2013 and recognized as being in full
alignment with their guidelines.