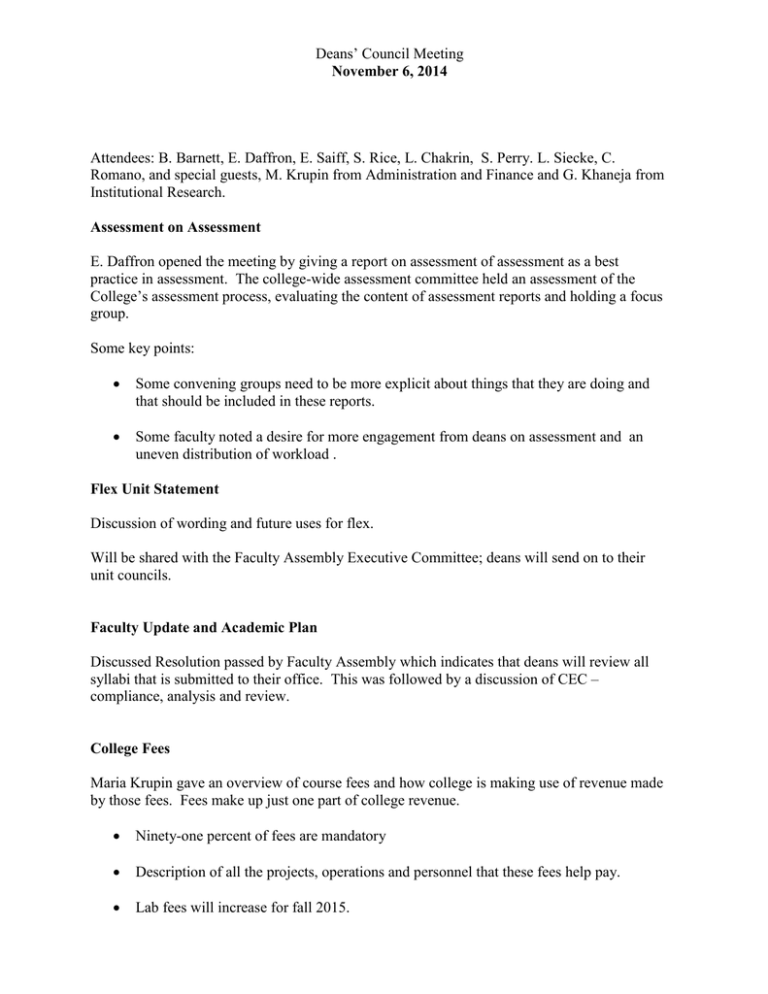 Deans' Council Meeting
November 6, 2014
Attendees: B. Barnett, E. Daffron, E. Saiff, S. Rice, L. Chakrin, S. Perry. L. Siecke, C.
Romano, and special guests, M. Krupin from Administration and Finance and G. Khaneja from
Institutional Research.
Assessment on Assessment
E. Daffron opened the meeting by giving a report on assessment of assessment as a best
practice in assessment. The college-wide assessment committee held an assessment of the
College's assessment process, evaluating the content of assessment reports and holding a focus
group.
Some key points:

Some convening groups need to be more explicit about things that they are doing and
that should be included in these reports.

Some faculty noted a desire for more engagement from deans on assessment and an
uneven distribution of workload .
Flex Unit Statement
Discussion of wording and future uses for flex.
Will be shared with the Faculty Assembly Executive Committee; deans will send on to their
unit councils.
Faculty Update and Academic Plan
Discussed Resolution passed by Faculty Assembly which indicates that deans will review all
syllabi that is submitted to their office. This was followed by a discussion of CEC –
compliance, analysis and review.
College Fees
Maria Krupin gave an overview of course fees and how college is making use of revenue made
by those fees. Fees make up just one part of college revenue.

Ninety-one percent of fees are mandatory

Description of all the projects, operations and personnel that these fees help pay.

Lab fees will increase for fall 2015.
Retention and Graduation by Major
G. Khaneja gave a report on graduation rates by major.
A cohort analysis of first-time, full-time degree seeking students was provided. Results were
from fall 2003 to fall 2007 – and are also available on the IR website.
She noted that she used a quadrant analysis for the study.