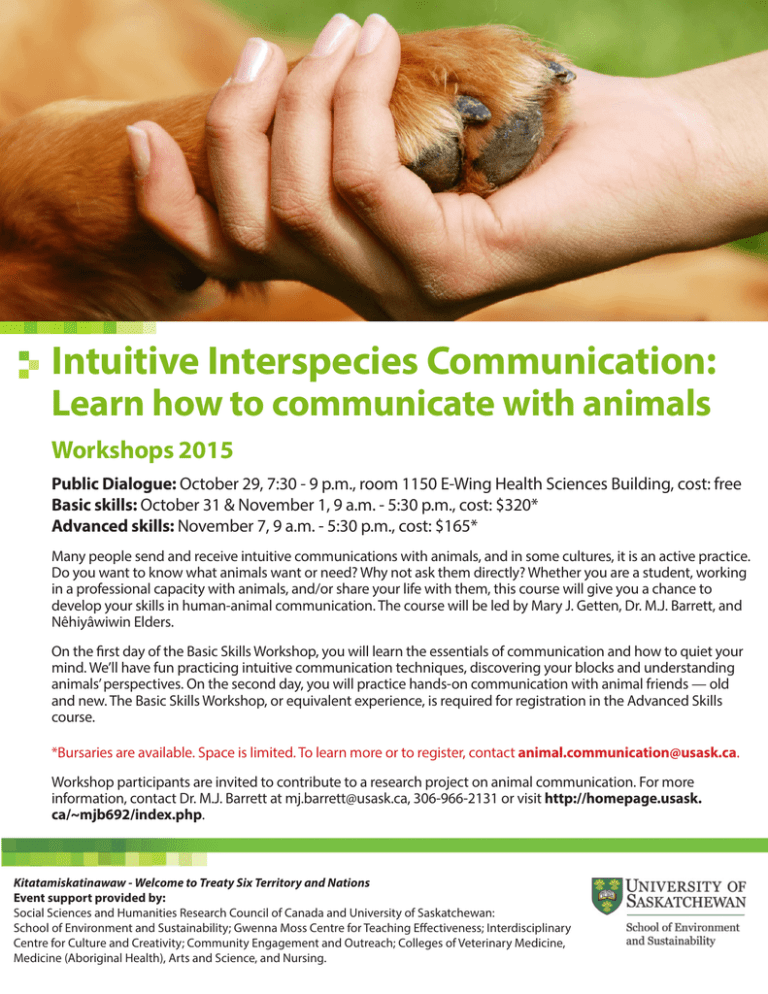 Intuitive Interspecies Communication:
Learn how to communicate with animals
Workshops 2015
Public Dialogue: October 29, 7:30 - 9 p.m., room 1150 E-Wing Health Sciences Building, cost: free
Basic skills: October 31 & November 1, 9 a.m. - 5:30 p.m., cost: $320*
Advanced skills: November 7, 9 a.m. - 5:30 p.m., cost: $165*
Many people send and receive intuitive communications with animals, and in some cultures, it is an active practice.
Do you want to know what animals want or need? Why not ask them directly? Whether you are a student, working
in a professional capacity with animals, and/or share your life with them, this course will give you a chance to
develop your skills in human-animal communication. The course will be led by Mary J. Getten, Dr. M.J. Barrett, and
Nêhiyâwiwin Elders.
On the first day of the Basic Skills Workshop, you will learn the essentials of communication and how to quiet your
mind. We'll have fun practicing intuitive communication techniques, discovering your blocks and understanding
animals' perspectives. On the second day, you will practice hands-on communication with animal friends — old
and new. The Basic Skills Workshop, or equivalent experience, is required for registration in the Advanced Skills
course.
*Bursaries are available. Space is limited. To learn more or to register, contact animal.communication@usask.ca.
Workshop participants are invited to contribute to a research project on animal communication. For more
information, contact Dr. M.J. Barrett at mj.barrett@usask.ca, 306-966-2131 or visit http://homepage.usask.
ca/~mjb692/index.php.
Kitatamiskatinawaw - Welcome to Treaty Six Territory and Nations
Event support provided by:
Social Sciences and Humanities Research Council of Canada and University of Saskatchewan:
School of Environment and Sustainability; Gwenna Moss Centre for Teaching Effectiveness; Interdisciplinary
Centre for Culture and Creativity; Community Engagement and Outreach; Colleges of Veterinary Medicine,
Medicine (Aboriginal Health), Arts and Science, and Nursing.