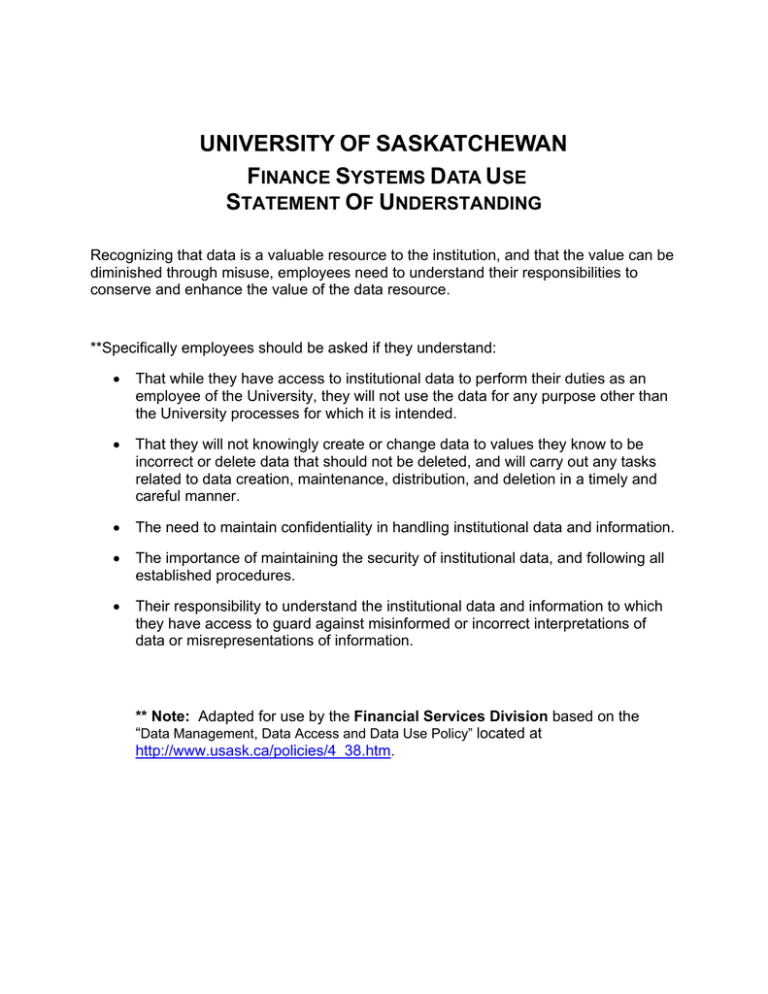 UNIVERSITY OF SASKATCHEWAN
FINANCE SYSTEMS DATA USE
STATEMENT OF UNDERSTANDING
Recognizing that data is a valuable resource to the institution, and that the value can be
diminished through misuse, employees need to understand their responsibilities to
conserve and enhance the value of the data resource.
**Specifically employees should be asked if they understand:
•
That while they have access to institutional data to perform their duties as an
employee of the University, they will not use the data for any purpose other than
the University processes for which it is intended.
•
That they will not knowingly create or change data to values they know to be
incorrect or delete data that should not be deleted, and will carry out any tasks
related to data creation, maintenance, distribution, and deletion in a timely and
careful manner.
•
The need to maintain confidentiality in handling institutional data and information.
•
The importance of maintaining the security of institutional data, and following all
established procedures.
•
Their responsibility to understand the institutional data and information to which
they have access to guard against misinformed or incorrect interpretations of
data or misrepresentations of information.
** Note: Adapted for use by the Financial Services Division based on the
"Data Management, Data Access and Data Use Policy" located at
http://www.usask.ca/policies/4_38.htm.