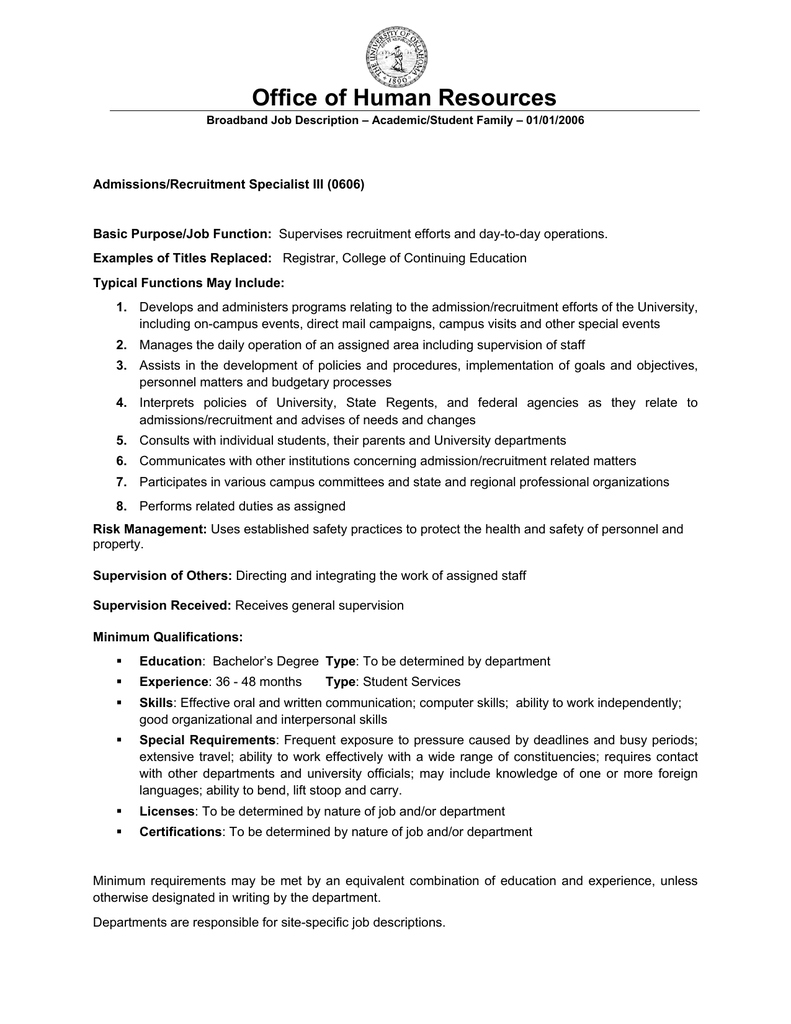 Office of Human Resources
Broadband Job Description – Academic/Student Family – 01/01/2006
Admissions/Recruitment Specialist III (0606)
Basic Purpose/Job Function: Supervises recruitment efforts and day-to-day operations.
Examples of Titles Replaced: Registrar, College of Continuing Education
Typical Functions May Include:
1. Develops and administers programs relating to the admission/recruitment efforts of the University,
including on-campus events, direct mail campaigns, campus visits and other special events
2. Manages the daily operation of an assigned area including supervision of staff
3. Assists in the development of policies and procedures, implementation of goals and objectives,
personnel matters and budgetary processes
4. Interprets policies of University, State Regents, and federal agencies as they relate to
admissions/recruitment and advises of needs and changes
5. Consults with individual students, their parents and University departments
6. Communicates with other institutions concerning admission/recruitment related matters
7. Participates in various campus committees and state and regional professional organizations
8. Performs related duties as assigned
Risk Management: Uses established safety practices to protect the health and safety of personnel and
property.
Supervision of Others: Directing and integrating the work of assigned staff
Supervision Received: Receives general supervision
Minimum Qualifications:
ƒ
Education: Bachelor's Degree Type: To be determined by department
ƒ
Experience: 36 - 48 months
ƒ
Skills: Effective oral and written communication; computer skills; ability to work independently;
good organizational and interpersonal skills
ƒ
Special Requirements: Frequent exposure to pressure caused by deadlines and busy periods;
extensive travel; ability to work effectively with a wide range of constituencies; requires contact
with other departments and university officials; may include knowledge of one or more foreign
languages; ability to bend, lift stoop and carry.
ƒ
Licenses: To be determined by nature of job and/or department
ƒ
Certifications: To be determined by nature of job and/or department
Type: Student Services
Minimum requirements may be met by an equivalent combination of education and experience, unless
otherwise designated in writing by the department.
Departments are responsible for site-specific job descriptions.