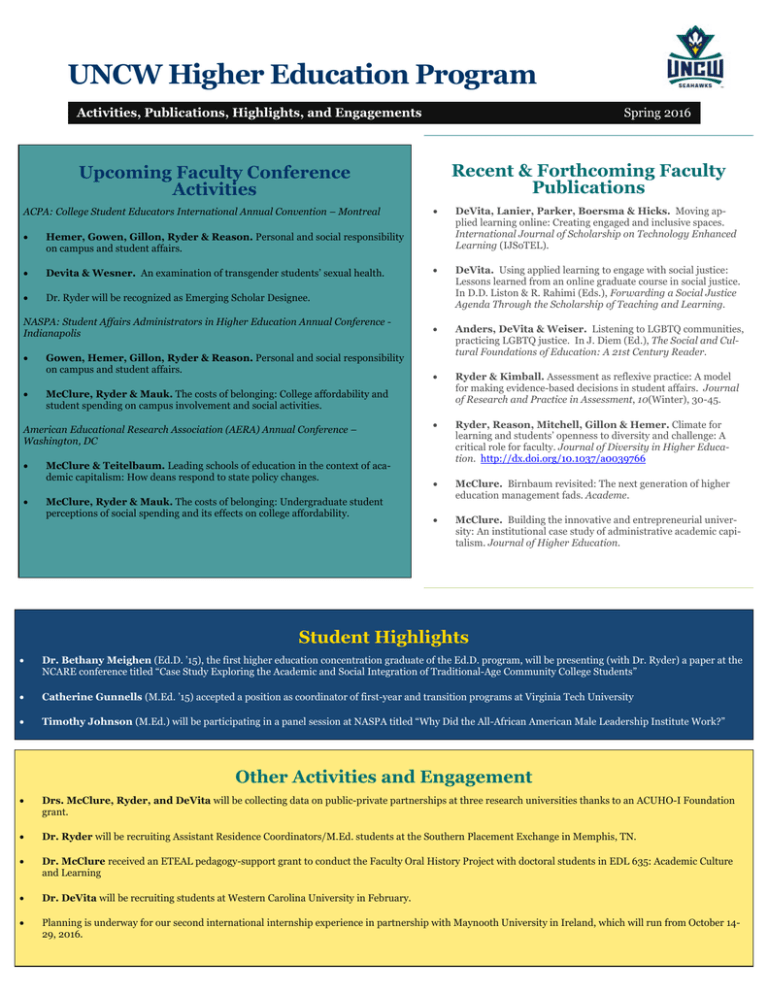 UNCW Higher Education Program
Activities, Publications, Highlights, and Engagements
Spring 2016
Recent & Forthcoming Faculty
Publications
Upcoming Faculty Conference
Activities
ACPA: College Student Educators International Annual Convention – Montreal

Hemer, Gowen, Gillon, Ryder & Reason. Personal and social responsibility
on campus and student affairs.

Devita & Wesner. An examination of transgender students' sexual health.

Dr. Ryder will be recognized as Emerging Scholar Designee.
NASPA: Student Affairs Administrators in Higher Education Annual Conference Indianapolis


Gowen, Hemer, Gillon, Ryder & Reason. Personal and social responsibility
on campus and student affairs.

DeVita, Lanier, Parker, Boersma & Hicks. Moving applied learning online: Creating engaged and inclusive spaces.
International Journal of Scholarship on Technology Enhanced
Learning (IJSoTEL).

DeVita. Using applied learning to engage with social justice:
Lessons learned from an online graduate course in social justice.
In D.D. Liston & R. Rahimi (Eds.), Forwarding a Social Justice
Agenda Through the Scholarship of Teaching and Learning.

Anders, DeVita & Weiser. Listening to LGBTQ communities,
practicing LGBTQ justice. In J. Diem (Ed.), The Social and Cultural Foundations of Education: A 21st Century Reader.

Ryder & Kimball. Assessment as reflexive practice: A model
for making evidence-based decisions in student affairs. Journal
of Research and Practice in Assessment, 10(Winter), 30-45.

Ryder, Reason, Mitchell, Gillon & Hemer. Climate for
learning and students' openness to diversity and challenge: A
critical role for faculty. Journal of Diversity in Higher Education. http://dx.doi.org/10.1037/a0039766

McClure. Birnbaum revisited: The next generation of higher
education management fads. Academe.

McClure. Building the innovative and entrepreneurial university: An institutional case study of administrative academic capitalism. Journal of Higher Education.
McClure, Ryder & Mauk. The costs of belonging: College affordability and
student spending on campus involvement and social activities.
American Educational Research Association (AERA) Annual Conference –
Washington, DC

McClure & Teitelbaum. Leading schools of education in the context of academic capitalism: How deans respond to state policy changes.

McClure, Ryder & Mauk. The costs of belonging: Undergraduate student
perceptions of social spending and its effects on college affordability.
Student Highlights

Dr. Bethany Meighen (Ed.D. '15), the first higher education concentration graduate of the Ed.D. program, will be presenting (with Dr. Ryder) a paper at the
NCARE conference titled "Case Study Exploring the Academic and Social Integration of Traditional-Age Community College Students"

Catherine Gunnells (M.Ed. '15) accepted a position as coordinator of first-year and transition programs at Virginia Tech University

Timothy Johnson (M.Ed.) will be participating in a panel session at NASPA titled "Why Did the All-African American Male Leadership Institute Work?"
Other Activities and Engagement

Drs. McClure, Ryder, and DeVita will be collecting data on public-private partnerships at three research universities thanks to an ACUHO-I Foundation
grant.

Dr. Ryder will be recruiting Assistant Residence Coordinators/M.Ed. students at the Southern Placement Exchange in Memphis, TN.

Dr. McClure received an ETEAL pedagogy-support grant to conduct the Faculty Oral History Project with doctoral students in EDL 635: Academic Culture
and Learning

Dr. DeVita will be recruiting students at Western Carolina University in February.

Planning is underway for our second international internship experience in partnership with Maynooth University in Ireland, which will run from October 1429, 2016.