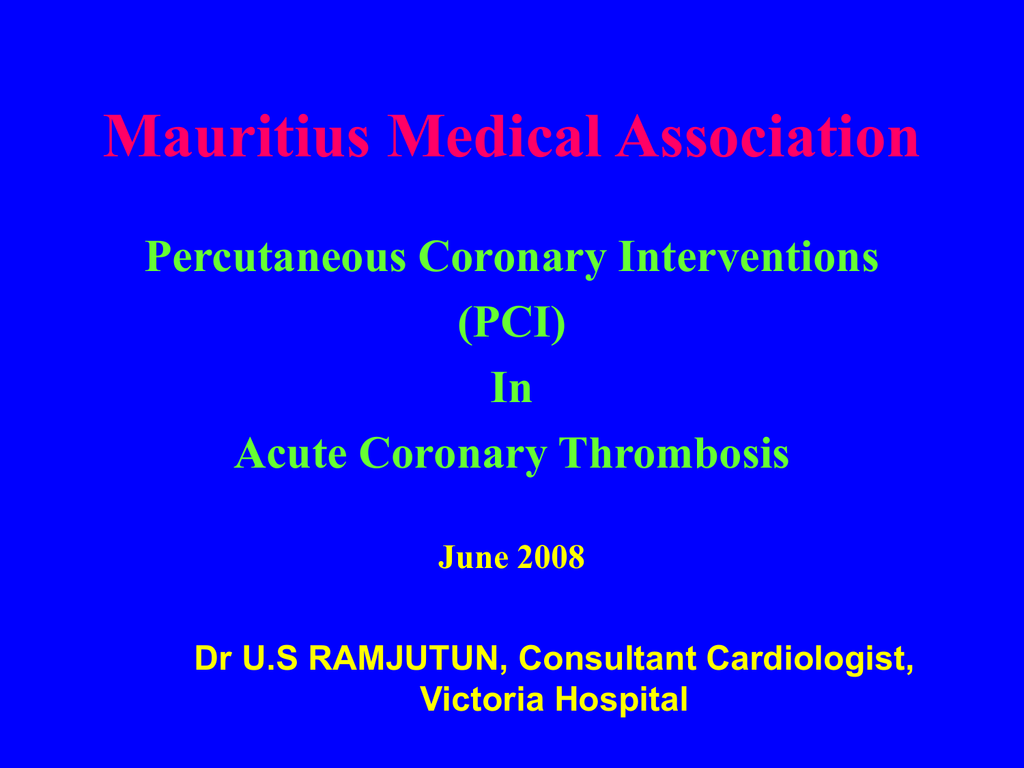 Mauritius Medical Association
Percutaneous Coronary Interventions
(PCI)
In
Acute Coronary Thrombosis
June 2008
Dr U.S RAMJUTUN, Consultant Cardiologist,
Victoria Hospital
Anterior heart showing coronary vessels
Aorta
Right
Coronary
Artery
Left Main
Coronary
Artery
Left
Circumflex Branch
Posterior
Interventricular
Marginal
Branch
Left
Anterior
Descending
Location of infarctions
Septal AMI
V1, V2
Anterior AMI
V3, V4
Lateral AMI
Inferior AMI
II, III, AVF
V5, V6 - ( I, AVL )
Acute Myocardial Infarction
(Wavefront phenomenon)
Occlusive thrombus on a plaque of
atheroma
15 minutes
% necrosis
0%
2 hours
50%
6 hours
90%
Wavefront phenomenon of ischaemic cell death
15 Minutes
40 Minutes
Nonischaemic
Ischaemic (viable)
3 Hours
Necrotic
>6 Hours
Acute Coronary Syndrome
Initiating Events
1 Plaque rupture
2 Thrombus formation
3 Vasoconstriction
Plaque Rupture
Lipid
pool
Lipid-rich
plaque
Plaque
disruption
Fissure
Occlusive
thrombus
Acute MI,
Q-wave
Subocclusive
thrombus
Unstable
angina/
Non-Q-wave
MI
Thrombus Formation
Platelet Adhesion
Thrombus Formation
Platelet Aggregation
Thrombus Formation
Fibrin Threads
Acute Coronary Syndrome
SUDDEN DEATH
Unstable
Angina
Coronary
Arterial
Thrombosis
Non-Q-Wave
Myocardial
Infarction
SUDDEN DEATH
Q-Wave
Myocardial
Infarction
SUDDEN DEATH
Acute Coronary Syndrome
( ACS )
NSTE ACS
Unstable
angina
Non Q wave
MI
STE ACS
Q wave
MI
History
ECG
Outcome
ECG changes indicative of an AMI.
Evolving myocardial infarction has been established as:
Patients with ST segment elevation, i.e. new ST
segment elevation at the J point with the cut off
points 0.2mV in V1 through V3 and 0.1mV in
other leads
or New LBBB
Established myocardial infarction may be defined by:
• Q wave in leads V1 through V3, OR
• Q wave 0.03s in leads I, II, aVL, aVF, V4, V5,
or V6.
Evolution of an acute myocardial infarction
A.
B.
Onset
D.
C.
F.
E.
> 24 Hours
> 1 Hour
15 Minutes
Days
Later
Months
later
Elevation of cardiac markers
7x upper limit of normal
Total CK
6x
5x
4x
3x
2x
1x
CK-MB
0
20
Troponin I
40
60
80
100 120
Hours from onset of infarction
140
160
Management of Patients with ST Elevation
ST elevation
Aspirin+Clopidogrel
Beta-blocker etc.
 12 h
Eligible for
thrombolysis
Thrombolysis
contraindicated
Thrombolyse
Primary
PTCA or CABG
> 12 h
Not a candidate for
reperfusion therapy
Persistent
symptoms ?
No
Other medical therapy:
ACE inhibitors
? Nitrates
Anticoagulants
Yes
Consider
Reperfusion
Therapy
Thrombolysis
• Perhaps the most significant advances in the early
treatment of acute myocardial infarction (AMI) in the last
decade are reperfusion therapy (thrombolysis) and
angioplasty.
• Many clinical trials have established early thrombolytic
therapy as a recommended treatment for patients with
ST-segment elevation or new Left Bundle Branch Block.
• Although thrombolysis is not without risk, the benefits, in
terms of lives saved, far outweigh these risks.
Absolute benefit per 1000 Rx patients
Benefits for Early Diagnosis and
Thrombolytic Treatment
80
0-1 hrs
65/1000
60
Absolute 35-day Mortality
Reduction Versus Treatment Delay
Per 1000 Patients Treated
1-2 hrs
37/1000
40
2-3 hrs
29/1000
3-6 hrs
26/1000
6-12 hrs
18/1000
20
12-24 hrs
9/1000
0
0
3
6
9
12
15
Treatment delay (h)
18
21
24
Contraindications and Cautions
for Fibrinolysis in STEMI
• Any prior intracranial hemorrhage
Absolute
Contraindications • Known structural cerebral vascular lesion
(e.g., arteriovenous malformation)
• Known malignant intracranial neoplasm
(primary or metastatic)
• Ischemic stroke within 3 months EXCEPT
acute ischemic stroke within 3 hours
NOTE: Age restriction for fibrinolysis has been removed
compared with prior guidelines.
Contraindications and Cautions
for Fibrinolysis in STEMI
Absolute
• Suspected aortic dissection
Contraindications
• Active bleeding or bleeding diathesis
(excluding menses)
• Significant closed-head or facial trauma
within 3 months
Contraindications and Cautions
for Fibrinolysis in STEMI
Relative
• History of chronic, severe, poorly controlled
Contraindications hypertension
• Severe uncontrolled hypertension on
presentation (SBP > 180 mm Hg or DBP >
110 mm Hg)
• History of prior ischemic stroke greater than
3 months, dementia, or known intracranial
pathology not covered in contraindications
• Traumatic or prolonged (> 10 minutes) CPR
or major surgery (< 3 weeks)
Contraindications and Cautions
for Fibrinolysis in STEMI
Relative
Contraindications • Recent (< 2 to 4 weeks) internal bleeding
• Noncompressible vascular punctures
• For streptokinase: prior exposure (> 5 days
ago) or prior allergic reaction to these agents
• Pregnancy
• Active peptic ulcer
• Current use of anticoagulants: the higher the
INR, the higher the risk of bleeding
Reperfusion Options for STEMI Patients
Step 1: Select Reperfusion Treatment.
If presentation is < 3 hours and there is no delay to an invasive
strategy, there is no preference for either strategy.
Fibrinolysis generally preferred
 Early presentation ( ≤ 3 hours from symptom
onset and delay to invasive strategy)
 Invasive strategy not an option
 Cath lab occupied or not available
 Vascular access difficulties
 No access to skilled PCI lab
 Delay to invasive strategy
 Prolonged transport
 Door-to-balloon more than 90 minutes
 > 1 hour vs fibrinolysis (fibrin-specific agent) now
Reperfusion Options for STEMI Patients
Step 2: Select Reperfusion Treatment.
If presentation is < 3 hours and there is no delay to an invasive strategy,
there is no preference for either strategy.
Invasive strategy generally preferred
 Skilled PCI lab available
 Door-to-balloon < 90 minutes
• High Risk from STEMI
 Cardiogenic shock, Killip class ≥ 3
 Contraindications to fibrinolysis, including
increased risk of bleeding and ICH
 Late presentation
 > 3 hours from symptom onset
 Diagnosis of STEMI is in doubt
Percutaneous coronary interventions
PCI
(balloon angioplasty, stenting, debulking,
brachytherapy etc)
•
•
•
•
•
•
Primary PCI
Rescue PCI
Facilitated PCI
Ischaemia driven PCI
Late PCI
Etc.
Primary PCI for AMI
• 1977- first PCI (Gruntzig)
• 1979- first primary PCI (Rentrop P et al.)
• 2003-metaanalysis of 23 randomized trials:
superiority of primacy PCI compared to
thrombolysis
• Pivotal studies: PAMI (1993), GUSTO
IIb(1997), DANAMI 2 (1997) PRAGUE
1&2(2000,2003) etc.