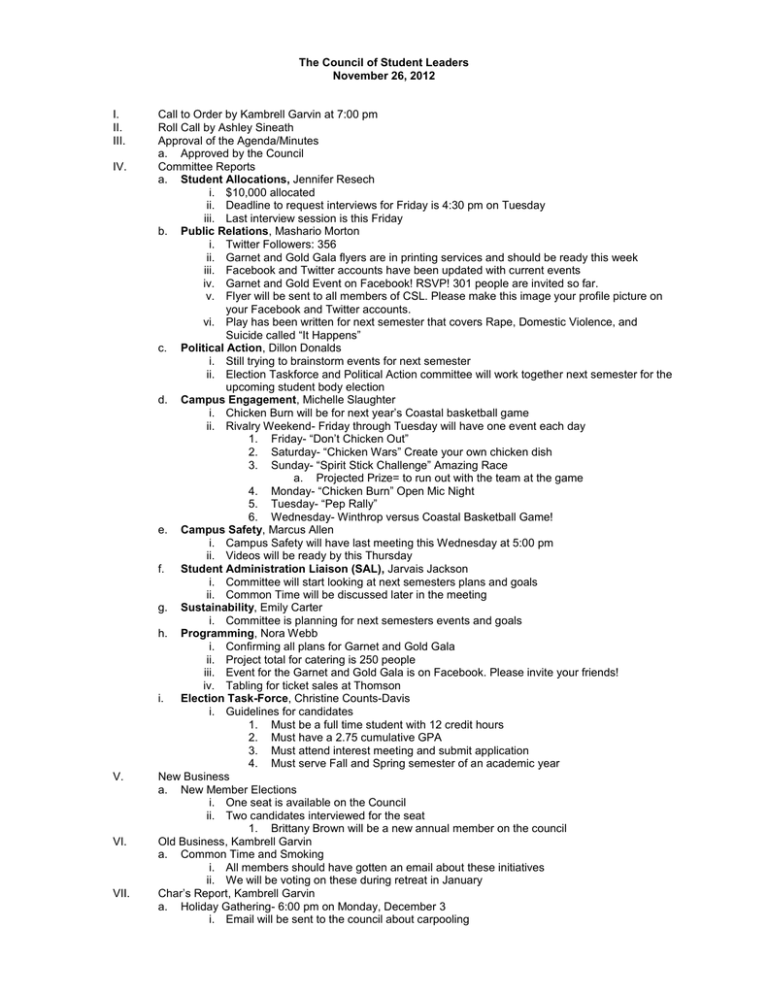 The Council of Student Leaders
November 26, 2012
I.
II.
III.
IV.
V.
VI.
VII.
Call to Order by Kambrell Garvin at 7:00 pm
Roll Call by Ashley Sineath
Approval of the Agenda/Minutes
a. Approved by the Council
Committee Reports
a. Student Allocations, Jennifer Resech
i. $10,000 allocated
ii. Deadline to request interviews for Friday is 4:30 pm on Tuesday
iii. Last interview session is this Friday
b. Public Relations, Mashario Morton
i. Twitter Followers: 356
ii. Garnet and Gold Gala flyers are in printing services and should be ready this week
iii. Facebook and Twitter accounts have been updated with current events
iv. Garnet and Gold Event on Facebook! RSVP! 301 people are invited so far.
v. Flyer will be sent to all members of CSL. Please make this image your profile picture on
your Facebook and Twitter accounts.
vi. Play has been written for next semester that covers Rape, Domestic Violence, and
Suicide called "It Happens"
c. Political Action, Dillon Donalds
i. Still trying to brainstorm events for next semester
ii. Election Taskforce and Political Action committee will work together next semester for the
upcoming student body election
d. Campus Engagement, Michelle Slaughter
i. Chicken Burn will be for next year's Coastal basketball game
ii. Rivalry Weekend- Friday through Tuesday will have one event each day
1. Friday- "Don't Chicken Out"
2. Saturday- "Chicken Wars" Create your own chicken dish
3. Sunday- "Spirit Stick Challenge" Amazing Race
a. Projected Prize= to run out with the team at the game
4. Monday- "Chicken Burn" Open Mic Night
5. Tuesday- "Pep Rally"
6. Wednesday- Winthrop versus Coastal Basketball Game!
e. Campus Safety, Marcus Allen
i. Campus Safety will have last meeting this Wednesday at 5:00 pm
ii. Videos will be ready by this Thursday
f. Student Administration Liaison (SAL), Jarvais Jackson
i. Committee will start looking at next semesters plans and goals
ii. Common Time will be discussed later in the meeting
g. Sustainability, Emily Carter
i. Committee is planning for next semesters events and goals
h. Programming, Nora Webb
i. Confirming all plans for Garnet and Gold Gala
ii. Project total for catering is 250 people
iii. Event for the Garnet and Gold Gala is on Facebook. Please invite your friends!
iv. Tabling for ticket sales at Thomson
i. Election Task-Force, Christine Counts-Davis
i. Guidelines for candidates
1. Must be a full time student with 12 credit hours
2. Must have a 2.75 cumulative GPA
3. Must attend interest meeting and submit application
4. Must serve Fall and Spring semester of an academic year
New Business
a. New Member Elections
i. One seat is available on the Council
ii. Two candidates interviewed for the seat
1. Brittany Brown will be a new annual member on the council
Old Business, Kambrell Garvin
a. Common Time and Smoking
i. All members should have gotten an email about these initiatives
ii. We will be voting on these during retreat in January
Char's Report, Kambrell Garvin
a. Holiday Gathering- 6:00 pm on Monday, December 3
i. Email will be sent to the council about carpooling
ii. Bring your $5 gift for the exchange!
Winter Retreat- January 4-6, 2013
i. Bethelwoods is the location. Bring your own sheets. We will spend one night there.
ii. President will be there on Saturday
iii. Members who live in Residence Halls must send residence hall information to the CSL
email account
iv. Check email account over winter break for more information about the retreat
c. CSL Kiosk
i. Information Kiosk with pictures, mission statement, flyers for events, etc.
d. Congratulations to all the new Winthrop Ambassadors
Open Floor (Announcements/Questions/Comments/Concerns)
a. Alpha Phi Alpha Founder's Week. Monday night at 8 pm "Who's God- Mine or Yours". Tuesday
night is "The Corridor of Shame." In Owens. Wednesday "Ice the Mic" in the ballroom.
b. Beta Alpha Psi- Honorary Business Fraternity. Raffle tickets are $5 each. Grand prize is a 3 night
stay on the beach in a beach front condo. Please sign up if you're interested
c. Gentlemen's League is selling raffle tickets for a $30 Wing Kind Gift Card
th
d. Keep Dominique in your thoughts as he has surgery on December 6
e. Delta Sigma Theta- March 5 Pageant! Email Billie Jean for applications. Fashion Show for the Men.
Auditions are on November 29!
f. Kambrell thanked Ashley Sineath, Secretary for CSL secretary, for her 1.5 years of service on the
council.
g. Kambrell announced that Ali Jensen will be the new Secretary of the Council of Student Leaders
Adjournment by Kambrell Garvin at 8:05 pm
b.
VIII.
IX.