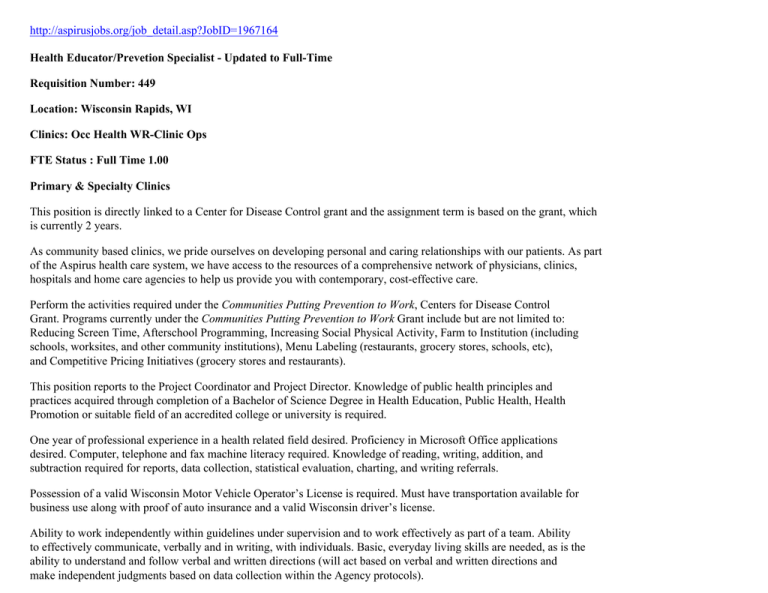 http://aspirusjobs.org/job_detail.asp?JobID=1967164
Health Educator/Prevetion Specialist - Updated to Full-Time
Requisition Number: 449
Location: Wisconsin Rapids, WI
Clinics: Occ Health WR-Clinic Ops
FTE Status : Full Time 1.00
Primary & Specialty Clinics
This position is directly linked to a Center for Disease Control grant and the assignment term is based on the grant, which
is currently 2 years.
As community based clinics, we pride ourselves on developing personal and caring relationships with our patients. As part
of the Aspirus health care system, we have access to the resources of a comprehensive network of physicians, clinics,
hospitals and home care agencies to help us provide you with contemporary, cost-effective care.
Perform the activities required under the Communities Putting Prevention to Work, Centers for Disease Control
Grant. Programs currently under the Communities Putting Prevention to Work Grant include but are not limited to:
Reducing Screen Time, Afterschool Programming, Increasing Social Physical Activity, Farm to Institution (including
schools, worksites, and other community institutions), Menu Labeling (restaurants, grocery stores, schools, etc),
and Competitive Pricing Initiatives (grocery stores and restaurants).
This position reports to the Project Coordinator and Project Director. Knowledge of public health principles and
practices acquired through completion of a Bachelor of Science Degree in Health Education, Public Health, Health
Promotion or suitable field of an accredited college or university is required.
One year of professional experience in a health related field desired. Proficiency in Microsoft Office applications
desired. Computer, telephone and fax machine literacy required. Knowledge of reading, writing, addition, and
subtraction required for reports, data collection, statistical evaluation, charting, and writing referrals.
Possession of a valid Wisconsin Motor Vehicle Operator's License is required. Must have transportation available for
business use along with proof of auto insurance and a valid Wisconsin driver's license.
Ability to work independently within guidelines under supervision and to work effectively as part of a team. Ability
to effectively communicate, verbally and in writing, with individuals. Basic, everyday living skills are needed, as is the
ability to understand and follow verbal and written directions (will act based on verbal and written directions and
make independent judgments based on data collection within the Agency protocols).
This is a limited 2-year position to implement objectives of the Communities Putting Prevention to Work grant and is
ARRA funded.