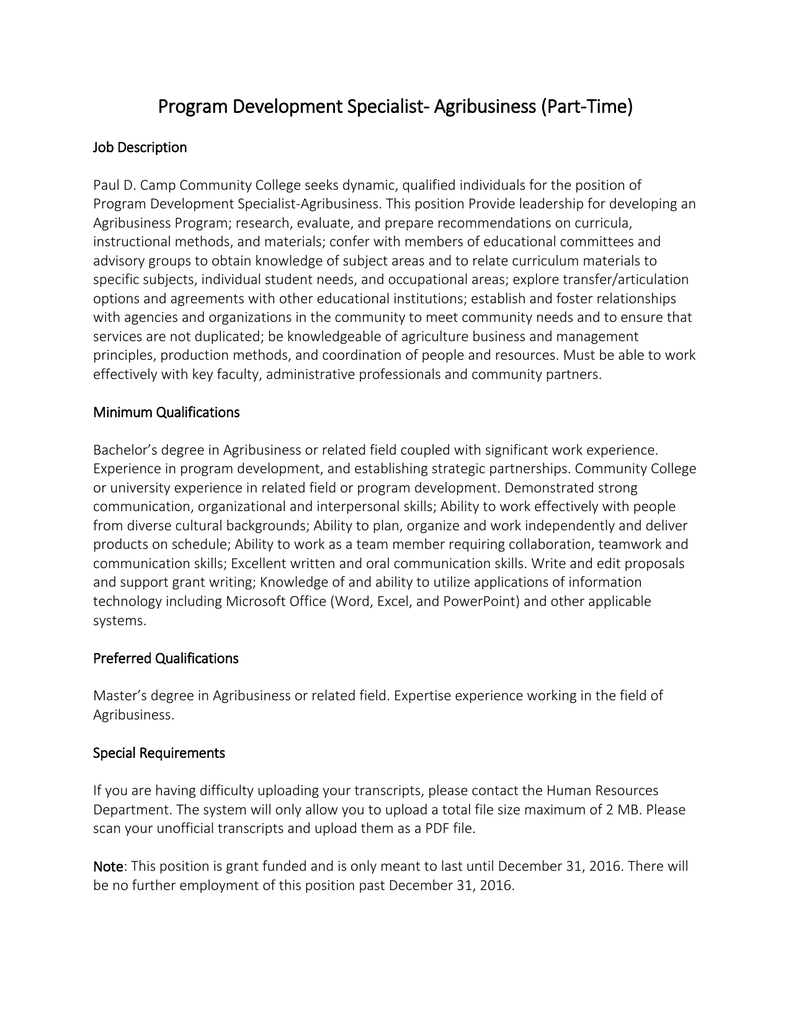 Program Development Specialist- Agribusiness (Part-Time)
Job Description
Paul D. Camp Community College seeks dynamic, qualified individuals for the position of
Program Development Specialist-Agribusiness. This position Provide leadership for developing an
Agribusiness Program; research, evaluate, and prepare recommendations on curricula,
instructional methods, and materials; confer with members of educational committees and
advisory groups to obtain knowledge of subject areas and to relate curriculum materials to
specific subjects, individual student needs, and occupational areas; explore transfer/articulation
options and agreements with other educational institutions; establish and foster relationships
with agencies and organizations in the community to meet community needs and to ensure that
services are not duplicated; be knowledgeable of agriculture business and management
principles, production methods, and coordination of people and resources. Must be able to work
effectively with key faculty, administrative professionals and community partners.
Minimum Qualifications
Bachelor's degree in Agribusiness or related field coupled with significant work experience.
Experience in program development, and establishing strategic partnerships. Community College
or university experience in related field or program development. Demonstrated strong
communication, organizational and interpersonal skills; Ability to work effectively with people
from diverse cultural backgrounds; Ability to plan, organize and work independently and deliver
products on schedule; Ability to work as a team member requiring collaboration, teamwork and
communication skills; Excellent written and oral communication skills. Write and edit proposals
and support grant writing; Knowledge of and ability to utilize applications of information
technology including Microsoft Office (Word, Excel, and PowerPoint) and other applicable
systems.
Preferred Qualifications
Master's degree in Agribusiness or related field. Expertise experience working in the field of
Agribusiness.
Special Requirements
If you are having difficulty uploading your transcripts, please contact the Human Resources
Department. The system will only allow you to upload a total file size maximum of 2 MB. Please
scan your unofficial transcripts and upload them as a PDF file.
Note: This position is grant funded and is only meant to last until December 31, 2016. There will
be no further employment of this position past December 31, 2016.