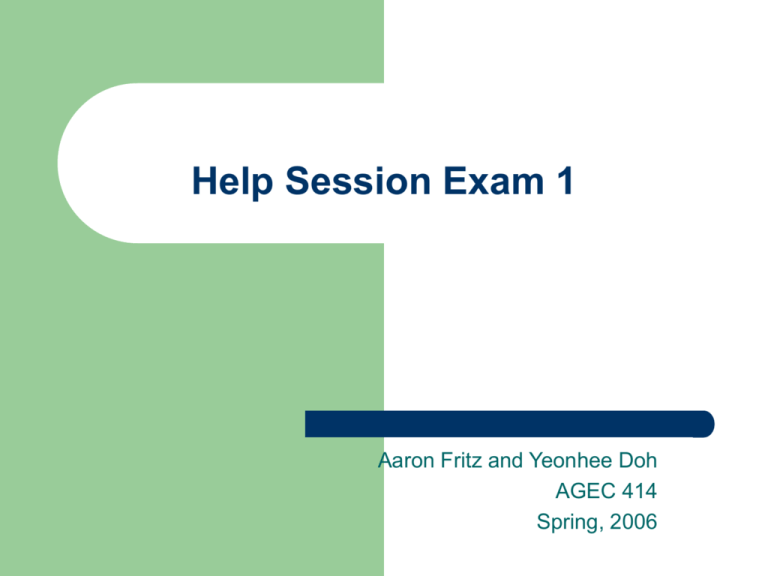 Help Session Exam 1
Aaron Fritz and Yeonhee Doh
AGEC 414
Spring, 2006
Overview




Test taking tips
Brief overview of test concepts
Examples of some questions
Q&A
Answer Tips for Tests




Read the questions carefully…twice!!
Essay Questions = Partial Credit
Label and explain everything to the best of your ability
TAKE YOUR TIME
Introduction


Market Definitions
Market Chain, flow of information
Consumer
Farmer
Drivers of Agribusiness Sector




Technology
Consumer
Legal/Regulatory
Economy (Domestic/Global)
Marketing

Marketing System
–
–

Utility Added
9 Functions
Value Added
Agribusiness Industry


Farming and Ranching
Processing-Manufacturing
–


Commodity and Food
Food Wholesaling
Food Retailing
Trends





FAFH
Nutrition and Health
Food Safety
HACCP
Organics

Other Issues
–
–
–
–
–
–
Globalization
Biotech
Enviromentalism
Welfare
Niche
Info
Research

Importance
–
–
–


Descriptive
Predictive
Control
Data Sources
Qualitative VS Quantitative
Chapter 1




What a market is and segments of it
Exchange
4 Ps
Marketing activities and decisions
Chapter 2


Mission vs Vision
Marketing Plan
–
–
–
–
Executive Summary
Situation Analysis
SWOT
Marketing Goals and
Objectives
–
–
–
Marketing Strategies
Marketing
Implementation
Evaluation and Control
Chapter 3

Situation Analysis
–
–
Internal Environment
Customer Environment

–
Who, what, where, when,
why, and why
External Environment






Competition
Economy
Politics
Legal
Technology
Sociocultural
Chapter 4

SWOT Analysis
–
–
–
–


Strengths
Weaknesses
Opportunities
Threats
Benefits of SWOT
Interpreting Analysis
Match
Strengths
Convert
Weaknesses
Opportunities
Convert
Threats
Some Real Essay Questions
1.
We discussed in class two different definitions of the term
"market".
–
Provide a brief definition for each of these two approaches.
–
Explain and discuss the differences between these two views
of what a market is in relation to marketing management.
Some Real Essay Questions
2. Food away from home (FAFH), or the food service industry, is the
fastest growing part of the food and agribusiness sector in the
U.S. economy. What are the fundamental drivers affecting this
trend? Explain and discuss the logic or role of each as they
contribute to this trend.
Some Real Essay Questions
3. In the development of a situation or environmental analysis for
a marketing plan, the customer is one of the key areas of focus.
Identify and describe the different types of information you
should seek out in order to adequately assess the customer
environment.
GOOD LUCK!
Study hard, read each question, and take your time.
You all will do well.
Questions?