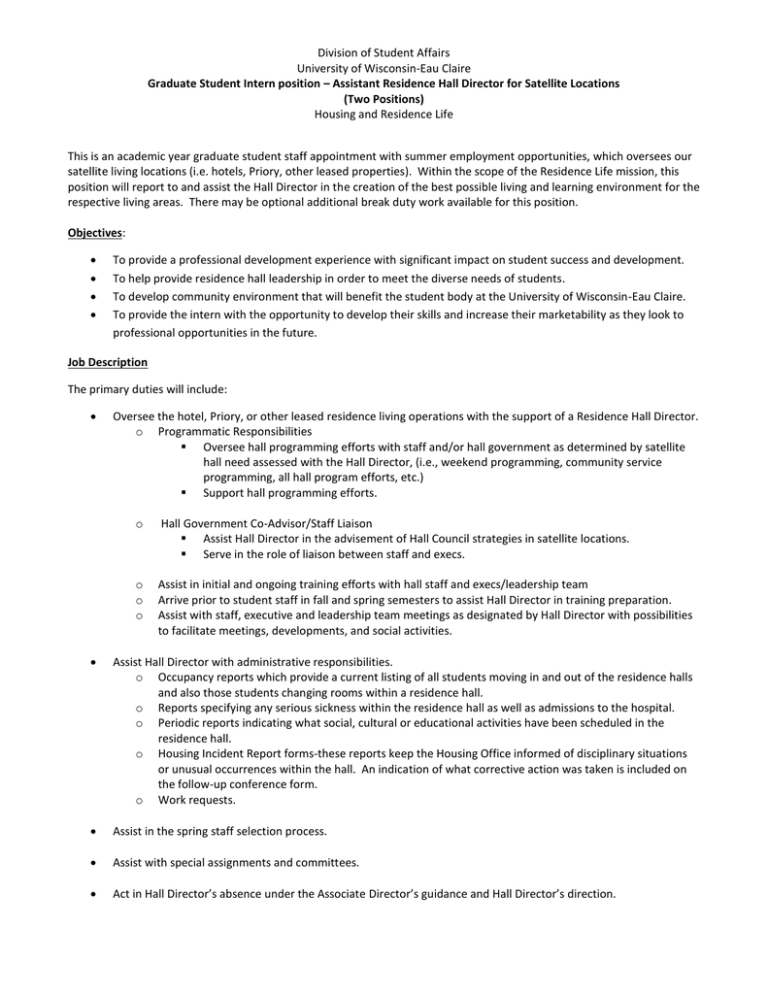 Division of Student Affairs
University of Wisconsin-Eau Claire
Graduate Student Intern position – Assistant Residence Hall Director for Satellite Locations
(Two Positions)
Housing and Residence Life
This is an academic year graduate student staff appointment with summer employment opportunities, which oversees our
satellite living locations (i.e. hotels, Priory, other leased properties). Within the scope of the Residence Life mission, this
position will report to and assist the Hall Director in the creation of the best possible living and learning environment for the
respective living areas. There may be optional additional break duty work available for this position.
Objectives:




To provide a professional development experience with significant impact on student success and development.
To help provide residence hall leadership in order to meet the diverse needs of students.
To develop community environment that will benefit the student body at the University of Wisconsin-Eau Claire.
To provide the intern with the opportunity to develop their skills and increase their marketability as they look to
professional opportunities in the future.
Job Description
The primary duties will include:

Oversee the hotel, Priory, or other leased residence living operations with the support of a Residence Hall Director.
o Programmatic Responsibilities
 Oversee hall programming efforts with staff and/or hall government as determined by satellite
hall need assessed with the Hall Director, (i.e., weekend programming, community service
programming, all hall program efforts, etc.)
 Support hall programming efforts.
o
Hall Government Co-Advisor/Staff Liaison
 Assist Hall Director in the advisement of Hall Council strategies in satellite locations.
 Serve in the role of liaison between staff and execs.
o
o
o
Assist in initial and ongoing training efforts with hall staff and execs/leadership team
Arrive prior to student staff in fall and spring semesters to assist Hall Director in training preparation.
Assist with staff, executive and leadership team meetings as designated by Hall Director with possibilities
to facilitate meetings, developments, and social activities.

Assist Hall Director with administrative responsibilities.
o Occupancy reports which provide a current listing of all students moving in and out of the residence halls
and also those students changing rooms within a residence hall.
o Reports specifying any serious sickness within the residence hall as well as admissions to the hospital.
o Periodic reports indicating what social, cultural or educational activities have been scheduled in the
residence hall.
o Housing Incident Report forms-these reports keep the Housing Office informed of disciplinary situations
or unusual occurrences within the hall. An indication of what corrective action was taken is included on
the follow-up conference form.
o Work requests.

Assist in the spring staff selection process.

Assist with special assignments and committees.

Act in Hall Director's absence under the Associate Director's guidance and Hall Director's direction.

Availability
o
o

The Assistant Residence Hall Director will return to the residence hall prior to its official opening and
remain in the hall after the official closing in order to complete all administrative responsibilities to
include preparing the hall for opening, and securing the hall prior to leaving for the holiday or vacation
period. These interim periods should be used to secure the building and /or to make preparations for the
opening of the hall.
There is no definite time during which the Assistant Residence Hall Director must be in the residence hall.
However, during the day, she/he should be willing to help the residents whenever possible. Assistant
Residence Hall Directors are expected to sleep in their buildings unless taking approved time off, and to
respond to evening building emergencies when present in the building.
Additional Responsibilities
o Take an active leadership role in the development, implementation and evaluation of various projects and
committees. Participate in future long and short-range program planning.
o Perform any other job-related responsibilities as directed.
Training:
There will be a training schedule developed for summer so the intern is well prepared to meet the demands of the position.
In addition, there will be regular supervision to enhance the intern's development, discuss issues, and receive guidance and
support.
Office Location:
Towers Hall Room 113
Stipend:
$11,000 for August 1, 2016 to May 31, 2017. On-campus housing will also be provided. Residence hall staff with live-in, oncall crisis and community development responsibility also receive a meal plan when Dining Services is in operation.