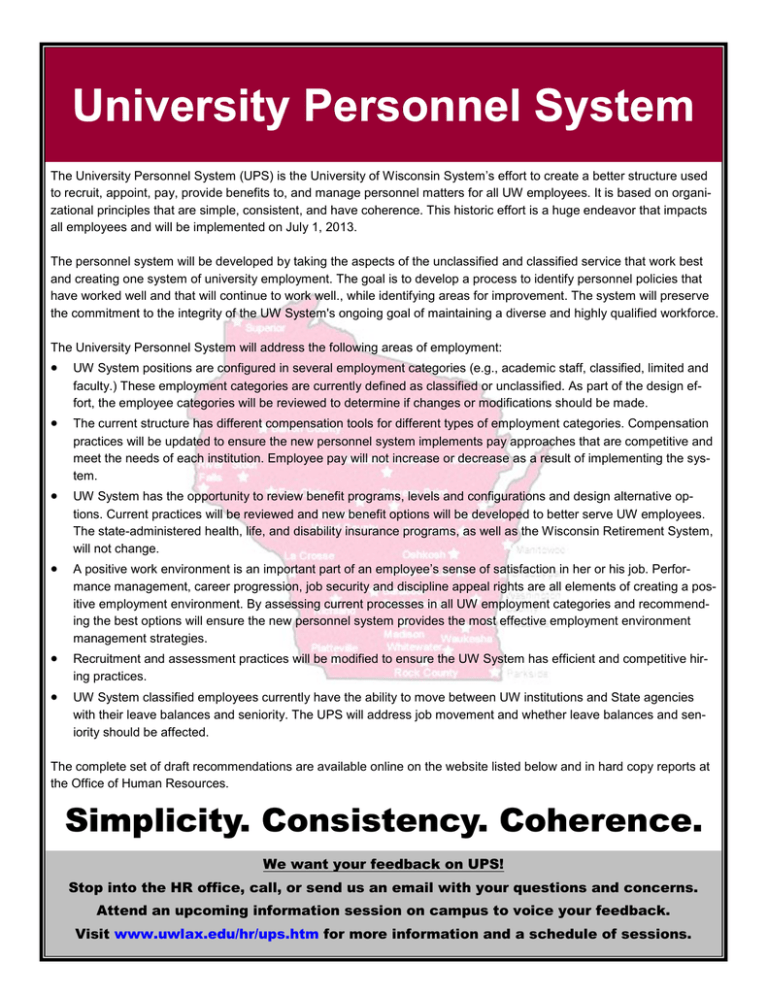 University Personnel System
The University Personnel System (UPS) is the University of Wisconsin System's effort to create a better structure used
to recruit, appoint, pay, provide benefits to, and manage personnel matters for all UW employees. It is based on organizational principles that are simple, consistent, and have coherence. This historic effort is a huge endeavor that impacts
all employees and will be implemented on July 1, 2013.
The personnel system will be developed by taking the aspects of the unclassified and classified service that work best
and creating one system of university employment. The goal is to develop a process to identify personnel policies that
have worked well and that will continue to work well., while identifying areas for improvement. The system will preserve
the commitment to the integrity of the UW System's ongoing goal of maintaining a diverse and highly qualified workforce.
The University Personnel System will address the following areas of employment:

UW System positions are configured in several employment categories (e.g., academic staff, classified, limited and
faculty.) These employment categories are currently defined as classified or unclassified. As part of the design effort, the employee categories will be reviewed to determine if changes or modifications should be made.

The current structure has different compensation tools for different types of employment categories. Compensation
practices will be updated to ensure the new personnel system implements pay approaches that are competitive and
meet the needs of each institution. Employee pay will not increase or decrease as a result of implementing the system.

UW System has the opportunity to review benefit programs, levels and configurations and design alternative options. Current practices will be reviewed and new benefit options will be developed to better serve UW employees.
The state-administered health, life, and disability insurance programs, as well as the Wisconsin Retirement System,
will not change.

A positive work environment is an important part of an employee's sense of satisfaction in her or his job. Performance management, career progression, job security and discipline appeal rights are all elements of creating a positive employment environment. By assessing current processes in all UW employment categories and recommending the best options will ensure the new personnel system provides the most effective employment environment
management strategies.

Recruitment and assessment practices will be modified to ensure the UW System has efficient and competitive hiring practices.

UW System classified employees currently have the ability to move between UW institutions and State agencies
with their leave balances and seniority. The UPS will address job movement and whether leave balances and seniority should be affected.
The complete set of draft recommendations are available online on the website listed below and in hard copy reports at
the Office of Human Resources.
Simplicity. Consistency. Coherence.
We want your feedback on UPS!
Stop into the HR office, call, or send us an email with your questions and concerns.
Attend an upcoming information session on campus to voice your feedback.
Visit www.uwlax.edu/hr/ups.htm for more information and a schedule of sessions.