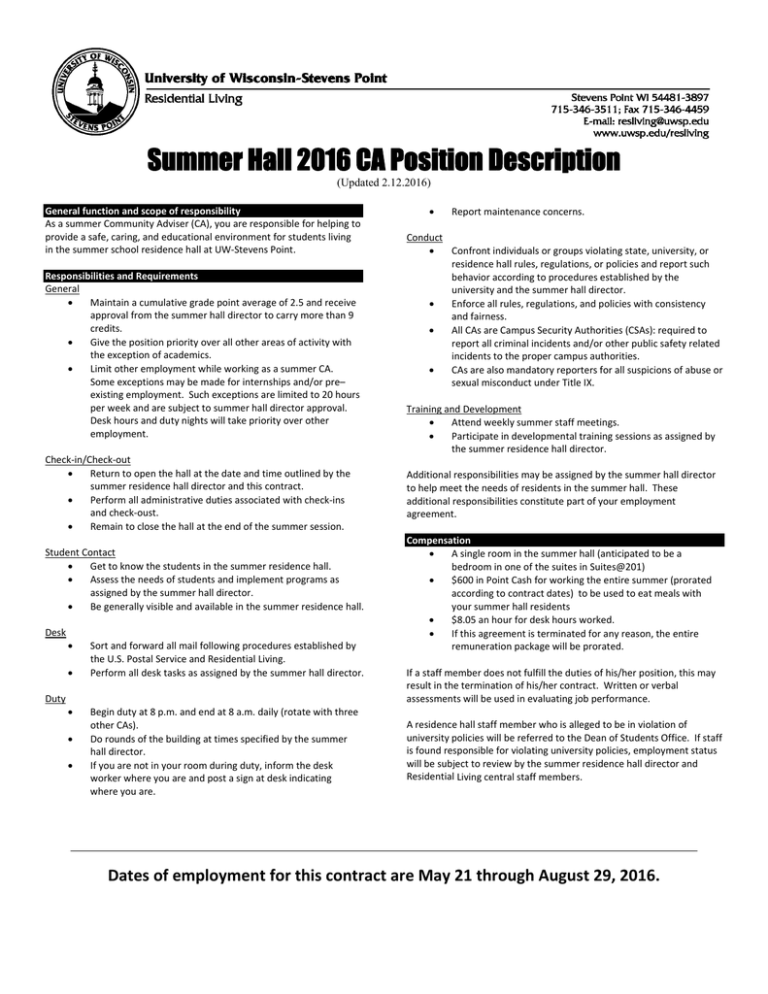 Summer Hall 2016 CA Position Description
(Updated 2.12.2016)

Report maintenance concerns. Conduct 
Confront individuals or groups violating state, university, or residence hall rules, regulations, or policies and report such behavior according to procedures established by the university and the summer hall director. 
Enforce all rules, regulations, and policies with consistency and fairness. 
All CAs are Campus Security Authorities (CSAs): required to report all criminal incidents and/or other public safety related incidents to the proper campus authorities. 
CAs are also mandatory reporters for all suspicions of abuse or sexual misconduct under Title IX. Training and Development 
Attend weekly summer staff meetings. 
Participate in developmental training sessions as assigned by the summer residence hall director. Additional responsibilities may be assigned by the summer hall director to help meet the needs of residents in the summer hall. These additional responsibilities constitute part of your employment agreement. Compensation 
A single room in the summer hall (anticipated to be a bedroom in one of the suites in Suites@201) 
$600 in Point Cash for working the entire summer (prorated according to contract dates) to be used to eat meals with your summer hall residents 
$8.05 an hour for desk hours worked. 
If this agreement is terminated for any reason, the entire remuneration package will be prorated. If a staff member does not fulfill the duties of his/her position, this may result in the termination of his/her contract. Written or verbal assessments will be used in evaluating job performance. A residence hall staff member who is alleged to be in violation of university policies will be referred to the Dean of Students Office. If staff is found responsible for violating university policies, employment status will be subject to review by the summer residence hall director and Residential Living central staff members. General function and scope of responsibility As a summer Community Adviser (CA), you are responsible for helping to provide a safe, caring, and educational environment for students living in the summer school residence hall at UW‐Stevens Point. Responsibilities and Requirements General 
Maintain a cumulative grade point average of 2.5 and receive approval from the summer hall director to carry more than 9 credits. 
Give the position priority over all other areas of activity with the exception of academics. 
Limit other employment while working as a summer CA. Some exceptions may be made for internships and/or pre–
existing employment. Such exceptions are limited to 20 hours per week and are subject to summer hall director approval. Desk hours and duty nights will take priority over other employment. Check‐in/Check‐out 
Return to open the hall at the date and time outlined by the summer residence hall director and this contract. 
Perform all administrative duties associated with check‐ins and check‐oust. 
Remain to close the hall at the end of the summer session. Student Contact 
Get to know the students in the summer residence hall. 
Assess the needs of students and implement programs as assigned by the summer hall director. 
Be generally visible and available in the summer residence hall. Desk 
Sort and forward all mail following procedures established by the U.S. Postal Service and Residential Living. 
Perform all desk tasks as assigned by the summer hall director. Duty 
Begin duty at 8 p.m. and end at 8 a.m. daily (rotate with three other CAs). 
Do rounds of the building at times specified by the summer hall director. 
If you are not in your room during duty, inform the desk worker where you are and post a sign at desk indicating where you are. Dates of employment for this contract are May 21 through August 29, 2016.