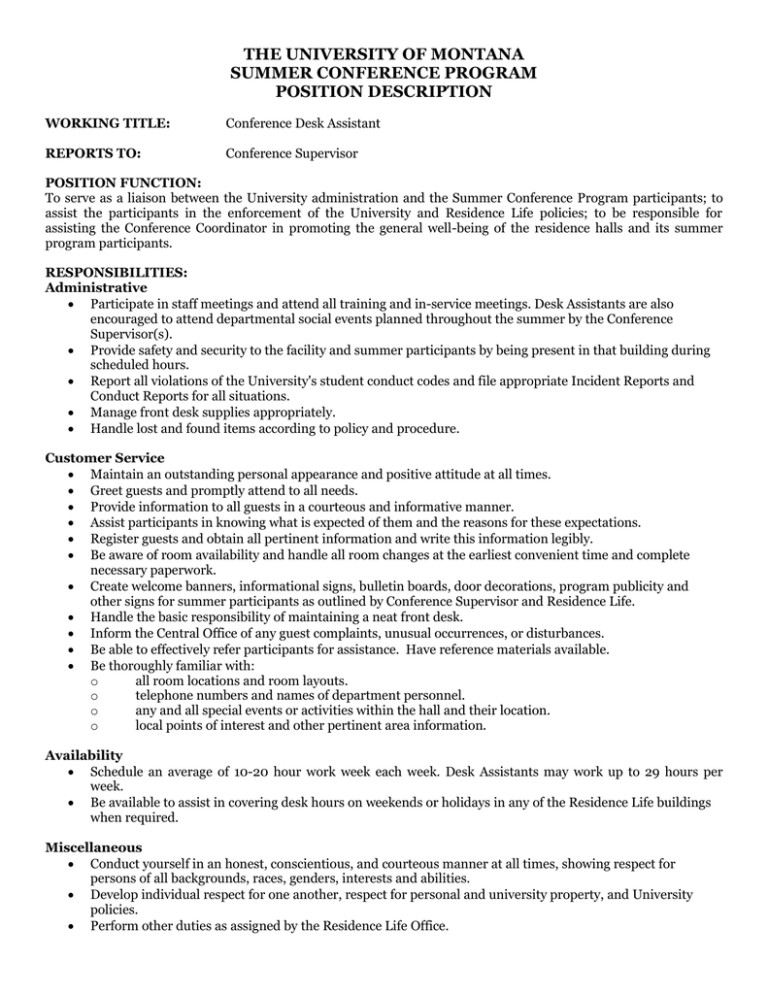 THE UNIVERSITY OF MONTANA
SUMMER CONFERENCE PROGRAM
POSITION DESCRIPTION
WORKING TITLE:
Conference Desk Assistant
REPORTS TO:
Conference Supervisor
POSITION FUNCTION:
To serve as a liaison between the University administration and the Summer Conference Program participants; to
assist the participants in the enforcement of the University and Residence Life policies; to be responsible for
assisting the Conference Coordinator in promoting the general well-being of the residence halls and its summer
program participants.
RESPONSIBILITIES:
Administrative
 Participate in staff meetings and attend all training and in-service meetings. Desk Assistants are also
encouraged to attend departmental social events planned throughout the summer by the Conference
Supervisor(s).
 Provide safety and security to the facility and summer participants by being present in that building during
scheduled hours.
 Report all violations of the University's student conduct codes and file appropriate Incident Reports and
Conduct Reports for all situations.
 Manage front desk supplies appropriately.
 Handle lost and found items according to policy and procedure.
Customer Service
 Maintain an outstanding personal appearance and positive attitude at all times.
 Greet guests and promptly attend to all needs.
 Provide information to all guests in a courteous and informative manner.
 Assist participants in knowing what is expected of them and the reasons for these expectations.
 Register guests and obtain all pertinent information and write this information legibly.
 Be aware of room availability and handle all room changes at the earliest convenient time and complete
necessary paperwork.
 Create welcome banners, informational signs, bulletin boards, door decorations, program publicity and
other signs for summer participants as outlined by Conference Supervisor and Residence Life.
 Handle the basic responsibility of maintaining a neat front desk.
 Inform the Central Office of any guest complaints, unusual occurrences, or disturbances.
 Be able to effectively refer participants for assistance. Have reference materials available.
 Be thoroughly familiar with:
o
all room locations and room layouts.
o
telephone numbers and names of department personnel.
o
any and all special events or activities within the hall and their location.
o
local points of interest and other pertinent area information.
Availability
 Schedule an average of 10-20 hour work week each week. Desk Assistants may work up to 29 hours per
week.
 Be available to assist in covering desk hours on weekends or holidays in any of the Residence Life buildings
when required.
Miscellaneous
 Conduct yourself in an honest, conscientious, and courteous manner at all times, showing respect for
persons of all backgrounds, races, genders, interests and abilities.
 Develop individual respect for one another, respect for personal and university property, and University
policies.
 Perform other duties as assigned by the Residence Life Office.