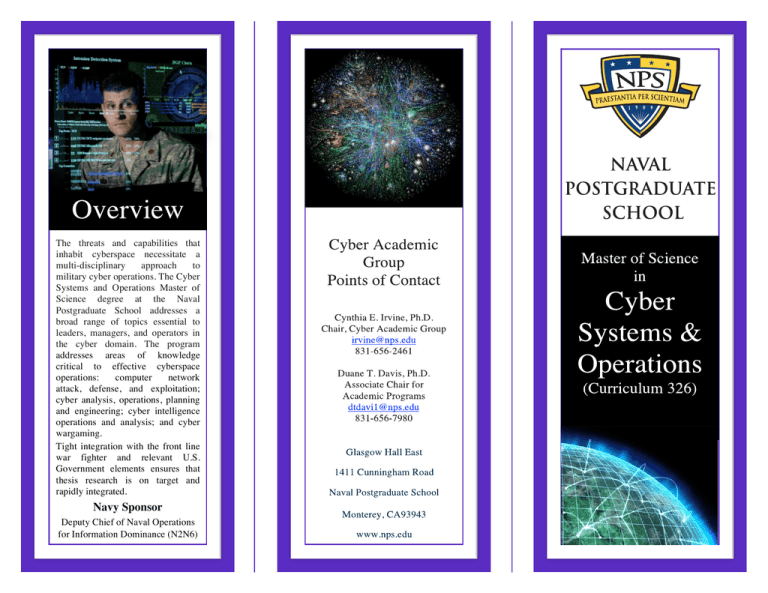 The threats and capabilities that
inhabit cyberspace necessitate a
multi-disciplinary
approach
to
military cyber operations. The Cyber
Systems and Operations Master of
Science degree at the Naval
Postgraduate School addresses a
broad range of topics essential to
leaders, managers, and operators in
the cyber domain. The program
addresses areas of knowledge
critical to effective cyberspace
operations:
computer
network
attack, defense, and exploitation;
cyber analysis, operations, planning
and engineering; cyber intelligence
operations and analysis; and cyber
wargaming.
Tight integration with the front line
war fighter and relevant U.S.
Government elements ensures that
thesis research is on target and
rapidly integrated.
Navy Sponsor
Deputy Chief of Naval Operations
for Information Dominance (N2N6)
Q&A
Who can attend?
• This curriculum is open to officers of the
U.S. Armed Forces and civilian
employees of the U.S. Federal
Government.
What are the entrance qualifications?
• A baccalaureate degree, or the
equivalent, with grades resulting in an
APC of at least 344, is required for
direct entry.
• A TOP SECRET clearance is required
with SPECIAL INTELLIGENCE
clearance obtainable for all students.
How long is the program?
• Six quarters with JPME
What are the entry dates?
• March and September
What are the degree requirements?
• All courses must be satisfied through
the course of study or through
validation prior to graduation.
• Minimum degree requirements of the
NPS must be met.
• Completion of an acceptable thesis in
addition to the course requirements.
What will I learn?
• You will be prepared to lead offensive
and defensive operations and optimally
employ military cyber assets in support
of all DoD missions. Immersed in the
active challenges facing the DoD, you
will be equipped with the tools and
foresight to recognize and solve the
cyber-related challenges of today and
tomorrow.