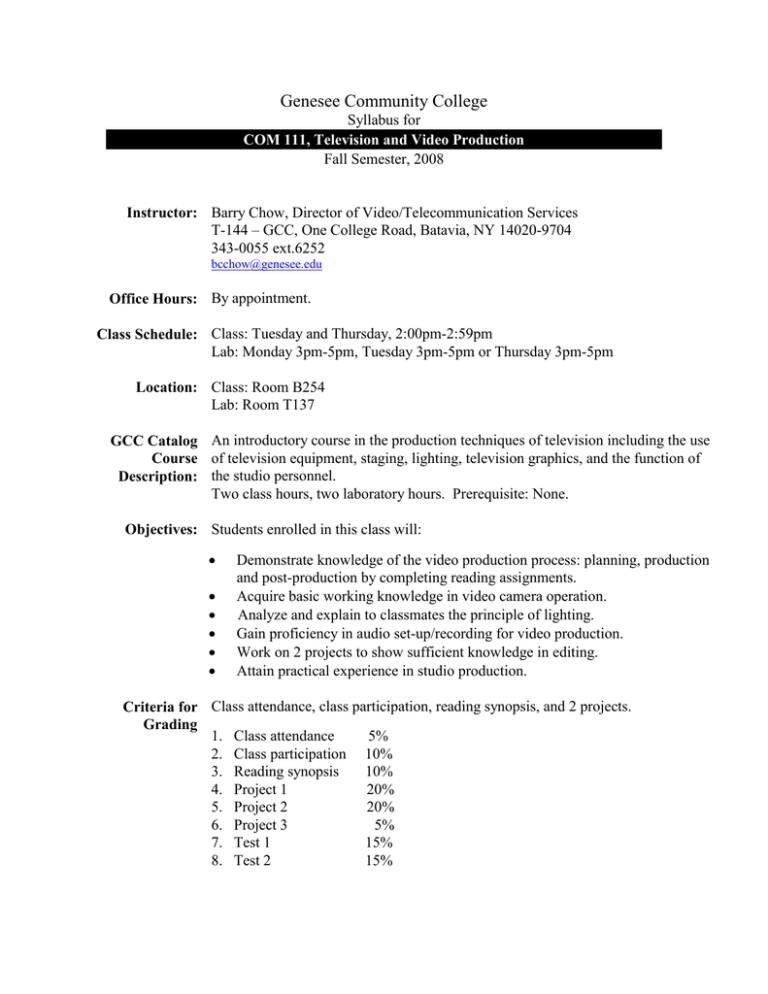 Genesee Community College
Syllabus for
COM 111, Television and Video Production
Fall Semester, 2008
Instructor: Barry Chow, Director of Video/Telecommunication Services
T-144 – GCC, One College Road, Batavia, NY 14020-9704
343-0055 ext.6252
bcchow@genesee.edu
Office Hours: By appointment.
Class Schedule: Class: Tuesday and Thursday, 2:00pm-2:59pm
Lab: Monday 3pm-5pm, Tuesday 3pm-5pm or Thursday 3pm-5pm
Location: Class: Room B254
Lab: Room T137
GCC Catalog An introductory course in the production techniques of television including the use
Course of television equipment, staging, lighting, television graphics, and the function of
Description: the studio personnel.
Two class hours, two laboratory hours. Prerequisite: None.
Objectives: Students enrolled in this class will:






Demonstrate knowledge of the video production process: planning, production
and post-production by completing reading assignments.
Acquire basic working knowledge in video camera operation.
Analyze and explain to classmates the principle of lighting.
Gain proficiency in audio set-up/recording for video production.
Work on 2 projects to show sufficient knowledge in editing.
Attain practical experience in studio production.
Criteria for Class attendance, class participation, reading synopsis, and 2 projects.
Grading
1. Class attendance
5%
2. Class participation 10%
3. Reading synopsis
10%
4. Project 1
20%
5. Project 2
20%
6. Project 3
5%
7. Test 1
15%
8. Test 2
15%
Required 1. Zettl, Herbert, Television Production Handbook, 9th edition*. Thomson
Wadsworth Publishing Company, Belmont, CA, 2006. ISBN 0-534-64727-8
Texts/Material:
2. Zettl, Herbert, Television Production Workbook, 9th edition*. Thomson
Wadsworth Publishing Company, Belmont, CA, 2006 ISBN 0-534-64728-6
3. Blank DVD's (DVCPRO, Mini DV and DVCAM tapes optional).
*Texts will be used for COM 211, ADVANCED TELEVISION PRODUCTION
in Spring 2008 semester.
Course Outline:
1)
Introduction to video/television production.
-Television system.
-Production elements.
-Studio, master control and support areas.
2)
Analog and digital television
-Benefits of digital television.
-Aspect ratio.
-DTV system.
3)
Camera.
-Parts.
-Function and Theory.
-Optics.
-Mounting Equipment.
-Operation.
4)
Lighting.
-Three-point lighting.
-Color temperature.
-Techniques.
-Definition.
-Available/natural light source.
5)
Audio.
-Equipment, function and usage.
-Analog and Digital recording.
Tests and There are two tests, Test 1(10/23/08) and Test 2 (12/11/08). There are 12 reading
Assignments synopses, in which 10 will be graded. You can earn a 2% point bonus each by
handing in the 2 extra reading synopsis. There are 3 projects due the week of
10/20/08, 11/17/08 and 12/08/08. Details will be given during class.