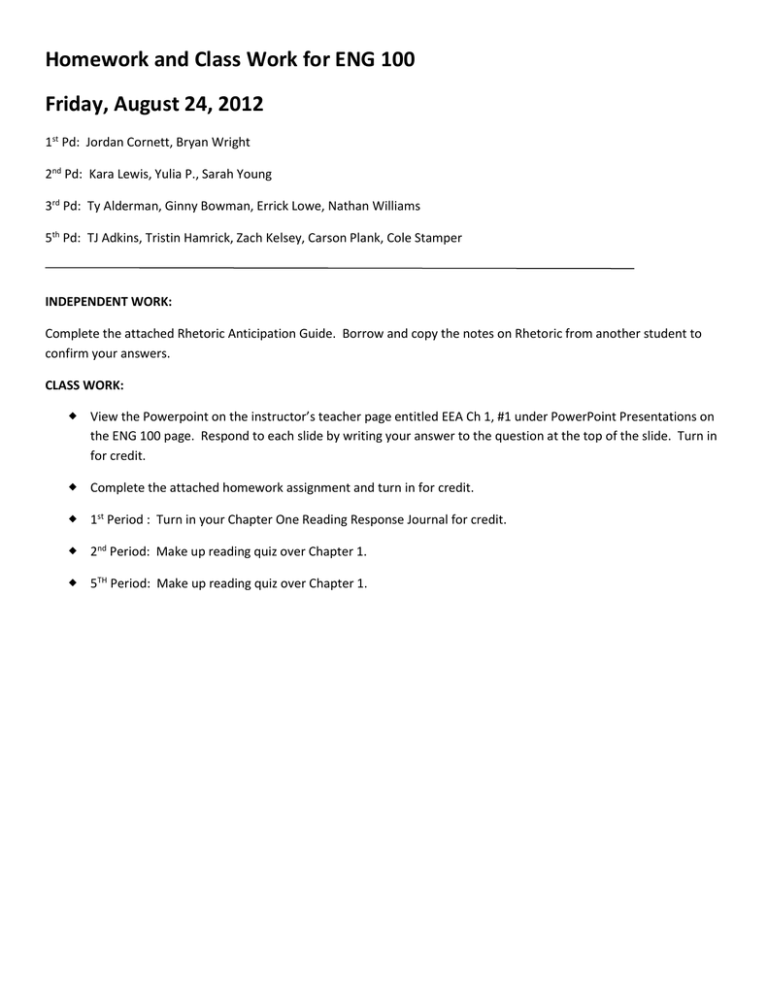 Homework and Class Work for ENG 100
Friday, August 24, 2012
1st Pd: Jordan Cornett, Bryan Wright
2nd Pd: Kara Lewis, Yulia P., Sarah Young
3rd Pd: Ty Alderman, Ginny Bowman, Errick Lowe, Nathan Williams
5th Pd: TJ Adkins, Tristin Hamrick, Zach Kelsey, Carson Plank, Cole Stamper
INDEPENDENT WORK:
Complete the attached Rhetoric Anticipation Guide. Borrow and copy the notes on Rhetoric from another student to
confirm your answers.
CLASS WORK:
 View the Powerpoint on the instructor's teacher page entitled EEA Ch 1, #1 under PowerPoint Presentations on
the ENG 100 page. Respond to each slide by writing your answer to the question at the top of the slide. Turn in
for credit.
 Complete the attached homework assignment and turn in for credit.
 1st Period : Turn in your Chapter One Reading Response Journal for credit.
 2nd Period: Make up reading quiz over Chapter 1.
 5TH Period: Make up reading quiz over Chapter 1.