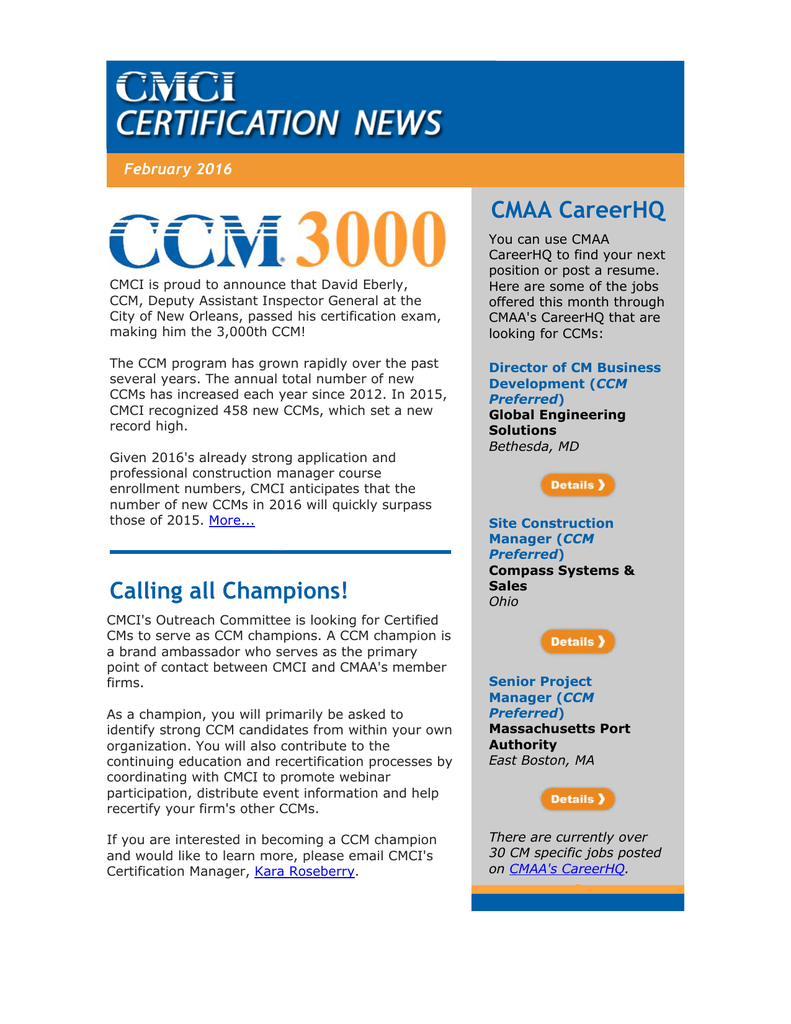 February 2016
CMAA CareerHQ
CMCI is proud to announce that David Eberly,
CCM, Deputy Assistant Inspector General at the
City of New Orleans, passed his certification exam,
making him the 3,000th CCM!
The CCM program has grown rapidly over the past
several years. The annual total number of new
CCMs has increased each year since 2012. In 2015,
CMCI recognized 458 new CCMs, which set a new
record high.
Given 2016's already strong application and
professional construction manager course
enrollment numbers, CMCI anticipates that the
number of new CCMs in 2016 will quickly surpass
those of 2015. More...
Calling all Champions!
CMCI's Outreach Committee is looking for Certified
CMs to serve as CCM champions. A CCM champion is
a brand ambassador who serves as the primary
point of contact between CMCI and CMAA's member
firms.
As a champion, you will primarily be asked to
identify strong CCM candidates from within your own
organization. You will also contribute to the
continuing education and recertification processes by
coordinating with CMCI to promote webinar
participation, distribute event information and help
recertify your firm's other CCMs.
If you are interested in becoming a CCM champion
and would like to learn more, please email CMCI's
Certification Manager, Kara Roseberry.
You can use CMAA
CareerHQ to find your next
position or post a resume.
Here are some of the jobs
offered this month through
CMAA's CareerHQ that are
looking for CCMs:
Director of CM Business
Development (CCM
Preferred)
Global Engineering
Solutions
Bethesda, MD
Site Construction
Manager (CCM
Preferred)
Compass Systems &
Sales
Ohio
Senior Project
Manager (CCM
Preferred)
Massachusetts Port
Authority
East Boston, MA
There are currently over
30 CM specific jobs posted
on CMAA's CareerHQ.
CMCI Welcomes New Governors
CMCI is excited to welcome Christine Flaherty of the
New York Department of Design and Construction
and Chad White of Vanir CM to the Board of
Governors.
Chad White comes to CMCI
with over 20 years of
construction industry
experience. He earned his
CCM in 2011 and also
received the Mehdi-Heydari
Culture of Certification Award
in 2014. Chad will serve as
co-chair of the CCM Outreach
Committee. He also serves on
the CMAA Southern California
Chapter's Board of Directors.
Christine Flaherty brings over
15 years of public and private
sector construction project
management experience to
CMCI. Christine became a
CCM in 2005. She will serve
as co-chair of the Item
Review Committee and as a
member of the Bylaws
Committee. She also serves
as secretary of the the NY/NJ
Chapter's Board of Directors.
Christine and Chad will fill the vacancies left by Ann
Marie Sweet-Abshire and Doug Titzer, who have
completed their terms. CMAA and CMCI thank Doug
and Ann Marie for their service!
CMAA Webinars
CMAA's webinar program
offers CMAA members
convenient and FREE
opportunities to increase
their knowledge on
relevant industry topics
and earn CCM recertification points.
Upcoming webinars
include:
Construction Claims,
A-to-Z
Feb. 11, 2016 - 2pm ET
Developing Superstar
Construction Project
Managers
March 24, 2016 - 2pm ET
Add Your CCM Designation to Your
Profile
Are you on LinkedIn? You can now add your CM
certification to your profile! To add the certification,
make sure you're logged into your LinkedIn account
and then just click the button below, and follow the
prompts.
Earn Continuing Ed Credits by Hosting a Webinar
CMAA's webinars are presented by top-notch CM industry talent. These webinars
benefit the association's entire membership. However, CMAA is always looking for
opportunities to expand its catalog of webinars with new material, which is
why CMAA invites you to host your very own webinar!
If you have a presentation that you think might make a good webinar, you are
encouraged to submit a proposal to CMAA. Proposals must include a brief
description of the topic, a description of the CM issues that will be addressed, and
the name and organizational affiliation of each presenter. For their efforts,
presenters will receive continuing education credits for their CCM and may also be
eligible to receive credits for their PE license as well.
If you are interested in hosting a webinar, please contact CMAA's Professional
Development Coordinator, Amanda Rogers.
Questions?
Andrea Pavon | Certification Associate | [email protected]
Kara Roseberry | Certification Manager | [email protected]
Get Social With CMAA
Copyright © 2016. All Rights Reserved.