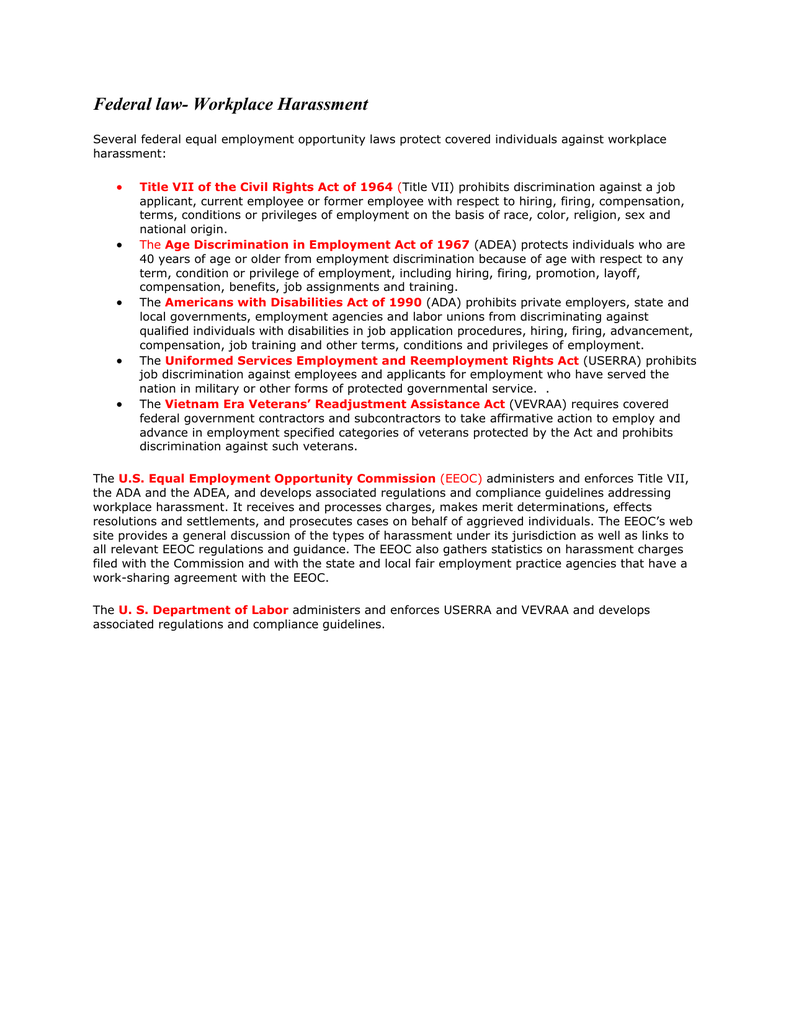 Federal law- Workplace Harassment
Several federal equal employment opportunity laws protect covered individuals against workplace
harassment:





Title VII of the Civil Rights Act of 1964 (Title VII) prohibits discrimination against a job
applicant, current employee or former employee with respect to hiring, firing, compensation,
terms, conditions or privileges of employment on the basis of race, color, religion, sex and
national origin.
The Age Discrimination in Employment Act of 1967 (ADEA) protects individuals who are
40 years of age or older from employment discrimination because of age with respect to any
term, condition or privilege of employment, including hiring, firing, promotion, layoff,
compensation, benefits, job assignments and training.
The Americans with Disabilities Act of 1990 (ADA) prohibits private employers, state and
local governments, employment agencies and labor unions from discriminating against
qualified individuals with disabilities in job application procedures, hiring, firing, advancement,
compensation, job training and other terms, conditions and privileges of employment.
The Uniformed Services Employment and Reemployment Rights Act (USERRA) prohibits
job discrimination against employees and applicants for employment who have served the
nation in military or other forms of protected governmental service. .
The Vietnam Era Veterans' Readjustment Assistance Act (VEVRAA) requires covered
federal government contractors and subcontractors to take affirmative action to employ and
advance in employment specified categories of veterans protected by the Act and prohibits
discrimination against such veterans.
The U.S. Equal Employment Opportunity Commission (EEOC) administers and enforces Title VII,
the ADA and the ADEA, and develops associated regulations and compliance guidelines addressing
workplace harassment. It receives and processes charges, makes merit determinations, effects
resolutions and settlements, and prosecutes cases on behalf of aggrieved individuals. The EEOC's web
site provides a general discussion of the types of harassment under its jurisdiction as well as links to
all relevant EEOC regulations and guidance. The EEOC also gathers statistics on harassment charges
filed with the Commission and with the state and local fair employment practice agencies that have a
work-sharing agreement with the EEOC.
The U. S. Department of Labor administers and enforces USERRA and VEVRAA and develops
associated regulations and compliance guidelines.