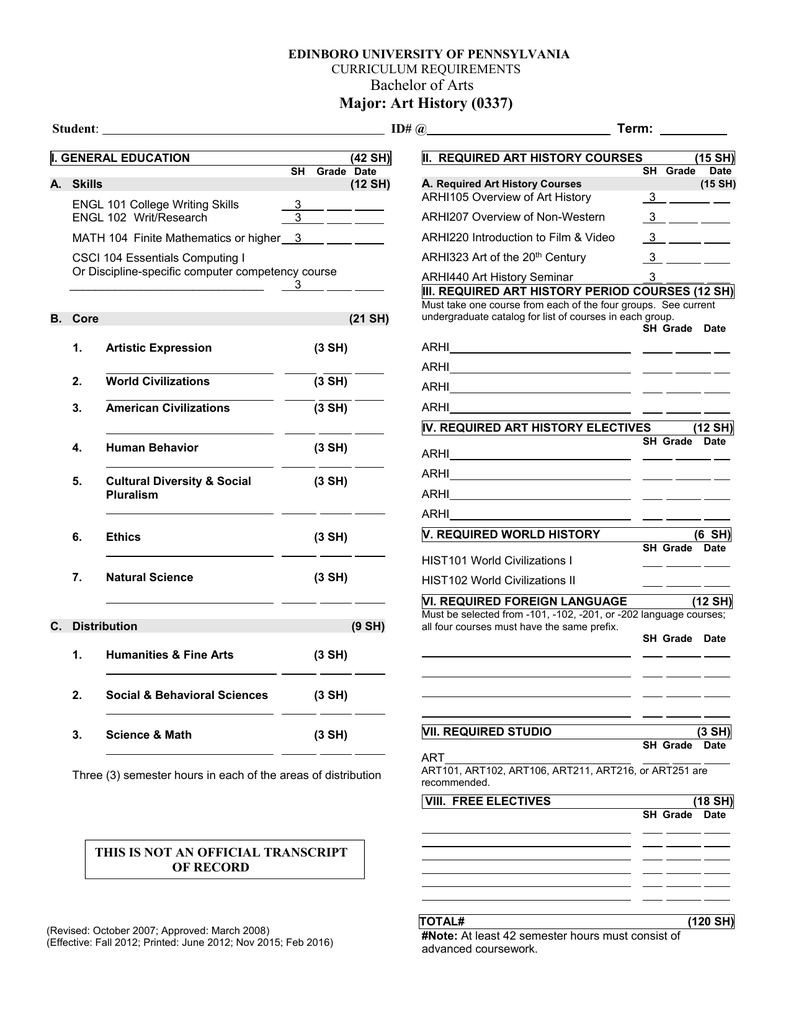 EDINBORO UNIVERSITY OF PENNSYLVANIA
CURRICULUM REQUIREMENTS
Bachelor of Arts
Major: Art History (0337)
Student:
Term:
ID# @
I. GENERAL EDUCATION
(42 SH)
SH
A. Skills
(12 SH)
ENGL 101 College Writing Skills
ENGL 102 Writ/Research
3
3
MATH 104 Finite Mathematics or higher
3
II. REQUIRED ART HISTORY COURSES
B. Core
Artistic Expression
(3 SH)
2.
World Civilizations
(3 SH)
3.
American Civilizations
(3 SH)
3
ARHI207 Overview of Non-Western
3
ARHI220 Introduction to Film & Video
3
20th
Century
Date
(15 SH)
3
ARHI440 Art History Seminar
3
III. REQUIRED ART HISTORY PERIOD COURSES (12 SH)
(21 SH)
1.
A. Required Art History Courses
ARHI105 Overview of Art History
ARHI323 Art of the
CSCI 104 Essentials Computing I
Or Discipline-specific computer competency course
______________________________
3
(15 SH)
SH Grade
Grade Date
Must take one course from each of the four groups. See current
undergraduate catalog for list of courses in each group.
SH Grade Date
ARHI
ARHI
ARHI
ARHI
IV. REQUIRED ART HISTORY ELECTIVES
4.
Human Behavior
(3 SH)
5.
Cultural Diversity & Social
Pluralism
(3 SH)
(12 SH)
SH Grade
Date
ARHI
ARHI
ARHI
ARHI
6.
Ethics
V. REQUIRED WORLD HISTORY
(3 SH)
(6 SH)
SH Grade
Date
HIST101 World Civilizations I
7.
Natural Science
(3 SH)
HIST102 World Civilizations II
VI. REQUIRED FOREIGN LANGUAGE
C. Distribution
(9 SH)
1.
Humanities & Fine Arts
(3 SH)
2.
Social & Behavioral Sciences
(3 SH)
3.
Science & Math
(3 SH)
(12 SH)
Must be selected from -101, -102, -201, or -202 language courses;
all four courses must have the same prefix.
SH Grade Date
VII. REQUIRED STUDIO
(3 SH)
SH Grade
Date
ART
Three (3) semester hours in each of the areas of distribution
ART101, ART102, ART106, ART211, ART216, or ART251 are
recommended.
VIII. FREE ELECTIVES
(18 SH)
SH Grade
Date
THIS IS NOT AN OFFICIAL TRANSCRIPT
OF RECORD
(Revised: October 2007; Approved: March 2008)
(Effective: Fall 2012; Printed: June 2012; Nov 2015; Feb 2016)
TOTAL#
(120 SH)
#Note: At least 42 semester hours must consist of
advanced coursework.