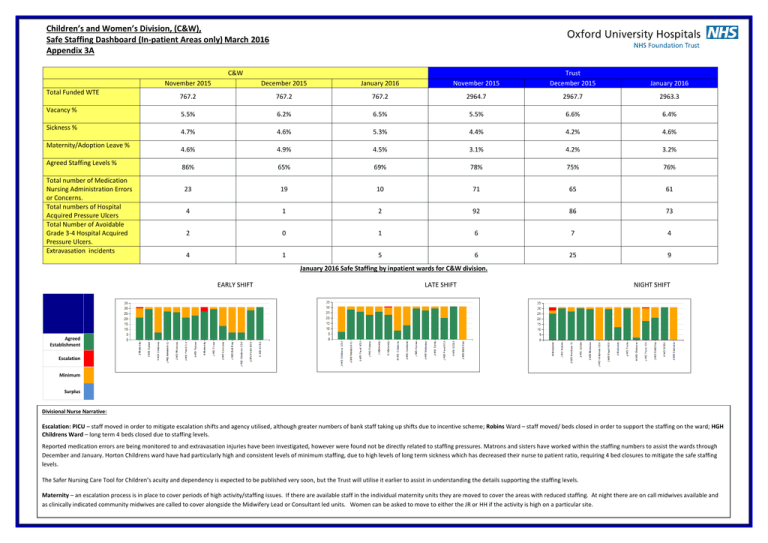 Children's and Women's Division, (C&W),
Safe Staffing Dashboard (In-patient Areas only) March 2016
Appendix 3A
C&W
Total Funded WTE
Vacancy %
Sickness %
Maternity/Adoption Leave %
Agreed Staffing Levels %
Total number of Medication
Nursing Administration Errors
or Concerns.
Total numbers of Hospital
Acquired Pressure Ulcers
Total Number of Avoidable
Grade 3-4 Hospital Acquired
Pressure Ulcers.
Extravasation incidents
November 2015
December 2015
January 2016
November 2015
Trust
December 2015
767.2
767.2
767.2
2964.7
2967.7
2963.3
5.5%
6.2%
6.5%
5.5%
6.6%
6.4%
4.7%
4.6%
5.3%
4.4%
4.2%
4.6%
4.6%
4.9%
4.5%
3.1%
4.2%
3.2%
86%
65%
69%
78%
75%
76%
23
19
10
71
65
61
4
1
2
92
86
73
2
0
1
6
7
4
4
1
5
6
25
9
January 2016
January 2016 Safe Staffing by inpatient wards for C&W division.
EARLY SHIFT
LATE SHIFT
NIGHT SHIFT
Agreed
Establishment
Escalation
Minimum
Surplus
Divisional Nurse Narrative:
Escalation: PICU – staff moved in order to mitigate escalation shifts and agency utilised, although greater numbers of bank staff taking up shifts due to incentive scheme; Robins Ward – staff moved/ beds closed in order to support the staffing on the ward; HGH
Childrens Ward – long term 4 beds closed due to staffing levels.
Reported medication errors are being monitored to and extravasation injuries have been investigated, however were found not be directly related to staffing pressures. Matrons and sisters have worked within the staffing numbers to assist the wards through
December and January. Horton Childrens ward have had particularly high and consistent levels of minimum staffing, due to high levels of long term sickness which has decreased their nurse to patient ratio, requiring 4 bed closures to mitigate the safe staffing
levels.
The Safer Nursing Care Tool for Children's acuity and dependency is expected to be published very soon, but the Trust will utilise it earlier to assist in understanding the details supporting the staffing levels.
Maternity – an escalation process is in place to cover periods of high activity/staffing issues. If there are available staff in the individual maternity units they are moved to cover the areas with reduced staffing. At night there are on call midwives available and
as clinically indicated community midwives are called to cover alongside the Midwifery Lead or Consultant led units. Women can be asked to move to either the JR or HH if the activity is high on a particular site.