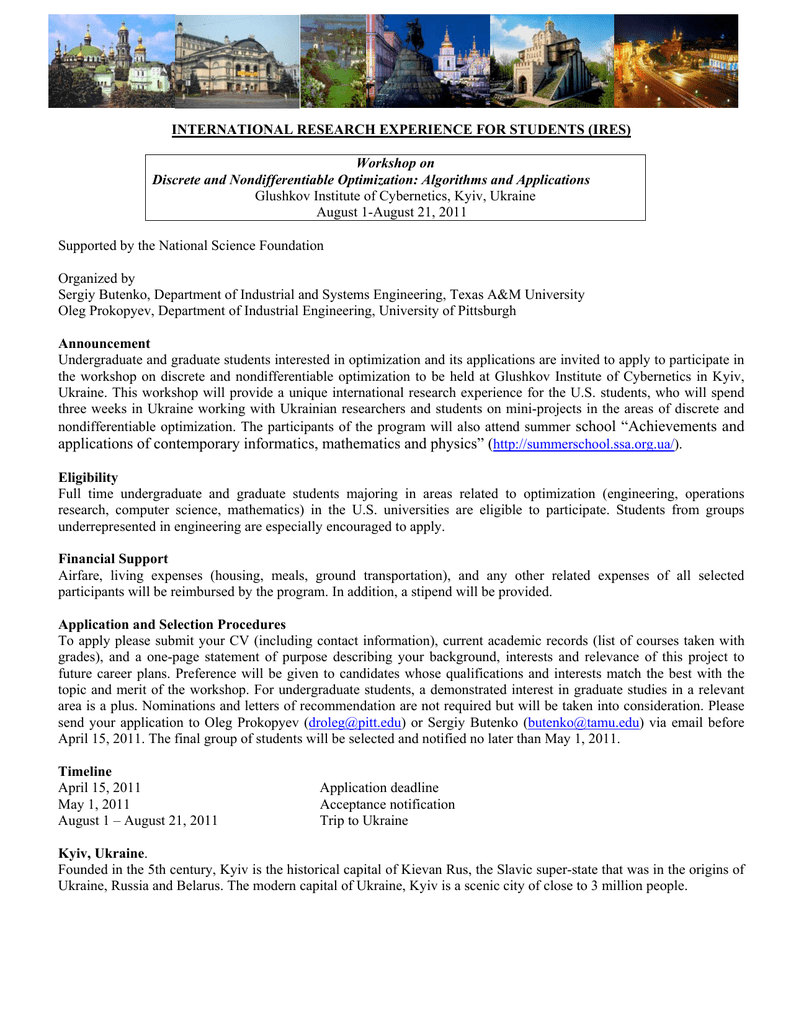 INTERNATIONAL RESEARCH EXPERIENCE FOR STUDENTS (IRES)
Workshop on
Discrete and Nondifferentiable Optimization: Algorithms and Applications
Glushkov Institute of Cybernetics, Kyiv, Ukraine
August 1-August 21, 2011
Supported by the National Science Foundation
Organized by
Sergiy Butenko, Department of Industrial and Systems Engineering, Texas A&M University
Oleg Prokopyev, Department of Industrial Engineering, University of Pittsburgh
Announcement
Undergraduate and graduate students interested in optimization and its applications are invited to apply to participate in
the workshop on discrete and nondifferentiable optimization to be held at Glushkov Institute of Cybernetics in Kyiv,
Ukraine. This workshop will provide a unique international research experience for the U.S. students, who will spend
three weeks in Ukraine working with Ukrainian researchers and students on mini-projects in the areas of discrete and
nondifferentiable optimization. The participants of the program will also attend summer school "Achievements and
applications of contemporary informatics, mathematics and physics" (http://summerschool.ssa.org.ua/).
Eligibility
Full time undergraduate and graduate students majoring in areas related to optimization (engineering, operations
research, computer science, mathematics) in the U.S. universities are eligible to participate. Students from groups
underrepresented in engineering are especially encouraged to apply.
Financial Support
Airfare, living expenses (housing, meals, ground transportation), and any other related expenses of all selected
participants will be reimbursed by the program. In addition, a stipend will be provided.
Application and Selection Procedures
To apply please submit your CV (including contact information), current academic records (list of courses taken with
grades), and a one-page statement of purpose describing your background, interests and relevance of this project to
future career plans. Preference will be given to candidates whose qualifications and interests match the best with the
topic and merit of the workshop. For undergraduate students, a demonstrated interest in graduate studies in a relevant
area is a plus. Nominations and letters of recommendation are not required but will be taken into consideration. Please
send your application to Oleg Prokopyev ([email protected]) or Sergiy Butenko ([email protected]) via email before
April 15, 2011. The final group of students will be selected and notified no later than May 1, 2011.
Timeline
April 15, 2011
May 1, 2011
August 1 – August 21, 2011
Application deadline
Acceptance notification
Trip to Ukraine
Kyiv, Ukraine.
Founded in the 5th century, Kyiv is the historical capital of Kievan Rus, the Slavic super-state that was in the origins of
Ukraine, Russia and Belarus. The modern capital of Ukraine, Kyiv is a scenic city of close to 3 million people.