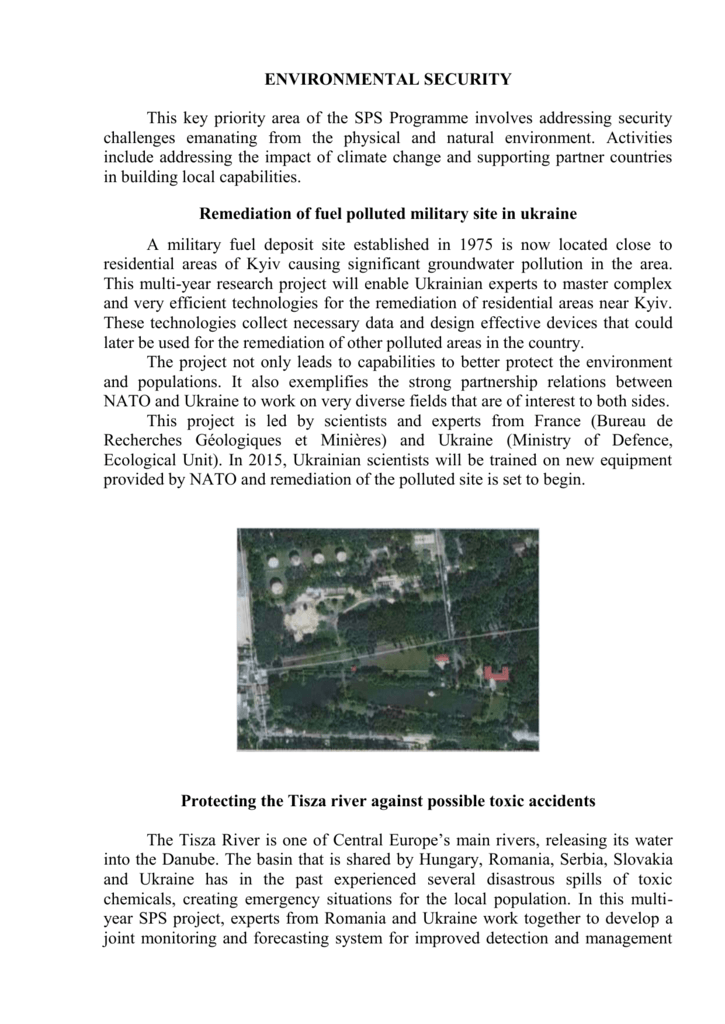 ENVIRONMENTAL SECURITY
This key priority area of the SPS Programme involves addressing security
challenges emanating from the physical and natural environment. Activities
include addressing the impact of climate change and supporting partner countries
in building local capabilities.
Remediation of fuel polluted military site in ukraine
A military fuel deposit site established in 1975 is now located close to
residential areas of Kyiv causing significant groundwater pollution in the area.
This multi-year research project will enable Ukrainian experts to master complex
and very efficient technologies for the remediation of residential areas near Kyiv.
These technologies collect necessary data and design effective devices that could
later be used for the remediation of other polluted areas in the country.
The project not only leads to capabilities to better protect the environment
and populations. It also exemplifies the strong partnership relations between
NATO and Ukraine to work on very diverse fields that are of interest to both sides.
This project is led by scientists and experts from France (Bureau de
Recherches Géologiques et Minières) and Ukraine (Ministry of Defence,
Ecological Unit). In 2015, Ukrainian scientists will be trained on new equipment
provided by NATO and remediation of the polluted site is set to begin.
Protecting the Tisza river against possible toxic accidents
The Tisza River is one of Central Europe's main rivers, releasing its water
into the Danube. The basin that is shared by Hungary, Romania, Serbia, Slovakia
and Ukraine has in the past experienced several disastrous spills of toxic
chemicals, creating emergency situations for the local population. In this multiyear SPS project, experts from Romania and Ukraine work together to develop a
joint monitoring and forecasting system for improved detection and management
of toxic pollution. The resulting data and model will provide regional authorities
with situational awareness at an early stage when preventive actions can still be
taken in order to limit the disaster and its impact.
This project is led by experts from Ukraine (Institute of Environmental
Geochemistry) and Romania (Babes-Bolyia University) kicked-off in February
2014 and is expected to be completed in spring 2017.